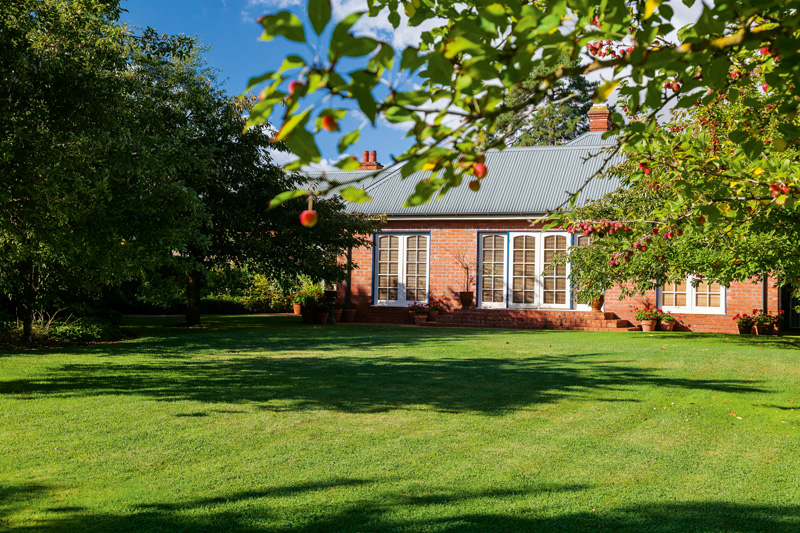 "I didn't do it for you," artist Criss Canning candidly admits as she ushers us into the kitchen at Burnside, the home she shares with her nurseryman husband, David Glenn, in the central Victorian goldfields. Indeed the display that greets us resembles one of her celebrated still lifes, with vases filled with flowers, platters and bowls laden with fruit and jars and bottles meticulously lined up on the shelves. "David brings me flowers every day," she adds. "They are so beautiful it would be unthinkable not to make the most of them."
Criss and David inherited the bluestone homestead with a 40-acre (16-hectare) property they bought at Avoca in 1991. It took the best part of a year to relocate David's Lambley Nursery from the Dandenong Ranges to central Victoria, and the house was run down and needed major renovation work to make it habitable. The house and garden have been works in progress almost continuously ever since, though Criss is at pains to point out that neither of them makes much distinction between work and leisure. Regular readers may recall we profiled David's garden and Criss's art in the May 2016 edition of Australian Country.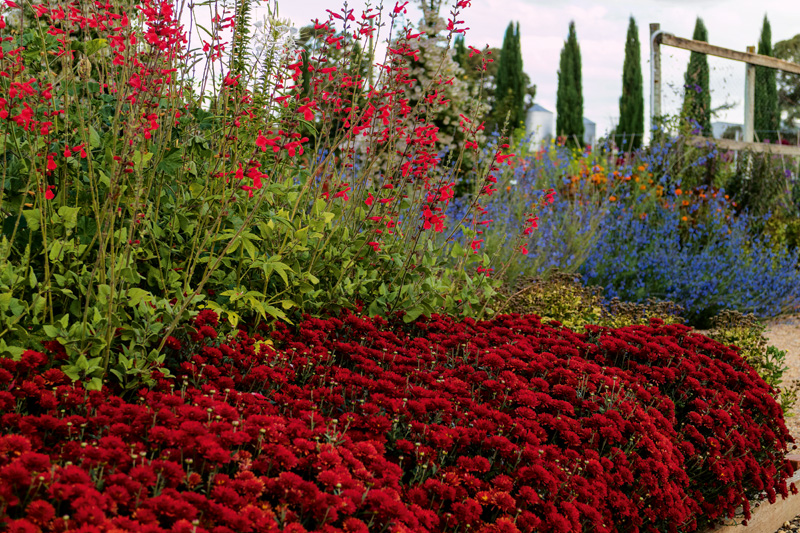 Most days David is up at dawn, overseeing watering, planting and the countless tasks involved in running the nursery that ships seeds and plants all over Australia. As well, he looks after the gardens that serve as display pieces for both dry-climate gardening and experimental beds for determining the best vegetable seed varieties for everything from yield and looks to flavour. Meanwhile, Criss spends at least eight hours a day working in her studio. She is represented by Sotheby's Australia and her next exhibition will be at its new HQ in Collins Street, Melbourne in November this year. A veteran of 26 solo exhibitions and with four books to her credit, Criss is also represented in the permanent holdings of the National Gallery of Australia, the Art Gallery of NSW, the Art Gallery of Ballarat, the Cairns Art Gallery and Melbourne's Artbank, as well as private collections of art lovers from all round the world.
The land around present-day Ballarat had been managed by the traditional owners for many thousands of years before white settlement. As one of the first Europeans in the region in 1836, explorer and surveyor Major Thomas Mitchell's reports of the good soil and pastures in the region had droves of squatters following in his footsteps. Among them was Captain Coghill who had come down from Braidwood in NSW and took up a vast swathe of land which includes the present-day Burnside. "The discovery of gold at Clunes in 1851 brought about the second invasion, this time of miners," David explains. "With the discovery a lot of squatters had their leases terminated but were granted a pre-emptive right to one square mile. This right meant that ownership extended to the centre of the earth. We only have 40 acres [16 hectares] here, but the historic right continues so technically we own to middle earth."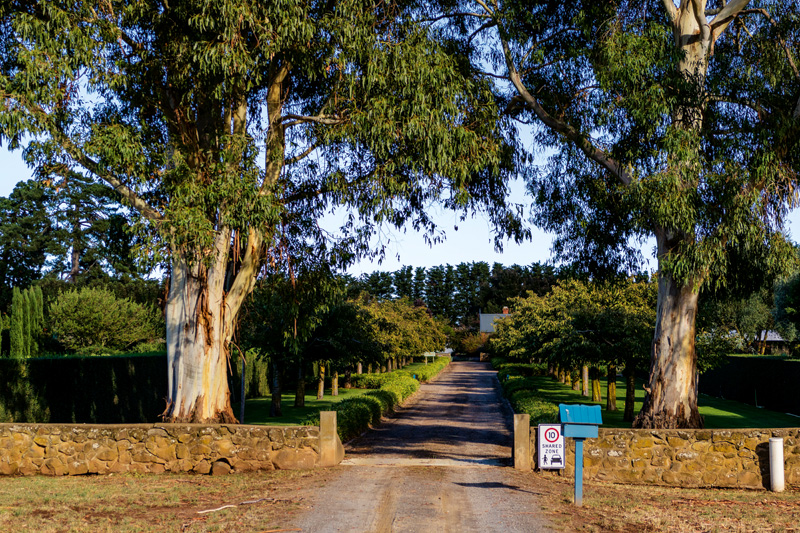 By pure coincidence, in the 1840s, Criss's great-great-grandfather also lived in the region and worked for another famous local settler, Captain Hepburn. "My mother had access to a diary which noted that he rode over on horseback to do some work for Captain Coghill," she recalls. "My paternal great-great-great-grandparents owned a farm in Ascot during the mid-1800s. I didn't know about this connection when my father died, but when we placed his ashes under a sculpture in the garden it felt right. Without knowing it, I'd brought him home."
The property was subsequently bought in 1853 by John Lester, who later became the district's shire president. "The first house was probably a cannibalisation of Coghill's timber cottage," David explains. "But in the 1860s, the Lesters started work on the present homestead with bluestone quarried on the property and bricks made on site. A travelling brick maker came up from Bacchus Marsh for the works."
As befitted a well-connected gentlemen of the time, John Lester set to work on the garden. In this task he was inadvertently helped by the Victorian government botanist and first director of the Royal Botanic Gardens, Baron von Mueller, who also designed the Ballarat Botanic Gardens. David says two towering trees, a Sequoiadendron giganteum and a Pinus nigra, probably came from von Mueller's seed collection, intended for the many public gardens he helped build. Sons of John Lester moved on to Gippsland more than 100 years ago and that line still farms there today. The Lesters who kept Burnside ran out of heirs and when they retired, the farm was sold to a descendant of Coghill.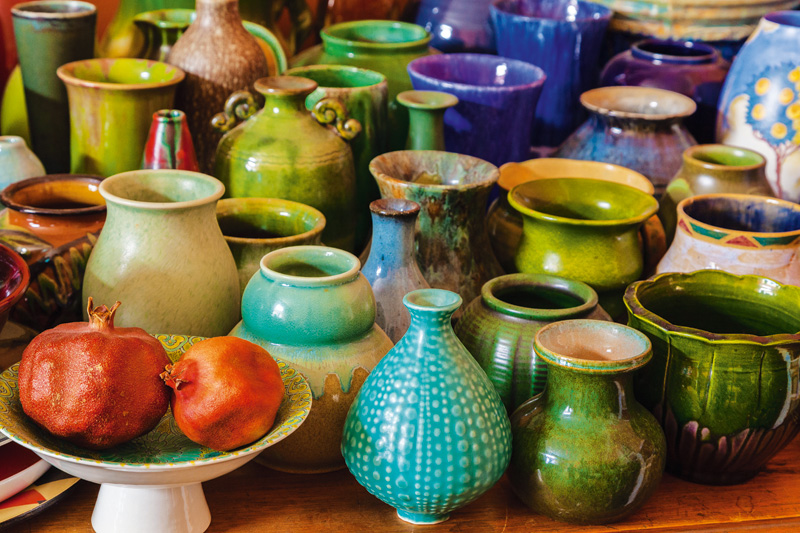 Criss recalls the Burnside they inherited had parts of the ceiling falling in and leaking windows "There were rats in the cellar and possums in the roof and, believe me, it's taken a lot of work to get to what you see today,'' she says. ''But that only makes us appreciate it more. It is just wonderful to be here."
The garden, too, presented many challenges, as David points out that it had been continually grazed from the 1830s and the soil was seriously compacted. "Basically we started with 20 acres [eight hectares] of weeds," David says. "But gradually we've chipped away at it and now I can pick flowers for Criss in all but the two mid-winter months. We arrived to drought, which persisted for almost 15 years. And then when it finally broke, vast areas and thousands of dollars worth of mulch were washed away by floods. But that's part and parcel of living in rural Australia. We do go from one extreme to another."
These days, however, the vegie garden, where David trials seed varieties, and the orchard produce more fruit and veg than they can ever hope to eat. The larder is full of bottled surplus, including David's legendary marmalade, jams, chutneys, passata, pasta sauce and pickles, and they give loads of fresh produce away.
Criss's career has been similarly punctuated with feasts and famines. As she recalls her childhood, when she wasn't drawing, she was dancing, attending up to seven classes a week. As a school leaver, she started work designing embroidery for women's clothing at the height of the kaftan era. "My boss used to go to painting classes and when he saw my folio, he encouraged me to do likewise and introduced me to Max Middleton," Criss recalls. "I started going to painting classes two nights a week and I knew that I had found what I was meant to be doing. Much to my family's horror, I abandoned the notion of a career in dance. Frankly, I didn't think I was tough enough to be a dancer. As an artist, at least you have the privacy of your studio to make errors. As a dancer, you have to do it in front of an audience."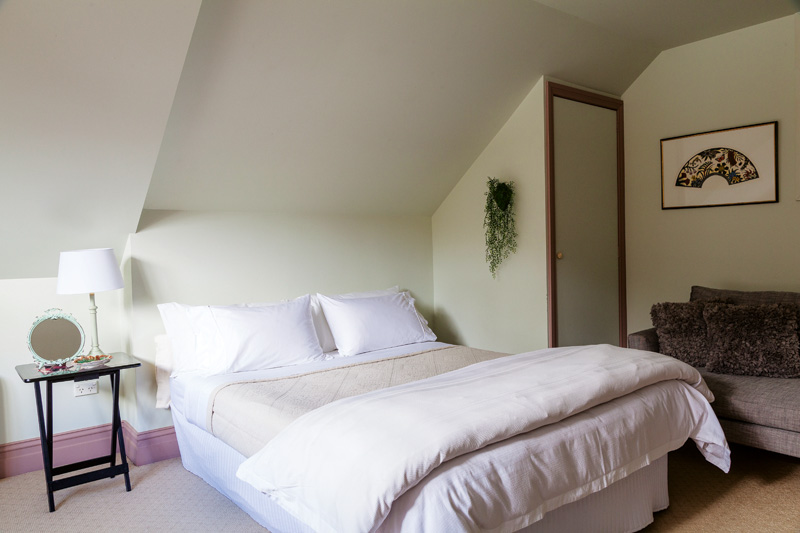 Criss married young but the marriage didn't last. "I found myself as a young single mother with two babies to feed," she recalls. "Times were tough, but I managed to buy a little house and even take the children to Greece for a year, which was also an opportunity to visit the galleries of Europe. Simple acts of kindness got me through and many people who encouraged my work along the way."
She had her first exhibition at 32 and met David when she visited the nursery to get flowers to paint. "He is my rock," she says. "He encourages me to be strong and to stay true to my vision. Spending day after day in the studio is a very solitary existence and travel is my antidote to that. Every time I go overseas, my work takes a leap."
So too does her collection of props. The studio is filled with a vast assortment of vases and vessels, fabrics and other artefacts that inevitably find their way into her works. "I scour antique shops and flea markets," Criss says. "When I see something perfect, I can usually envisage the painting I'll do. On a recent trip to Austria, I posted home about 40 vases in bubble wrap. They all made it undamaged and I've already used many of them."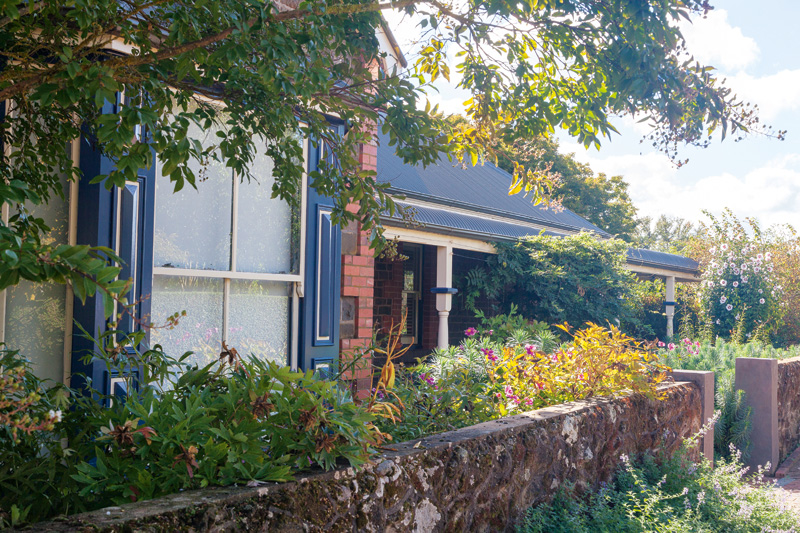 Criss adds that, having overcome a health crisis, she has no intention of slowing down. "I count my blessings daily," she says. "I have my soulmate by my side and I feel that I am just hitting my stride in my 70s. Art is not a career choice for stability, but I have reached a stage where I am comfortable with that. The adventure continues."
Criss's next exhibition will run from Nov 19 to Dec 18 at Sotheby's, 14-16 Collins St, Melbourne.
The complete story was originally published in Australian Country issue 21.5. Click here to subscribe to our magazine
Words Kirsty McKenzie
Photography Ken Brass