COLONIAL COLLABORATION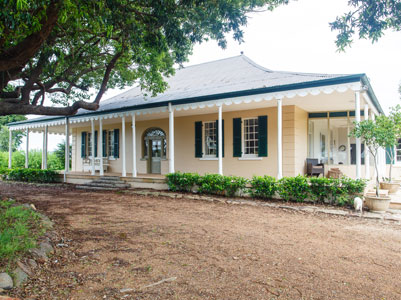 Built in 1820 by notable early soldier and farmer Thomas Laycock, the homestead is one of the few remaining historic homes within commuting distance to Sydney still in residential use.
Growing up in Dublin, it is unlikely that Professor Patrick Brennan would have guessed that his life and that of the notorious bushranger Bold Jack Donohoe would have crossed as he listened to the ballad of The Wild Colonial Boy, but cross they did in the historic setting of Bringelly, some 60km from Farm Cove in the centre of Sydney.
Situated in a private but elevated spot is the Heritage listed homestead of Kelvin, previously known as Cottage-Ville and The Retreat. Built in 1820 by notable early soldier and farmer Thomas Laycock, the homestead is one of the few remaining historic homes within commuting distance to Sydney still in residential use. Current owners, the Brennan family have embarked on restoring the magnificent dwelling to its former glory.
Patrick, wife Elizabeth, along with children John, Beth, Anna and Eoin (pronounced Owen) moved to Australia just four years ago and Kelvin is already their third property! "We are serial movers" explains Elizabeth. "We met in my home town of Ipswich but have also lived in Dublin and Belfast where out two oldest children were born."
It was while living in Norwich UK, Patrick was offered a post at Sydney University to head up Health sciences and the family jumped at the choice to up sticks once more. Settling on the North Shore, first in St Ives and then Wahroonga, Elizabeth says that although they were both lovely houses, she felt there was something missing, and that was space. Patrick found Kelvin on the internet and sure enough the Brennans were on the move again.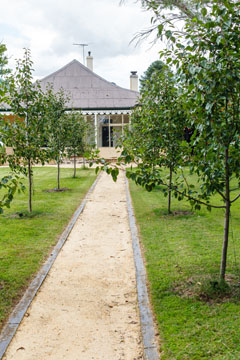 The homestead sits comfortably atop a hill and is protected by shade trees of Ficus and ancient Norfolk pines which were planted to act as a beacon to guide travellers home in the days before motor vehicle access. Its wide wrap around verandas and beautifully ornate front door with fan above attest to Thomas Laycock's importance at the time of building, everything was made to impress.
Laycock arrived in Australia in 1791 where he joined the New South Wales Corps. Among his noteworthy exploits he became the first non native to walk across inland Tasmania while serving at Port Dalrymple and is also listed as the only casualty of the Rum Rebellion when he fell through a manhole while searching Government house!
The land around Kelvin, the traditional home of the Murigong people, is also historically important having been settled in 1795 when cattle that had wandered away from Farm cove were discovered in the area and it was named Cowpastures.  A road was ordered to be built from Prospect and Cowpasture Road still exists today.
It is two years since The Brennans arrived at Kelvin and many things have changed in that time. With 7 acres of enclosed paddocks Elizabeth now offers agistment for up to 10 horses including her own mare Denver and her foal The Pye, something that keeps her busy "from 5.30am until sundown" she says. "I was never very horsey before but they have become a full time occupation." "I don't ride though; I'm much happier cantering around on the ride-on mower than in a saddle".
The house, like their previous residence in England is Georgian Patrick, stuccoed and marked to look like stone. The wide hallway with it's recently restored pressed metal ceiling offers access to on one side a grand lounge with open fireplace and on the other to a modern kitchen which the family installed.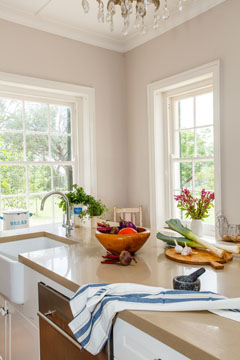 Scattered throughout are family treasures and memories of childhoods from a different hemisphere.
Patrick and Elizabeth have a fine collection of paintings by celebrated English artist and family friend Geoffrey Chatten one of which depicts a seascape of a Punch and Judy show on the beach at Great Yarmouth. This is a favourite childhood memory for Elizabeth but the artist has thoughtfully included the couple's four children in the scene. Now finally settled, the house, it's out buildings and garden represent an ongoing challenge for the Brennan family, and while the children are all happy to pitch in, most of the work falls to Elizabeth to lick the place into shape.
Patrick commutes daily by train to Sydney University, taking his trusty bicycle to get him around town for meetings where he a pioneer in diagnostic screening for breast cancer research. Eldest son John looks set to follow his father's footsteps and is studying medicine also at Sydney Uni while Beth is at UNSW.
The younger children, Anna and Eoin attend the local school at Cobbity.
Elizabeth has embraced the history of the house engaging a heritage consultant and is undertaking renovations to bring the house and grounds up to a standard that will allow them to offer it for wedding ceremonies and photo opportunities.
The outbuildings comprise the old kitchen, servant's quarters and coach house and it is among these buildings that Bold Jack Donohoe was reportedly held before being taken to court and sentenced to hang. He famously escaped but must have liked the area as he was later shot and killed in Bringelly becoming the last of the convict outlaws. Both being born in Dublin, it is here, in his rustic private bar, set among the ancient timbers that Patrick, sipping  his Irish whisky, in a quiet moment, might sense another sort of spirit, that of The Wild Colonial Boy.
Words Peter Hinton 
Photography Ken Brass
Styling Sandra Hinton
Brands Article Feeds