Living History
Six generations of the Hunt family have called the stunning Ivybrook Farm on South Australia's Fleurieu Peninsula home. See their story!
If the walls could talk in the homestead at David and Cheryl Hunt's Ivybrook Farm at South Australia's Maslin Beach, they'd be telling tales that go back almost as far as the foundation of the colony.
They'd doubtless recall the arrival of the Reverend Charles Hall, a congregational minister for the parish of Aldinga and how he moved into a two-bedroomed cottage with an underground cellar in 1851. He then set about extending the house with a second storey and an outdoor wash house and man's room.
It's not known what the somewhat dour looking gentleman would have made of his neighbours, John Reynell and his former employee, Thomas Hardy, who had planted the first grapes in the district in the 1840s and thus founded the now celebrated McLaren Vale wine region. They'd tell how the property passed to the cattle, sheep and cereal crop farming Valentine family, who in 1898 added a stone stable, which later became a shearing shed and is now a barn where receptions and functions are held.

They'd tell how a four-bedroomed homestead was built alongside the original cottage, providing added accommodation for Peter and Ruth Hunt when they took over the farm with their six children. They'd explain how the two dwellings became one when the Hunts wrapped a big protective verandah around them, and how the farm passed through the generations until David Hunt and his brothers took over the property as the fourth generation of the Hunt family to live there. Cheryl and David's now adult children, Nick, Peter and Amanda, make up the fifth generation and Nick's daughter, Georgia, is the first born for the sixth. These days the Hunt brothers and their families each have 40 acres of the original farm, as do their parents, Keith and Fay. While each family runs their property individually, they have all planted vines and Keith also keeps beehives on the four blocks.

"My family came to Aldinga Beach from England in 1976," Cheryl explains. "I was 11 at the time and it was a great lifestyle move for us. Eventually I married David and we moved to Ivybrook in 1983. David had worked both on and off the farm before we married and one of those jobs was at d'Arenberg winery, which is where he discovered his passion for wine."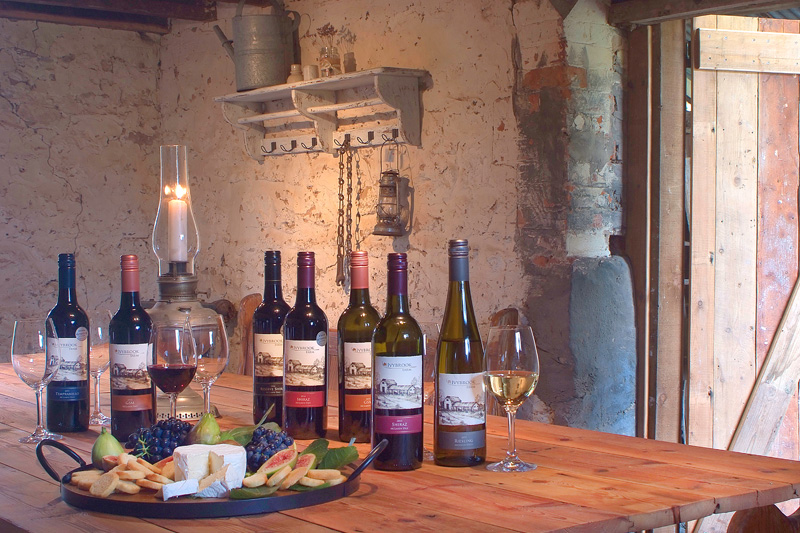 It was almost inevitable, therefore, that David and Cheryl would plant their own vines. In the mid-'90s they planted five hectares of Shiraz and followed that up with a further three hectares of Shiraz. Some of this has recently been grafted to Touriga Nationale, a Portuguese red variety, and more recently, a hectare of Tempranillo and Mourvèdre has been added. "At first we sold all our fruit to Hardys," Cheryl says. "More recently, as we've moved towards biodynamic and organic principles, we've been selling to Wirra Wirra, because their wine making philosophy is aligned with ours. Since 2008 we've kept back small amounts to make our own wine. Now our son, Nick, who has worked at other wineries and done several vintages overseas, has taken over as winemaker and we are in the process of building our cellar door."

Ever mindful of the need to diversify to shore up the business, the Hunts added a self-catering cottage that accommodates four in 2009. They are also in the process of converting the barn into a small wedding and function centre. "We were lucky to find local stonemason Rick Wheatley to restore the building," Cheryl says. "We're also fortunate to have joined forces with Adelaide caterer Cindy Westphalen, of Cindy's Classic Gourmet. Destination weddings are increasingly popular these days and McLaren Vale offers the great advantage of being less than a hour's drive from Adelaide."

For those who choose to extend their stay in the region, there are many options. Wine tasting, of course, heads the list, and many of the wineries also offer great dining experiences as well. "d'Arry's Verandah is a great venue at d'Arenberg winery, as is The Kitchen Door at Penny's Hill," Cheryl says. "The Star of Greece at Port Willunga is an old favourite and the same people run the Victory Hotel at Sellicks Beach. But they are just a few of many, many options."However, a trip to McLaren Vale also offers splendid beaches for swimming and surfing, hiking along the ridges of the Onkaparinga River National Park and kayaking on the river from Port Noarlunga. Special events, including the Harvest Festival in January, the Fleurieu Folk Festival in October, the Willunga Almond Festival in July and Leaconfield Winery's Days on the Green also attract vistors from interstate and overseas."As I see it, we have the total package," Cheryl says. "I think I just got incredibly lucky the day my family decided to leave England."

The complete story was originally published in Australian Country issue 21.1. Click here to subscribe to our magazine
Words Tamara Simoneau
Photography Claire NcFerra
Styling Bronte Camilleri