LOCAL HEROES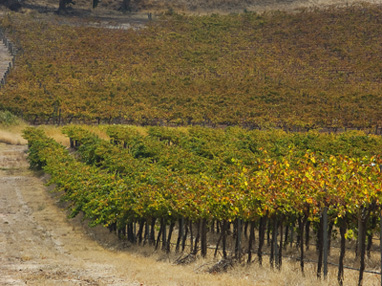 By April Ossington, Photography Ross Williams, styling Bronte Camilleri, regional photography South Australian Tourism Commission
After 23 years of running the multi-award-winning Thorn Park Country House in the Clare Valley, owners David Hay and Michaels Speers decided it was time to slow down. Far from their initial plans of retirement, the couple sold the original property and purpose built a smaller version of the bed and breakfast. Much to the relief of frequent travelers to this region, this South Australian institution lives on.
Renamed Thorn Park by the vines, the property is located at Sevenhill in the Clare Valley wine region.  While the actual house itself follows the same 1850s architectural style of the original B&B, it's a modern interpretation.  An interior designer in his past life, David says his goal was to achieve a sense of familiarity with a more contemporary finish. "It still has a sense of home and a sense of luxury without being ridiculously opulent," he says. David transported the feel of the old place to their new abode by keeping a lot of the original antiques and furniture. From the impressive wall of books to the welcoming double sided fireplace, the interior is the perfect combination of style and comfort. "This time of year they'll be sitting inside beside the fire, in summer they are quite often on the northern deck looking at the vineyards with a glass of wine," David says.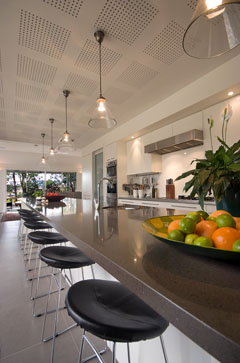 One of Australia's finest cooks, David suggests food is very much the heart of the house, with cooking schools a big part of the experience. David offers intimate one-day "diner party" cooking classes, kicking off the day with an alfresco luncheon and ending with a five-course meal at night. What about the wine you say. The day includes a large break where guests are encouraged to peruse the wineries before returning to prepare and enjoy dinner. The kitchen is situated in the dead centre of the house which David says, defines the importance of food to their establishment. "Generally the guests just walk in, sit down, and start talking, so it's sort of the heart of the home."
While cooking schools are the main activity, featured wine dinners and guest chefs are offered on occasion. The other half of the operation, Michael is also a trained art teacher. If guests are lucky enough to catch one, Michael conducts art classes in pastels or sketching.  He's perhaps best known as the personality of the house. It's his smiling face that greets guests at the door, catering to everything from pre-dinner drinks to morning coffee, and assisting with your day's plans.
A resident since before it was put on the map, David says the Clare Valley was a forgotten wine region for a long time. "It wasn't a destination in its own right until the early 80s when it sort of found its little niche," David explains. It's a beautiful wine area in the fact that it's not a monoculture. There are still a lot of wheat, sheep, and cattle properties so you won't just see endless vineyards."
Because of the Valley's hilly structure, there are a lot of small, hidden wineries and vineyards. "South Australia is considered to be quite a dry state but in the Clare Valley, it's moist so it's quite green, lush, and beautiful." David thinks part of the appeal is that the valley has retained a lot of its agricultural roots. "In Clare you'll see fantastic stands of Gum trees and you'll still see cattle grazing, so you sort of get a nice balance," he explains.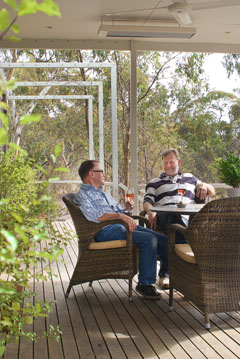 A smaller wine region famous for their Riesling and Shiraz, the Valley has a focus on premium wines with very few commercial wineries. "You'll tend to see the wine maker at the cellar door," David says.  While Barossa is famous for their "big" reds, kindly translated by David as simply "more alcoholic," Clare Valley Shiraz is more "refined" and "delicate."
With plenty of amazing places to see and things to do in the Clare Valley, I had to get David to narrow down a few of his favourites. With "drink wine" at the top of his list, his must-see winery is Jeanneret Wines at Sevenhill. "It's small and most people wouldn't know it but I think it's one of those hidden gems".
When it comes to accommodation, there's a diverse range, with each place offering something unique. Of course Thorn Park by the vines is at the top of our list but if they're booked out, or you're after a different experience, David highly recommends Skillogalee House. "Apart from having a restaurant, they also have several cottages and quite a lovely stone house by a dam," he says. We quite often send people there". With so much beautiful wine to sample in the Valley, you might not want to be designated driver. David recommends Clare Valley Experiences to his guests. "They take small groups around to visit wineries and places of interest so it's a great way if you don't want to drive yourself," he says.
If you've got lots of time on your hands there are some gorgeous nearby towns to explore. David suggests taking a half day trip to Burra, a "fascinating town" half an hour away from the Clare Valley. Another must-see is Mintaro, a quaint mining town. With beautiful heritage buildings and several boutique wineries and restaurants, it's a lovely half-day wander around the village. For art-lovers, a trip to The Iron Gate Studio Gallery in Mintaro is a must. Contemporary artist Jen Penglase-Prior showcases her unique limited edition work as well as an impressive display of glass, sculpture, and ceramics by some of South Australia's most talented artists.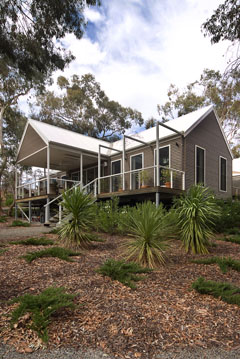 If you want to get out and about, Clare Valley's famous Riesling Trail is great for cycling and walking. David's go-to bicycle company: Cogwebs even offer to come and pick up the bikes at the end of the trail so you don't have to cycle back (leaving more time for wine tasting). The Spring Gully Conservation Park to the west of the Clare Valley is home to stunning Stringybarks, waterfalls, and plots of native orchards.
If you need a break from the wineries, David's local drinking hole, the Sevenhill pub is a great choice. It's been renovated just enough so "it's got a bit of sophistication." Next door is the Little Red Grape, a small cellar door that offers various local wines, home wares, and baked goods if you're in need a of a nosh. If you're after something a bit more substantial, Skillogalee Winery is David's favourite spot for lunch in the Valley.
In keeping with Eat Local SA, an initiative that encourages restaurants to use local produce, Terroir at Auburn is David's restaurant pick. "It's a small up-and-coming restaurant making some really impressive reviews, it sort of wraps up what Eat Local is about," he explains.
Despite their downsizing, David and Michael show no signs of slowing down. "Our plans are to have as much fun as possible, keep going as long as we can, and enjoy our stunning surroundings," David says. "We've run a bed and breakfast in the Clare Valley for 25 years and the important part for us is that food and wine experiences are fundamental." With the emerging gourmet food scene it's an exciting time for the Clare Valley. "We've got some really interesting product happening, a lot of oils and people that make a variety of jams and condiments, and the local lamb producer, Savannah Lamb. Now we've got a couple that are doing wholegrain pastas and durum wheat which is selling nationally."
Brands Article Feeds