Golden Opportunities
The NSW Central West's Cowra provides rewarding road tripping for visitors who appreciate the finer things in life.
With the 20/20 vision of hindsight, the 1950s and '60s were pivotal decades for the NSW Central West. It was a time when the residents of the primarily agricultural town of Cowra got their heads together and decided they should acknowledge some of their war history.

Towards the end of WWII more than 300 of 1000 Japanese prisoners who had been interned in a camp on the outskirts of town made an escape attempt that resulted in the loss of life of 231 Japanese and four Australians. By the '60s, sufficient time had elapsed for Cowra's returned servicemen, who tended the graves, to initiate further reconciliation for this violent past. The bodies of all Japanese people who died in Australia during the war were moved to the Japanese cemetery in Cowra to lie with their countrymen who had died during the breakout and the land was ceded to Japan in 1963 creating the only Japanese war cemetery outside Japan. Talk also began about a memorial Japanese garden, which was finally realised in 1979 when a five-hectare bushland site designed by renowned Japanese landscaper Ken Nakajima was opened in 1979. These days, the Kaiyushiki (strolling) garden attracts more than 41,000 visitors a year, as they walk or drive golf buggies through a microcosm of the entire landscape of Japan, from the hill that represents Mt Fuji and the hedges that cascade down respresenting the surrounding hills to the streams and ponds for the rivers and lakes. The garden is a delight throughout the year but peak season is spring when the Sakura Matsuri (cherry blossom) festival is held and the garden is washed in pink and white flowers. There's a Bonsho bell outside the visitors' centre and in downtown Cowra Australia's only peace bell, one of 23 in the world, made from melted-down coins donated by 106 countries, stands in Civic Square.

Just over 30 kilometres down the road in Canowindra, two totally unrelated, but equally significant events occurred during the late '50s and '60s. The first was when a roadworks grader struck a rock that turned out to be a clump of fossils dating from the Devonian era somewhere between 350 and 360 million years ago. Subsequent excavations of the site have revealed eight new fish species including the NSW fossil emblem, Mandageria fairfaxi. Apart from being what many scientists, the Australian Museum's Dr Alex Ritchie and Sir David Attenborough included, describe as the best preserved fossils of their type in the world, these fish represent a kind of missing link between life in water and on land. Some of these fish had bony armour and a functioning neck joint while others had lungs as well as gills and a pentadactyl limb, a precursor to arms and legs to help them with their evolutionary transition. The Canowindra community
has taken this remarkable slice of life on earth to its heart and in 1999, the Age of Fishes Museum, funded largely by local efforts, opened. Today, more than 10,000 visitors come every year to learn more about this fascinating discovery, which still has much to reveal about world before dinosaurs.

The next event occurred a decade later when a group of Sydney University engineering students decided to build a hot air balloon. Obviously they couldn't fly in it the city so they started looking around the countryside for a suitable venue to launch their creation. They found precisely what they were looking for in the fairly dense farming land around Canowindra. The relatively small 1000- to 1500-acre (400- to 600-hectare) paddocks, with plenty of linking roads were perfect for the chase vehicle following the balloon to its landing spots. By 1986 Canowindra was designated Australia's ballooning capital and each year in the second week of April around 35 balloons and their crews descend on the 2000-strong township for the International Balloon Challenge. About 10,000 visitors come for the Night Glow, which is one of the highlights of Challenge week.

If all this is news to you, then that could well be because Cowra and Canowindra and the surrounding villages of the region have been somewhat eclipsed by Central West's biggest centre, Orange. The city with its population of 40,000-odd is the region's undisputed agricultural, administrative and wine and food capital. When Stephen and Rhonda Doyle planted vines at Bloodwood, the first commercial vineyard in the district in 1983, they were onto a vigneron's perfect storm of cool climate, elevation, soils and geology that has seen the Orange district flourish into a wine and food destination that is popular as a weekend destination with visitors from Sydney and Canberra.
In fact vines had been planted at Cowra Estate a decade earlier and a similar quality for its Chardonnay was identified by Brian Croser, who at that stage was teaching wine making at Charles Sturt University in Wagga Wagga. He was so impressed that he chose Cowra fruit for the first Petaluma Chardonnay in 1977. Both Orange and Cowra vineyard planting increased exponentially during the 1990s, which inevitably led to oversupply. These days the serious producers have been sorted from the producers who were in it for the tax benefits and areas under vine in Cowra and Canowindra are much more sustainable.

Sam Stratham describes his family's Rosnay organic vineyard, olive grove and fig orchard as one of the "last of the Mohicans". His parents, Richard and Florence, planted their vineyard in 1997 and named it for Florence's French grandparents. From the outset their enterprise, like about 65 per cent of the region's wine producers, was organic. Sam, who studied environmental geography, says it was the organic and biodynamic ethos that persuaded him to give up his city job and join his parents on the land. From the outset Rosnay has been run as part of a community title project. "Mum and Dad had the farm, but they didn't have the funds to develop it," he says. "Community title was a way of getting good neighbours, who all run their own enterprises, without being business partners." He and his wife, Simone, who grew up on a farm at nearby Woodstock, say the community works well, with the seven households helping each other out with tasks such as bore, road and fence maintenance without living in each other's pockets.

Sam proudly shows us the heart of Rosnay, a steaming range of compost, which is a blend of green waste from Orange and sheep manure from Boorawa. Other points of difference are the biodynamic preps that are fed to the vines and one of the community member's sheep that serve as grass mowers and weed controllers. "His access to our vineyards means he can run more sheep than he could in his small paddocks," Sam explains. The Strathams also offer guest accommodation in a three-bedroom cottage and guests will come away with a new understanding of the finer points of wine making and organics.

And if Richard happens to be around, the delights of Baroque music. He's one of the prime movers behind Baroquefest, an annual October celebration which is held in a variety of winery and historic settings across the district.
The vine-covered terrace at Wallington Wines, a family vineyard on the other side of town, founded by Margaret and Anthony Wallington is one of those venues. Anthony was a Cowra doctor who gave up a career as an opera singer to become a country GP. He dreamed of waking up and looking out over a vineyard. So in 1990 he did just that and things progressed in a fairly ad hoc way until his untimely death in 2003. When Margaret, who is clearly made of stern stuff, found herself with a vineyard and four young daughters to support, she set about turning Wallington Wines into a serious business. She started the process of converting to organics in 2006 and, although the winery enjoyed considerable success during the Chardonnay boom, she was prescient in her decision to move to varieties more suited to the region , include Tempranillo, Grenache, Mourvedre and Shiraz. These days, she's handed the day-to-day running of the winery over to Steve Mobbs who is the partner of her daughter, Nadja, the winemaker at Philip Shaw Wines in Orange. But Margaret is omnipresent in the vineyard and its strawbale winery. "She treats the property holistically," Steve explains. "She could see conventional practices weren't working so she looked to nature to fix them.'' The mix now includes an organic olive grove, 600 Dorpers as lawn mowers and 60 head of cattle. There's also a farmstay on the property for visitors who can't get enough of the serenity of its rolling hills, stunning night skies and parabolic blue skies.

Our accommodation is at Pop's Hill, a truly spectacularly located self-catering homestead about three km out of Canowindra. Its four double guestrooms make it the perfect location for a group of friends wanting a quiet getaway with 360-degree views of the surrounding farmland and vineyards. Cowra also offers a range of motels, hotels, farmstays and B&Bs and there are lots of quirky accommodation options in the historic villages of Millthorpe, Blayney, Carcoar and Neville.
Where there's wine there's food and notable beacons on the food map include Tonic at Millthorpe, Délice Coffee, Finns Store and Coco Harvest in Canowindra, and the Breakout Brasserie, Oxley Wine Bar and Quarry in Cowra.
Visitors seeking the charm of village life will make a beeline to the tiny towns of the region, but they should be warned that Monday to Wednesday, the peace and quiet might be a bit more than they bargained for, particularly if they haven't had the foresight to book into self-catering accommodation and bring provisions. Come weekends, however the former gold-mining settlements are bustling, with boutique shops, cafes and pub dining rooms doing a roaring trade. There's a sense of anticipation in Carcoar, "the town that time forgot" that a tourist renaissance is coming. The town's historic streetscape is a reminder that it was the second oldest settlement (after Bathurst) west of the Blue Mountains. Established in 1839, it was a the 1850s gold rush that really put Carcoar on the map and its many surviving historic buildings include the "new" courthouse, which was completed in 1882 and is now a fascinating place for visitors to learn about justice colonial style and an ingenious acoustic control created by stringing wires across the ceiling cavity. Visitors can also take in a museum in the 1861 former hospital, where the display of medical equipment and surgical instruments is terrifying and fascinating in equal measure. There's also a toy museum next to a row of shops that includes Tomolly homewares, the Village Grocer cafe and Vida dress shop. "Of course we make everything on the premises," Village Grocer's co-owner Jo Howarth observes of the array of pies and slices on display. "It's hundreds of kilometres to the nearest factory or warehouse where we could source commercially prepared food."

Our rooms for the night were in the Old Carcoar Post Office, where Jenny and Richard Beach have recently renovated six guest rooms and have plans to create a restaurant in the courtyard. The next morning we detoured to the even sleepier village of Neville, where Raymond Day-Hakker has established the Golden Era Piano Museum, showcasing pianos made from the 1860s to the beginning of WWI including what he believes to be the oldest piano in mainland Australia. A few hundred metres down the road Kevin Radburn can accommodate about 40 guests in the railway carriages and the former Mandurama Railway Station Master's cottage assembled at the Neville Railway Siding. The venue is popular for family reunions and craft group weekends. We drove through fields of golden canola to the village of Greenethorpe, purpose built in 1911 as accommodation for share farmers at nearby Iandra, once a vast grazing property that became an agricultural benchmark, with a delegation from Scotland coming to witness the policies being observed, the Massey Harris machinery firm choosing to demonstrate their first reaper thresher on the property and the first commercial crop of William Farrer's famed rust-proof Federation wheat grown there. The massive homestead is open to the public several weekends a year and visitors can stay the night or enjoy coffee and a meal at Circa 1935 in the restored Bank of NSW building in Greenthorpe village.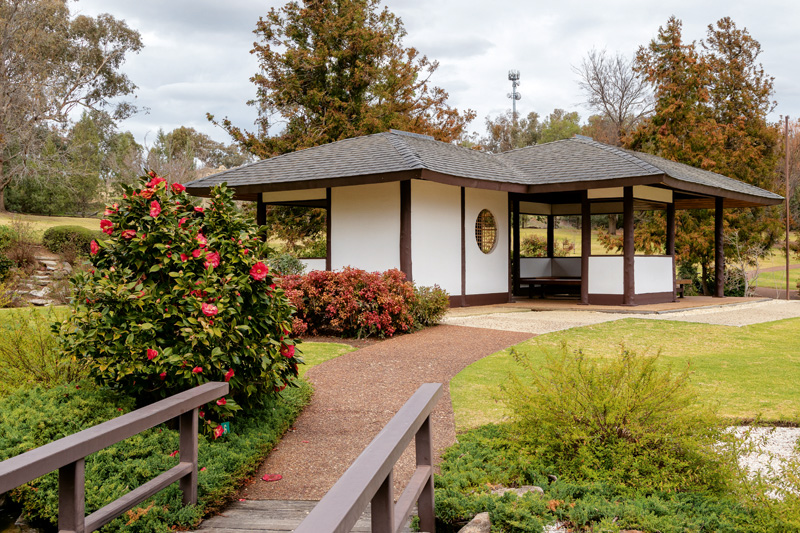 Like many places in the Central West, it would be easy to pass through without stopping. But take the time to pause a while and visitors will find rich pickings beneath a deceptively sedate and sleepy veneer. It may involve a little digging, but there is pure gold to be found in the towns and villages of the region and the home-grown hospitality they offer travellers.
The complete story was originally published in Australian Country issue 21.6. Click here to subscribe to our magazine
Words Kirsty McKenzie
Photography Ken Brass
Brands Article Feeds