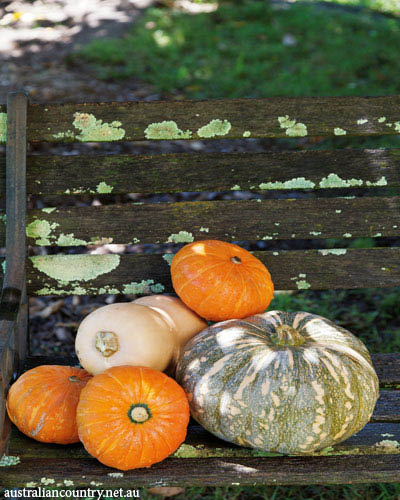 Native Americans used to claim that pumpkin was a cure for all ailments, including freckles and snake bites. Pumpkin is believed to have originated in North America and is rich in antioxidants, high in vitamins and doesn't contain any saturated fats or cholesterol. It grows on almost every continent and is used by different cultures to create savoury and sweet cuisine.
The most common varieties in Australia are Jap, Butternut, Queensland Blue, Jarrahdale, Dumpling and Golden Nugget. These days, pumpkin plays a more humble role in our cooking yet still provides a range of choices for sweet and savoury dishes.
Pumpkin goes with: Blue cheese, walnuts, prosciutto, cumin, coconut milk, thyme, rosemary, coriander, fetta, capsicum eggplant, brown sugar, maple syrup, citruses, cinnamon, nutmeg and vanilla.
These recipes were originally published in Australian Country 15.4. Subscribe to our magazine here.
For more recipes, click here.
Words Sue Stadler
Photography Ken Brass
 Pumpkin, cashew and Parmesan dip
500g butternut pumpkin, peeled
and cut into pieces
3–4 tablespoons olive oil
1 garlic clove, roasted
125g unsalted cashews, roasted
1 teaspoon cumin
1 tablespoon lemon juice
¼ cup Parmesan cheese, grated
Salt and pepper
Preheat oven to 200°C. Place cut pumpkin onto a baking tray and drizzle with half the olive oil, roast for 30 minutes, cool. Grind 100g of the cashew nuts in a food processor until they resemble coarse breadcrumbs. Add the cooled pumpkin, one tablespoon of olive oil, garlic, cumin, lemon juice and parmesan and process until desired consistency is reached. You may like to add more olive oil if a little dry, season with salt and pepper to taste. Refrigerate, covered until ready to serve. Transfer dip to a serving bowl and place remaining cashews, chopped, on top.
 Roasted pumpkin tarts
Makes 12
700g butternut pumpkin, peeled
and cut into 2cm pieces
2 shallots or small pickling onions,
peeled and chopped
1 tablespoon brown sugar
2 tablespoons olive oil
½ cup semi-dried tomatoes, chopped
2 tablespoons fresh basil, chopped
1 tablespoon balsamic vinegar
Salt and pepper
120g fetta, crumbled
3 sheets frozen puff pastry, thawed
2 eggs
150mL thickened cream
Preheat oven to 200°C. Grease 12-hole muff in pan. Place pumpkin and onion in a roasting pan, sprinkle with sugar, drizzle with oil and roast for 30 minutes or until tender. In a large bowl, gently toss the cooled pumpkin and onion with dried tomatoes, basil, vinegar and feta, season to taste.
Cut 12 rounds from the pastry sheets (each measuring approximately 10cm in diameter). Press into muff in holes to cover base and sides. Divide pumpkin mixture among the rounds. Whisk eggs and cream together and pour evenly over the top. Bake at 200°C for 35–40 minutes or until golden. Cool slightly before turning out. Can be served hot or cold.
 Stuffed pumpkins
Serves 4
4 small nugget pumpkins
3 tablespoons olive oil
2 Italian sausages, casings removed
1 leek, sliced
1 clove of garlic, minced
250g mushrooms, chopped
1 teaspoon Worcestershire sauce
Salt and pepper
1 cup cooked rice
1 tablespoon fresh parsley, chopped
½ cup tasty cheese, grated
Cayenne pepper
Slice the top off each pumpkin and scoop out the seeds. Set aside. In a skillet or frying pan, heat one tablespoon of oil and cook the sausage mince over medium heat, crushing with a spoon into smaller pieces until crisp and golden. Remove and set aside. Add two tablespoons of oil to the pan and sauté the leeks and garlic over medium heat for five minutes. Add the mushrooms and cook for two minutes. Return the sausage mince and add Worcestershire sauce, season to taste. Remove from heat and add the rice and Stuff ed pumpkins
parsley, mix to combine.
Preheat oven to 180°C. Spoon the filling into the pumpkin shells and place the shells into an ovenproof dish. Sprinkle with cheese and a little cayenne pepper to taste. Bake for 45–50 minutes or until the pumpkins are tender. If you like, bake the pumpkin lids as well and replace to serve.
 Baked pumpkin & baby spinach risotto
Serves 4
750g pumpkin, peeled and cut into
3cm pieces
4 tablespoons olive oil
1 large onion, chopped
2 cloves of garlic, minced
1½ cups Arborio rice
½ cup white wine
4 cups of vegetable or chicken stock
2 tablespoons fresh marjoram, chopped
Freshly ground black pepper
100g baby spinach leaves, washed and trimmed
½ cup parmesan cheese, shaved
Preheat oven to 200°C. Place pumpkin on an oven tray, drizzle with two tablespoons of oil and roast for 45 minutes, until browned and tender. Keep warm. Place stock in mediumsized saucepan and place on the back of the stove. Bring to a simmer. Heat a large ovenproof dish (with lid) over medium heat. Add the remaining oil, onion and garlic and stir for five minutes or until onion is soft and translucent. Turn up the heat and add the rice to the dish, stir for another minute. Add the wine and cook, stirring constantly until the wine is absorbed. Add the stock, marjoram and pepper to taste. Cover the dish and bake the risotto in the oven for 30 minutes.
Remove the risotto from the oven, add the pumpkin, baby spinach leaves and half of the parmesan, season with salt and pepper and gently stir through to combine. Replace the lid and set aside for five minutes before serving with parmesan shavings sprinkled on top.