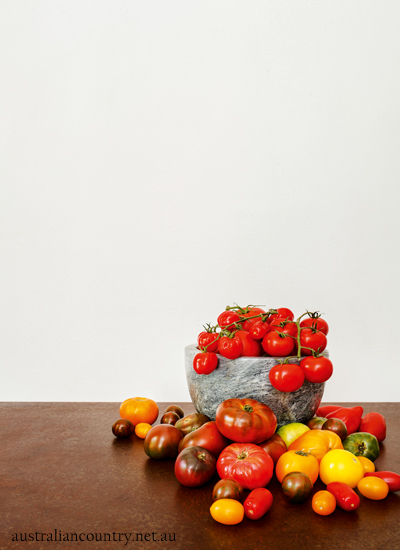 Botanically a fruit, but considered a culinary vegetable and a member of the nightshade family, tomatoes were originally yellow. From their origins in South America, they were transported to and adapted in Russia, Spain, Italy and France, and then worldwide. From the estimated 5000 cultivars which resulted, about 100 heirloom varieties remain today. That's a lot more than you see on the supermarket shelves, where the range is edited by marketability, durability and shelf life, although it is encouraging to see heirloom varieties appearing in stores and at markets more and more.
These recipes were originally published in Australian Country issue 20.1. Click here to subscribe to our magazine.
For more recipes, click here.
Recipes and styling Kay Francis
Photography Ken Brass
 
Tomato Vodka Salsa with Steamed Prawns 
Serves 6 as an entree or pre-meal taste teaser 
700g ripe tomatoes
2-3 teaspoons harissa
½ cup vodka
2 tablespoons finely chopped shallot
1 large green chilli, seeded and
finely diced
Juice 1 lime
1 tablespoon Worcestershire sauce
3 tablespoons finely diced celery, plus
6 celery leaf stalks for garnish
18 large green king prawns, peeled
To peel tomatoes: cut out cores and score an X on the base of each. Place into a bowl and cover with boiling water. Stand 2-3 minutes, drain, then cover with cold water. The skins will be loose.
Peel and place tomatoes into a blender. Puree until smooth, add harissa and vodka and puree to combine. Pour into a 6-cup capacity jug and add shallot, chilli, lime juice, Worcestershire sauce and diced celery. Chill before serving. Keeps, covered, for several days.
To serve: put prawns in a bowl and pour over boiling water. Stand 10 minutes then drain. The prawns should be opaque and cooked through. Cut each into three pieces and divide them between 6 serving glasses. Pour in chilled tomato mixture and garnish each glass with a celery leaf stalk.
 
Roast Tomato Salad
Serve with crusty bread. Serves 4-6
1kg mixture of cherry truss and
heritage medley tomatoes
2 tablespoons olive oil
1 teaspoon saffron threads
2 teaspoons harissa
2 tablespoons finely sliced preserved lemon
6 labne balls (see note)
2 tablespoons chopped roasted pistachios
½ cup torn parsley
Preheat oven to 190°C. Line a large shallow baking tray with baking paper. Put tomatoes on tray and pour over the combined oil, saffron and harissa. Roast for 50-60 minutes or until tomatoes are browning and shrivelled. Transfer tomatoes and juices to a serving plate and add remaining ingredients.
Note: Use either purchased labne or you can make your own by draining natural yoghurt in the refrigerator overnight. Discard the whey or use it in curries or baking.
 
Deep Dish Tomato Tarts
Serves 6
4 sheets ready-rolled puff pastry
6 tablespoons caramelised onion
(recipe follows)
150g feta, crumbled
24 pitted Kalamata olives
6 anchovy fillets, roughly chopped
6 tablespoons fresh breadcrumbs
1 tablespoon oil
1 teaspoon harissa
6 large tomatoes
Preheat oven to 200°C. Brush insides of 6 x 10cm springform baking tins with a little butter. Using the tin as a guide, cut 6 circles of pastry and fit into bases. Cut strips of pastry slightly wider than the depth of tins and line the sides, overlapping pastry at joins. Refrigerate 20 minutes.
Spoon 1 tablespoon of onion into the base of each tart. Divide the feta between tins and then add anchovies.Cut halfway through tomato from base, keeping tomato intact. Position in tins. Combine breadcrumbs with oil and harissa and sprinkle around each tomato. Bake in preheated oven for 45 minutes, until pastry is puffed and golden. Remove from tins and serve hot, or cool in tins and remove to serve at room temperature.
 
My mum's Tomato Sauce
Make about 4 litres
500ml apple cider vinegar
3kg ripe tomatoes, cores removed
700g apples, cored and halved
2 large brown onions, peeled
and quartered
750g-1kg sugar (to taste)
90g salt
1 tablespoon allspice (whole if
possible and tied in muslin, if not
use powdered)
Boil vinegar to reduce it to ½ cup. Combine remaining ingredients in a very large pot and bring to a boil. Simmer uncovered for 2 hours, stirring occasionally. Cool and remove muslin bag of allspice if using. Blend contents of pot until smooth (it is easiest to use a mixing wand). Add the reduced vinegar, return the pot to medium heat. Bring sauce to the boil and cook for
3 minutes. Cool uncovered, then bottle. Store tomato sauce bottles in a cool dark place. Refrigerate bottles after opening.