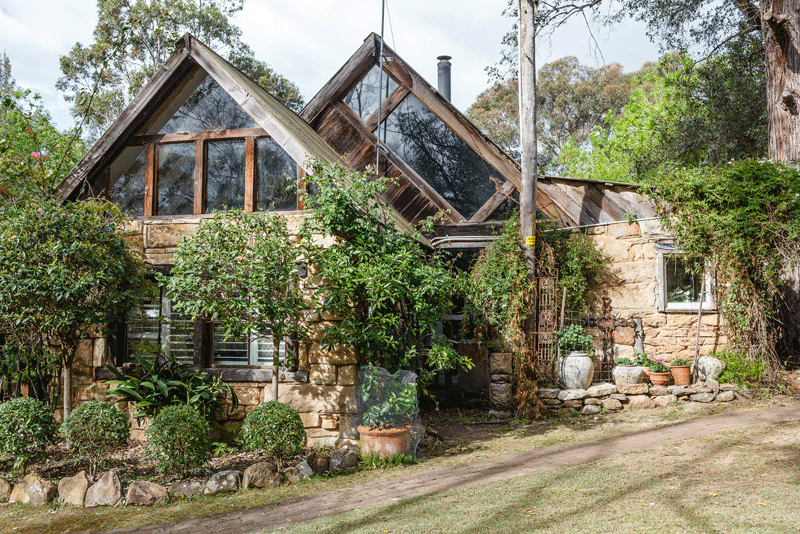 There's a black and white photograph in a grouping above the bed in Jen Ballard's cottage that goes some way towards explaining her remarkably diverse portfolio of passions. The picture shows Jen's mother, Joan Louitt, a World War II nurse with the RAAF's Medical Air Evacuation Transport Unit, based on the island Morotai in Indonesia. With her oxygen bottle and mask at the ready, the plucky nurse was responsible for the evacuation to New Guinea of "her boys", sick and wounded soldiers returning on litters strapped into the bellies of the Douglas C-47s that were the front line transport of the time.
"Mum went on to become one of the first batch of flight attendants with TAA," Jen explains. "Actually I come from good adventurous stock. My grandmother, Mabel Davis, on my New Zealand Dad's side, was a doctor's nurse, who routinely accompanied him on home visits by horseback in the Waverley district."
A self-confessed "tomboy with a Chanel handbag", Jen says she loves planes and engines, and was encouraged by her father, who took her to air shows and told her stories of World War II. Her maternal grandfather, Noel Medway Louitt, also had a distinguished military career, being twice awarded the DSO at Gallipoli and later serving on the Western Front and ending his career as a Brigadier General in charge of building the road from Alice Springs to Darwin during World War II.
So it is probably not surprising that as a young nurse in New Zealand Jen discovered the freedom of motor cycling. "I bought my first dirt bike in 1970 and loved riding around the North Island with the wind in my face," she recalls. "My then husband was into bikes as well and we loved the carefree lifestyle … the denim and check shirts, On-Any-Sunday kind of existence."
A decade later, Jen had divorced and moved to Australia with her young daughter, Kim, when she met Geoff, a dashing young Enduro rider, who was at the beginning of a professional motorcycle racing carer that would see him become Australia's most decorated off-road racer, with an OAM for his services to the industry.
"Geoff was unbelievably good," Jen recalls. "He rode so fast, but he also crashed so many times he could go from first to last three times during the course of a race. When he decided to go to Europe to pursue his racing career, it was a given that we would go with him."
What followed was an amazing four years of thrills and spills and professional success. Living out of a motorhome on an absolute shoestring, Geoff and Jen and 11-year-old Kim based themselves in the north of France and travelled all over Europe on the circuit for the "Olympics of motorcycling", the International Six-Days Enduro (ISDE). To support themselves between events they teamed up with the French answer to the dare-devil Evel Knievel, Jacques Krouto, who ran a stunt show. So with Geoff on a bike, and Jen in the air precariously poised at the top of a ladder attached to the bike, or lying on the ground with her fellow team mates while the bikes catapulted over them, they earned sufficient funds for Geoff to represent Australia 26 times and add 12 gold medals and seven silver medals to his CV. "Of course it was crazy," she recalls. "We were always broke and we washed our clothes in a stream to avoid paying for a laundromat so we could afford our weekly indulgence of a trip to the patisserie. But we were having a ball, and in many ways they were the best of times."
France brought an awakening of a different kind, because Jen found an aesthetic she loves and continues to celebrate to the present day. "I just loved the cobblestone streets, the stone houses and walls and the big baskets of geraniums," she says. "I saw such beauty in marble and cast iron and utilitarian objects that have the patina of age."
Having found her metier, Jen knew exactly what she wanted to achieve when she and Geoff returned to Australia and moved into a little cottage on Geoff's family property west of Sydney. Originally built as a stable from sandstone quarried on site at the turn of the 19th century, the building needed considerable work and a strawbale extension. But with her rustic sensibility, eye for a bargain and experience of living on next to nothing, Jen transformed it into a showcase of provincial French charm. With distressed painted finishes and old gates, doors and found objects including an old zinc trough she'd bought for no reason other than she loved it, the once-derelict building now oozes Gallic charm.
Read more about this stunning French provincial style home the February/March issue of Australian Country magazine, available for order and online now!
Words: Kirsty McKenzie
Photography: Ken Brass