A western NSW farmer who can talk furniture designer Mark Tuckey as confidently, and passionately, as agricultural machinery manufacturer John Deere, Moree's Andrew Ball is fascinatingly contrary. Pinterest, his go-to for inspiration, reveals expertly curated folders on architecture and design, seamlessly co-existing with pins on rugby and cars.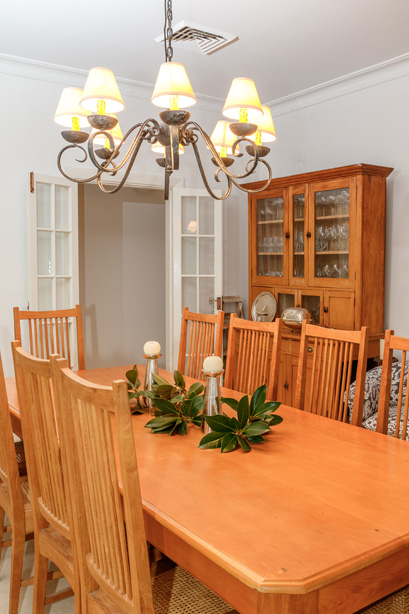 His large farmer's hands swipe, and the fact that he even has a Pinterest account speaks volumes. "My mother had a beautiful eye for design and style," he reflects. "It's quite amazing, you never forget those things that were ingrained into your childhood."
Nestled in a leafy local street, Andrew and his wife, Barbara, have restored one of the town's most stately properties, the type passers-by crane their necks at in anticipation of a glimpse beyond the perfectly manicured hedges and topiaries. The unusual, yet sophisticated, original rendered cement façade defies any specific era or style. While the house dates from the 1920s, its timeless appeal provides a point of difference in a region renowned for weatherboard homesteads.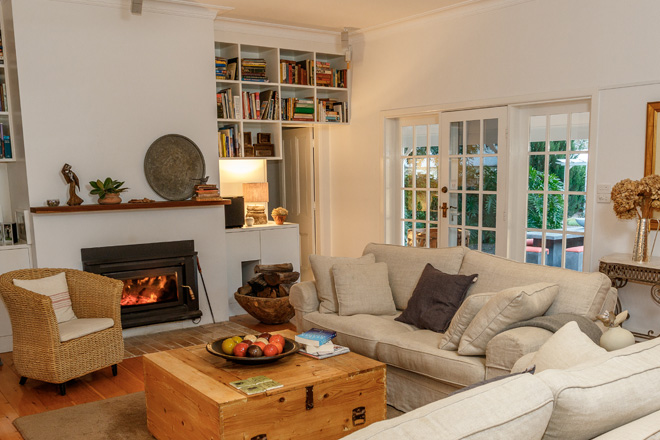 "We always lived in old homes where the doors wouldn't open and shut, let alone lock," Andrew says. "So, more than anything, we were looking for something that had solid foundations." After a lifetime of moves, from Jerilderie in the Riverina, East Gresford in the Hunter Valley through to Burren Junction on the NSW North West Plains, they yearned for something to sink their renovating teeth into.
"In the early years, Andrew was a company overseer," Barb explains. "So homes, and everything in them — right down to the linen — were always part of our package, and we moved frequently. We were living in the Riverina and quite out of the blue, Andrew announced that he refused to spend his whole life not owning his own bed. I was six months pregnant with our second son, Cambel, with 12-month-old son Hugh in tow, and we promptly set off to Canberra working as fencers, attempting to gain an interest in property of our own."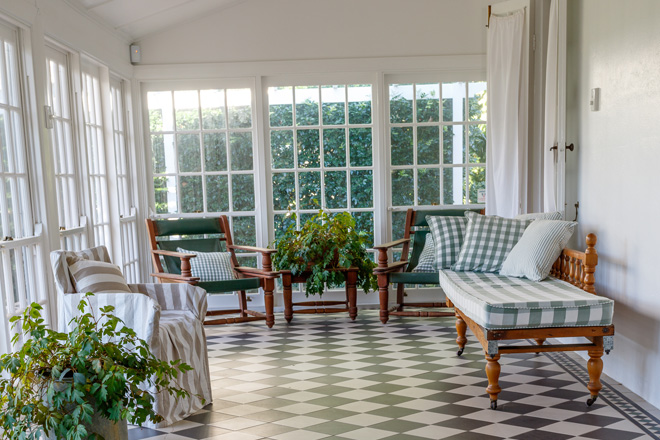 Their dream was realised in the Hunter Valley, where, Barbara fondly reflects, they were "extremely fortunate to have partnered with two exceptional people in the region to help get our start".
However, a born-and-bred Gular girl, her compass was set west, and the family, now including third son Duncan, eventually settled at Gorian, near Burren Junction, for the next 26 years.
Their ultimate path to Moree 12 years ago echoed this adventurous spirit. "The inevitable day came when we decided to leave our sons to farm independently," Barbara explains. "We had our checklist — river frontage, tennis court, pool and definitely a lifestyle block out of town — but, in hindsight, we were probably being frightfully ambitious."
The couple spent the next 18 months scouring the state's north-west, finally settling on the Moree property. While it lacked river frontage, and the neighbours were closer than envisaged, the house ticked plenty of boxes.
"The boys rang and said 'Mum, you better have a look at the trees','' Barb says. "After a lifetime of planting trees only to move again as they were establishing, the beautiful canopies of claret ash, jacaranda and ficus were very appealing."
With a streetscape that belies the property's generous 1.8 acres (half a hectare), the sprawling garden is an unexpected treasure trove of delights. Repeat plantings of clipped Teucrium, lilly pilly and Murraya and avenues of Manchurian pear complement a seemingly never-ending expanse of perfectly manicured lawn — with 10 grandchildren, the Balls are conscious of providing enough lawn to kick a footy. Outbuildings, including a much-frequented guesthouse, dot the landscape, while a maze of bougainvillea-laden pergolas provides bursts of colour and structure.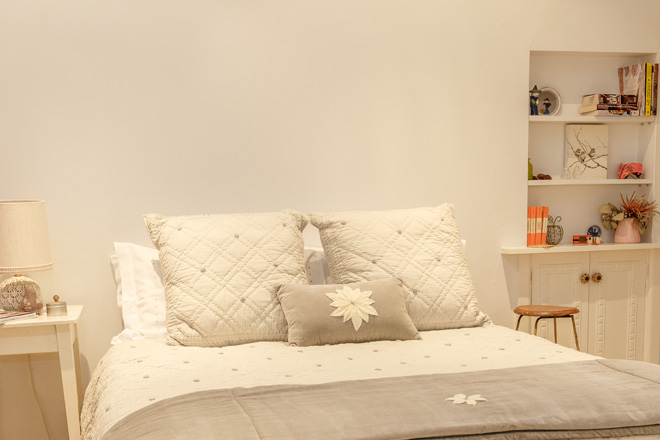 The couple share a love of gardening, although Barb laughs that Andrew is still a farmer at heart. "I grow hedges so he has something to trim," she says. A sunny nook on the verandah bears tell-tale coffee-ring stains, while a paved courtyard, protected under a mature Chinese elm, begs al fresco evenings under the big Moree sky. "We're definitely outdoors people, and love entertaining," Barb says. "So we've made sure spaces capture winter sun and summer shade."
Despite finding this secluded oasis, town life took some adjustment. "I cried the whole trip to town when we moved," Barb admits. "It was a new community and a new chapter and the first time a move felt hard — but, after 12 years, I am very settled and really love our life here."
Both highly involved in previous communities, the couple launched into local life, and Barbara found that "acquaintances soon became genuine friends". Andrew, on the other hand, found their new urban status instantly appealing. "I love camping and travel and now we're free to do those things," he says. "After so many years of isolation, just ducking down the street to get a coffee is pretty exciting."
Yet the home's dark and dated interior did little to alleviate that hemmed-in feeling the couple both felt after a lifetime on farm. With Barb's yearning for neutrals as "white wasn't so practical out west", walls were removed to create open living spaces and the whole interior was painted white to create space and light. "Even now people say we need more colour," she says. "I'm not convinced as I just love the white."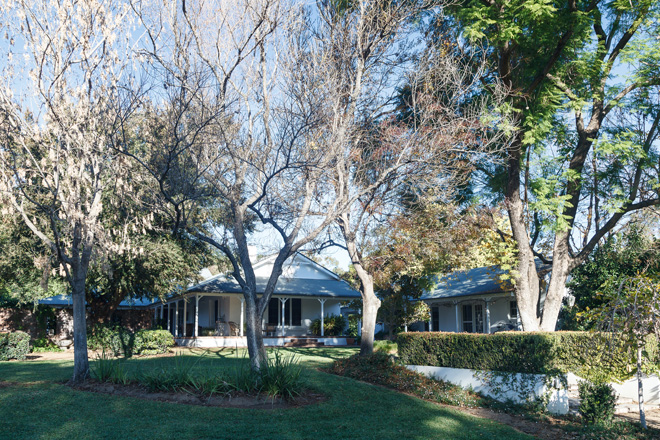 Ceiling-to-floor French windows flood enclosed verandahs with light, while a thoughtfully selected collection of blonde timber antiques mingles comfortably with pops of modernism. "We lived with heirlooms and hand-me-down furniture forever, so this house was an opportunity to buy on all-new furniture," Barb says. "Although the thought of spending money on furniture mortified me."
Self-described as extremely fussy — "I have a very definite idea of what I like" — there is a glint of excitement in Andrew's eye as he describes his preferred style: moderate minimalism. "I love modern, but it has to be done with taste and style; there is a line," he says.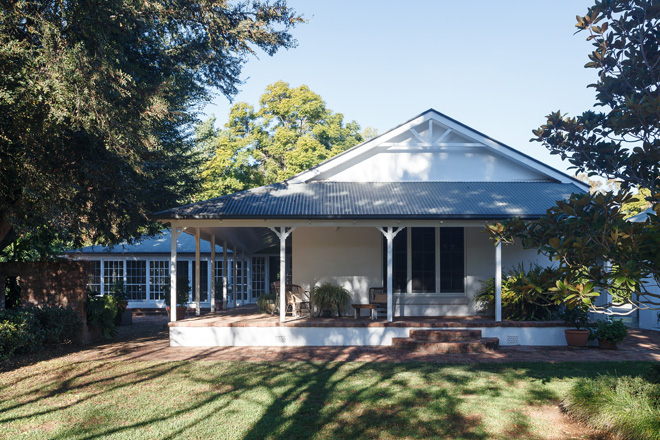 Such is his interest, a number of pieces have been specifically commissioned. A custom-poured concrete outdoor setting, textural and raw, is a case in point. "We didn't want timber," he explains. "While modern for this house, the concrete provides a stylish focal point at the same time as withstanding the harsh Moree elements." Acknowledging that this home does not lend itself to overt modernism, a recent purchase from Noosa has allowed the Balls to experiment.
"It's been lots of fun, but my dream is still to build a house from scratch," Andrew says. "It would be very modern, based around function, simplicity, air and light. It's an appreciation developed after years of living in old homesteads. They are full of character, yet often quite impractical." And so, for a couple who retired 12 years ago, it seems like there's little chance of the Balls slowing down anytime soon.
The complete story was originally published in Australian Country issue 21.3. Click here to subscribe to our magazine
Words Georgina Poole 
Photography Ken Brass