Beautiful, vibrant, ubiquitous, healthy, delicious and versatile, this queen of the citrus family should not be taken for granted.
A bit like salt, the lemon has been such an essential ingredient in cooking for centuries that it has assumed a commonplace status. But there is nothing commonplace about this fruit. As a cleaning agent there is nothing like rubbing a cut lemon onto a chopping board to freshen it up. Use lemons to enhance the colour of green vegetables such as broccoli and asparagus, and a squeeze of juice not only adds to the flavour of a pesto, but helps maintain the fresh greenness of the paste. White vegetables such as fennel and cauliflower also retain their colour when lemon juice is sprinkled on them during preparation.
Selection & storage: Select fruit that feel firm and heavy in the hand with no evidence of bruising or mould. There are two main types of lemon commonly available. The Eureka is a thicker-skinned more acid variety than the Meyer, the thin-skinned sweeter, juicier and more delicate variety that is favoured for use in desserts. Unless you grow your own, wash lemons in hot water if using the rind, as usually the fruit will have been sprayed with wax to preserve it. Rolling any citrus with the ball of your hand on a hard surface will break down the fibres and produce more juice when squeezing. Lemons will keep for several weeks at room temperature and more than a month in the refrigerator.
Lemons go with: olives & olive oil (think vinaigrettes), mint, parsley, ginger, chilli, seafood, chicken, salt, butter, sugar, vodka and honey (as a remedy for a sore throat).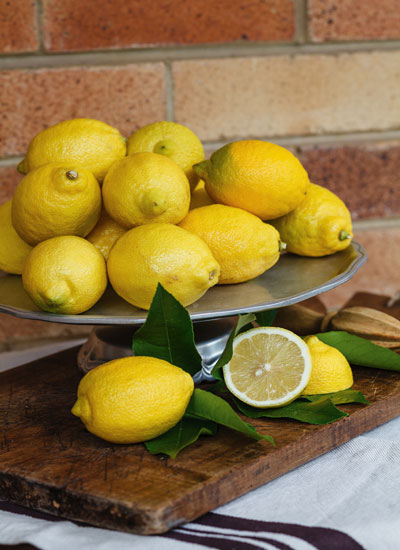 LEMON, FIG AND WHISKY LOAF
Serves 12. The loaf freezes well.

4 medium lemons
500g dried white Greek figs, thinly sliced
125g unsalted butter
1 cup (170g) molasses sugar (or use dark brown sugar)
1 teaspoon mixed spice
1 teaspoon bicarbonate soda
½ cup (125ml) whisky
2 eggs, beaten lightly
1 cup (150g) plain flour
1 cup (150g) self-raising flour
Preheat the oven to 180˚C or 160˚C fan-forced. Grease and line the base of a 7-cup loaf tin with baking paper. Wash lemons in boiling water, slice off ends and discard. Slice lemons in half lengthways, remove centre pith and seeds, then slice halves as thinly as possible. Place in a large saucepan with sliced figs, the butter and sugar. Heat to dissolve sugar. Stir in bicarbonate soda and stir until frothy. Stir in whiskey, then remove from heat and cool mixture to room temperature. Stir in eggs, then combined sifted flours.
Spoon into prepared loaf tin and bake in pre-heated oven for 1¼ hours, or until a skewer inserted in the centre of loaf comes out clean. Cool in tin, then turn out. Serve sliced and buttered, if desired.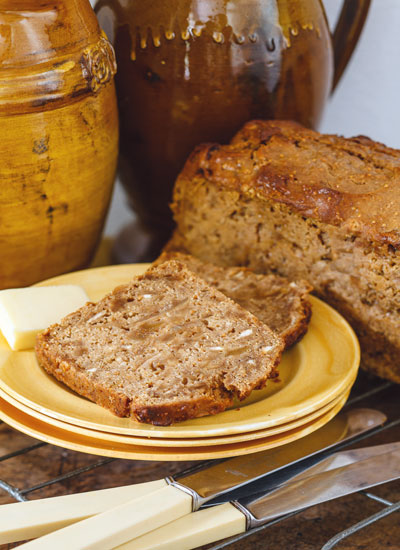 LIMONCELLO with CHILLI LEMON SALT
Makes 1.25 litres.
750 ml vodka
Thinly pared rind from 6 medium lemons
1 cup lemon balm sprigs, washed and dried
¾ cup raw sugar
Chilli Lemon Salt
Thinly pared rind from 1 lemon
1 small red chilli, seeded
2 tablespoon sea salt flakes
1 egg white, whisked, for dipping glasses
To make Limoncello, combine vodka, lemon rind and lemon balm in a large glass jar. Keep in a cool, dark place for 7 days. Combine sugar with 2 cups water in a saucepan. Heat, stirring, until sugar has dissolved. Boil 5 minutes, cool.
Strain vodka mixture into a clean container. Stir in syrup. Seal and store another 7 days. Pour into a sterilised bottle. Freeze at least 6 hours before using.
To make Chilli Lemon Salt: Chop all ingredients together on a board, until fine. Dip the rim of small liqueur or shot glasses in the beaten egg white, then into the chilli lemon salt. Add neat Limoncello. It can also be served in small tumblers, over ice.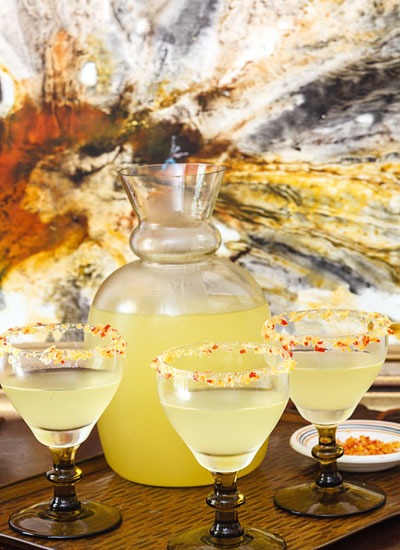 LEMON AND ALMOND SOUR CREAM CAKES
Makes 12 individual or 2 ring cakes.

2 lemons
1 cup (110g caster sugar)
175g unsalted butter, at room temperature
4 large eggs, at room temperature
½ cup ground almonds (almond meal)
1 teaspoon baking soda
1½ cups self-raising flour
½ cup sour cream
3 tablespoons chopped glacé lemon rind, plus extra (unchopped) and syrup for decoration (see Lemon and Cardamom Syrup Cake recipe)
2 tablespoons lemon thyme leaves, for decoration (optional)
Prepare glacé lemon rind and syrup (omitting cardamom from recipe). Preheat oven to 180˚C. Grease 12 x ¾-cup individual baking moulds (or 2 x 8-cup ring tins). Line bases of moulds with baking paper.
Grate rind from lemons into a mixing bowl. With a rubber spatula, stir in sugar until well mixed. Beat in butter until pale and fluffy, then add eggs individually, beating well after each addition. Stir in ¼ cup of lemon juice, and then the ground almonds. Sift together the baking soda and flour and add in batches, alternating with sour cream. Start and finish with dry ingredients.
Stir in chopped glace rind. Spoon mixture into moulds to three-quarters fill. Place on an oven tray and bake in preheated oven 25-30 minutes, until golden and firm. Remove from oven and stand on a wire rack positioned over the oven tray.
Reheat lemon syrup and spoon 1 tablespoon over each cake (or ½ cup over each ring cake). Cool to room temperature then turn out cakes onto the wire rack. Spoon remaining syrup onto cakes. Serve, decorated with glacé lemon rind and lemon thyme leaves.
This is an excerpt taken from Australian Country August 2015 issue, available for purchase now!
Recipes and Styling Kay Francis
Photography Ken Brass