The promise of all this is delivered by Citrus latifolia, commonly known as the Tahitian or Persian Lime. Presenting an arguably more exotic image than the ubiquitous lemon, although less endowed with Vitamin C, the bold lime colour speaks of aromatic Asian food, Mexican salsas, Indian chutneys, salt-rimmed glasses of ice-cold margarita, tangy desserts and cakes, and of course, a thin wedge makes all the difference to chilled Corona from the bottle.
Selection and storage: Choose fruit with smooth, unblemished skin. Limes tend to become lighter in colour and juicier as they ripen so select fruit with a bit of give when squeezed. Store at room temperature away from the sunlight for up to a week, in the refrigerator for up to a month. To store the juice for several months, freeze in ice cube containers, turn out and store in a plastic bag or sealed container in the freezer.
Limes go with: mangoes, bananas, pineapples, papaya, coconut, cream, ice-cream, coriander, mint, fish, shellfish, chicken, beef, ginger, chilli, tomatoes.
Unbaked Lime Cheesecake
Serves 8-10
The Indonesian dark palm sugar lends the amber colour to the jelly and the latte colour to the cream cheese filling, but the taste is definitely of lime. Paler palm sugar can be substituted, and the colour will be less intense.
Base
150g plain sweet biscuits (Marie or Milk Arrowroot)
150g ground almonds
2 teaspoons ground ginger
½ teaspoon gound cardamom
125g butter, melted
Filling
200g dark palm sugar (gula melaka), chopped, grated or shaved
Finely grated rind and juice of 3 limes
4 sheets gelatine
250g cream cheese, at room temperature
2 teaspoons pure vanilla bean paste
1 cup (250ml) pouring cream
Jelly topping
2 sheets gelatine
6 green cardamom pods, crushed
100g dark palm sugar (gula melaka), chopped, grated or shaved
Juice 2 limes
¼ cup water
Candied lime slices, for garnish (recipe follows)
Lightly oil a 23cm spring-form cake pan. Line the base with baking paper. To prepare the cheesecake base, break biscuits into food processor and grind to fine crumbs. (Or break up with a mortar and pestle, or place in a sealed plastic bag between two tea towels and crush with a rolling pin.) Add ground almonds, ginger and cardamom and process to combine. With machine running, slowly add butter and process until mixture clings together. Add a little more melted butter if necessary. Spoon mixture into base of prepared pan and press down with the back of a spoon, making the surface smooth and flat. Refrigerate while preparing the filling. Combine the dark palm sugar into a small saucepan with lime rind and juice. Stir over a low heat until sugar has dissolved. Remove from heat. Soak gelatine in cold water for 5 minutes, to soften. Squeeze out excess water and stir gelatine into warm lime mixture, to dissolve. Set aside to cool. Beat cream cheese and vanilla bean paste until soft and smooth, beat in cream and then slowly whisk in gelatine mixture. Pour over prepared base, then refrigerate until set. (Keep pan level when moving it so the layers remain well-defined.)
To make the jelly topping, soak gelatine in cold water for 5 minutes, to soften. Combine cardamom pods, palm sugar, lime juice and ¼ cup water in a saucepan. Heat, stirring, until sugar has dissolved. Remove from heat. Squeeze excess water from gelatine and stir into lime mixture. Strain into a jug, then carefully pour over the set cheesecake filling. Stand until beginning to set, then refrigerate until required. To serve, carefully run a thin spatula around the edge of cheesecake, breaking the gelatine seal. Repeat, pushing down to the base of the tin. Take care to do this slowly and in one circuit, so the layers are not disturbed. Unclip the tin and remove sides. Slide the cheesecake off the base onto a serving plate. To serve, garnish with prepared candied lime. The cheesecake keeps well, refrigerated, for several days.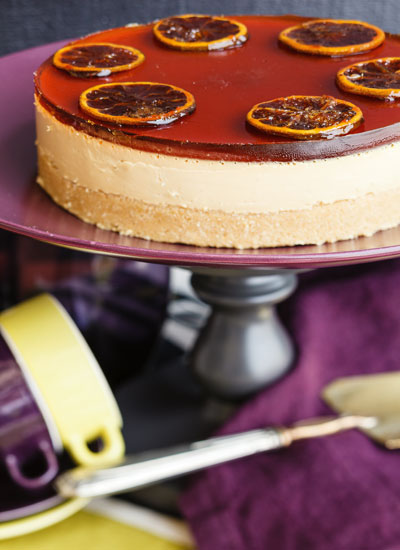 Barbecued Pork in Lime Marinade with Cabbage Salad
Serves 6-8. The tahini dressing also goes well with chicken, rice and green salad.
600-700g pork fillet
Marinade
Grated rind of 3 limes and juice of 9 limes
6 tablespoons (75g) chopped, shaved or grated palm sugar
1 tablespoon (dried or bottled) pink peppercorns, crushed
2 -3 Kaffir lime leaves, very finely sliced
Salad
4 cups finely shredded Chinese white cabbage
1 medium red onion, peeled and sliced into very thin rings
4 tablespoons chopped garlic chives
1 Nashi pear, unpeeled and cut into thin matchsticks
Dressing
Reserved marinade
6 tablespoons tahini
Garnish
1 long red chilli, seeded
Grated rind of 2 limes
1-2 tablespoons sea salt
40g 'lite' roasted coconut chips (or toasted coconut flakes)
Combine marinade ingredients in a plastic container large enough to hold pork fillet in one piece. Add pork, cover and refrigerate for at least one hour, preferably overnight. Remove pork from marinade (reserving marinade) and cook over a medium heat on barbecue grill or stove top in a ribbed grill pan. Turn frequently to prevent burning and allow meat to cook through. Wrap in foil to rest. Combine salad ingredients in a shallow serving bowl. To make dressing, combine reserved marinade and tahini in a saucepan and cook, stirring, over a medium heat until ingredients are amalgamated and creamy. Remove from heat and pour into a jug. For garnish, chop chilli, lime rind and salt together until well mixed. Slice pork thinly and pile on top of salad, spoon and meat juices and some of the dressing over, sprinkle with some of the chilli salt and then the coconut chips. Serve with remaining dressing and chilli salt passed separately.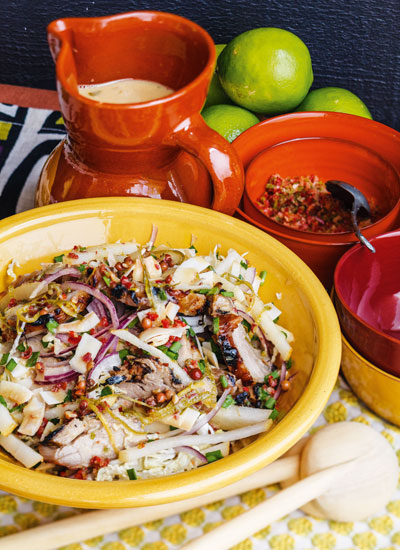 Rustic Lime Coconut Tea Cake
Serves 10-12.
225g unsalted butter, at room temperature
1 cup (200g) caster sugar
1 teaspoon pure vanilla bean paste
Finely grated rind of 2 limes
4 large eggs, at room temperature
1 cup (160g) ground pistachios
1 cup (125g) coconut flour
1 cup (150g) self-raising flour
½ cup (125ml) natural full-cream yoghurt
Syrup
¾ cup caster sugar
Juice and finely julienned rind of 4 limes
Preheat oven to 180ºC. Grease and line the base of a deep, 20cm cake pan with baking paper. Beat butter, sugar, vanilla and lime rind together until pale and fluffy. Add eggs, one at a time, beating well after each addition. Stir in combined pistachio, coconut flour and self-raising flour, then yoghurt. Spoon into prepared pan and bake in centre of preheated oven for 55-60 minutes, or until cake tests done when a skewer is inserted in the centre. Prepare syrup while cake is cooking. Combine caster sugar and lime rind and juice in a saucepan and stir over a medium heat until sugar has dissolved. Remove from heat. Remove cake from oven and stand on a wire rack. Spoon about a quarter of the syrup onto the hot cake, while still in the pan. Cool cake completely, remove from pan onto a serving plate. Slowly pour remaining syrup over cake, allowing it to soak in as you do. The cake is best served at room temperature, but will keep for several days, refrigerated. Warm slices briefly in microwave to soften them if it has been in the fridge.
This is an excerpt taken from Australian Country March April 2015 issue, available for purchase now!