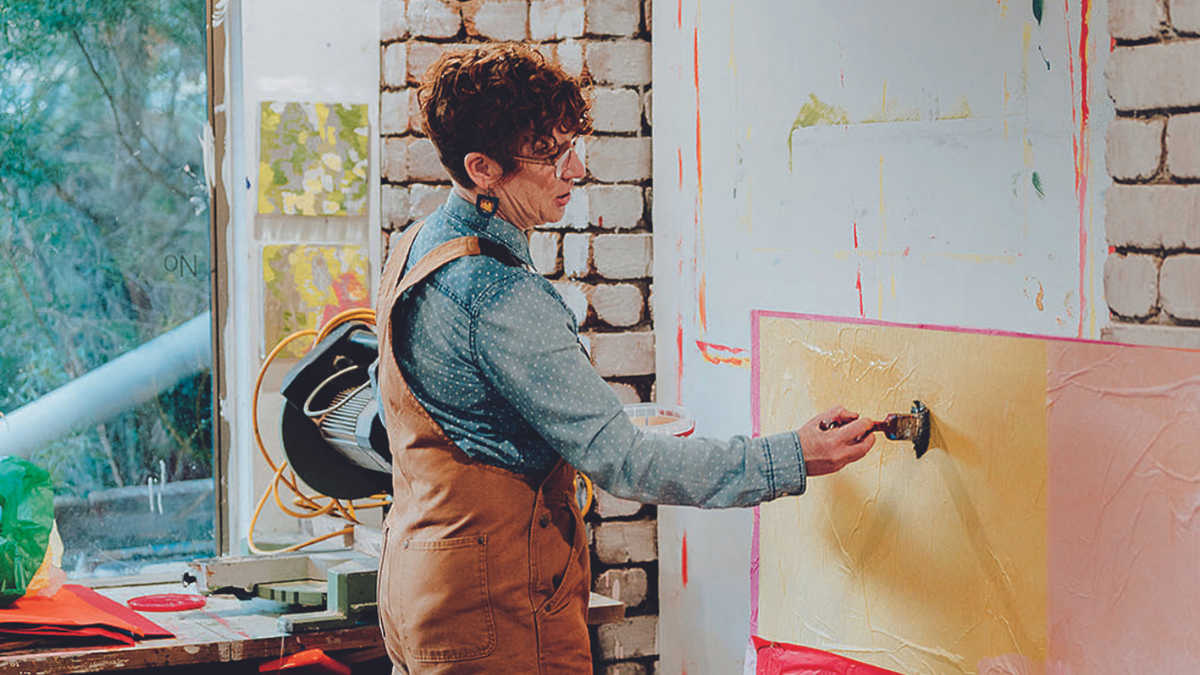 Shoalhaven artist Bonnie Porter Greene encourages her audience not only to touch her work, but also to make their own marks on it.
Bonnie Porter Greene's studio shed beside her home at Nowra in the NSW Shoalhaven district is strewn with the tools of her trade, and the makings of future works. There are jars of brushes, cans holding felt-tipped pens, crayons and pencils, a container holding the turned-out remnants of tubes of paint and a jar erupting a volcano of dried-up oils. "It seems wasteful to throw them out," she says. "They may make it into a work one day."
As a multidisciplinary artist, Bonnie's work ranges across textiles, fabric, thread, paper and painting in oils and the occasional dabble with watercolour. The common denominator is that her work is usually colourful and vibrant and, in recent times, transient. Her most recent work as part of this year's OpenField, a four-day arts festival held across a variety of venues in the South Coast village of Berry, explored her continuing theme of palimpsest.
The word comes from an ancient Greek term for "scraped again", a reference to the way ancient scribes used and reused papyrus and evidence of previous writings would show through on subsequent iterations.
In Bonnie's case, it means layering coatings of tissue paper over photographs or paintings and peeling back sections to reveal the hidden depths, much as you see pasted-over billboards and posters that have been eroded by wind and rain and other natural elements.
"It began with the concept of healing," she explains. "This area was devastated by the Black Summer bushfires of 2019/20 and then we rolled into the pandemic. It became obvious that people in this and other communities hadn't had time to recover from one trauma before they were assaulted by the next."
The point of difference with Bonnie's work is that she actually encourages people not just to touch her pieces, but to peel back the layers to reveal what's hidden underneath. "I'm exploring the concept of the accidental artwork," she says. "It speaks to that deeply satisfying feeling of picking a scab, peeling sunburn, or even scraping back the label on a beer bottle. It's that an accidental anxiety reducer that fulfills an urge that you perhaps didn't even know you had."
Bonnie started exploring this medium early in 2020, by asking friends and supporters to send photographs of the bushfire damage and subsequent regrowth. From there, she's curated several collections including exhibits for last year's Arts in the Valley festival at Kangaroo Valley, a body of work for the Goulburn Regional Gallery and the collection for Berry's OpenField.
"People find the experience of the works very moving," Bonnie says. "It's all in the hands of the people who interact with the painting. Sometimes kids just rip into it, and I'm fine with that. As an artist, you have to learn to let go of your works, otherwise you'll starve. It probably explains why I'm such a wide-ranging collector at home."
Bonnie's house is filled with all manner of collectables from Beatles memorabilia and matchboxes to old bottles, cookbooks and kitchenalia. There's a riot of expression on the walls, including her own works and those of her twin daughters, and a bold mural in the main bedroom.
Bonnie was born an artist, growing up at Budgong, not far from Bundanon, the home of Australian art luminary Arthur Boyd, many of whose works were inspired by the Shoalhaven. "I was lucky that my grandfather Jack Tarlington, who was a hobby landscape painter, saw the sparkle in me," she says. "He used to take me on 'en plein air' painting trips and always encouraged me."
Bonnie studied art at school and then fine arts at West Wollongong TAFE "before it had its guts ripped out" and where she was mentored by a group of "incredible practising artists". She took a series of "boring jobs" but always dabbled in the background with her art. When she had her twin daughters, she moved away from her preferred medium of oils and into textile work.
"I discovered oil paints don't work with changing nappies," she says. "You have to clean your brushes, so I had to work in less demanding media. When you work in oil, you have to have several works on the go at any one time, as it takes so long for the paint to dry. Depending on the pigments, some oil paints never fully dry."
As the girls became more independent, Bonnie was able to return to painting, and being shortlisted for the Meroogal Women's Art prize further fuelled her passion. "My confidence was boosted by the odd commission," she recalls. Then in 2016, I put on an exhibition in the Cambewarra village hall and it sold well. But the real turning point came totally out of the blue in the middle of the pandemic, when I was approached by Jennings Kerr gallery in Robertson and they are now representing me."
Another milestone was a trip to the NSW Far West last year with poet and sound artist Nicole Smede. "We went to Broken Hill and picked up a 4WD then explored the landscape from there," Bonnie says. "We went to Sturt and Mutawintji National Parks and Innamincka, and I was inspired by the plant diversity of what is described as desert. Nicole was a very generous travelling companion, always ready to stop if I wanted to paint. She was collecting sounds for her work on the musical tragi-comedy Mount Hopeless, which is about explorers Bourke and Wills, who it turns out were not very intrepid and actually incredibly stupid."
Bonnie adds that the trip was an eye-opener for someone accustomed to the tall trees, huge escarpments and expanses of ocean of her home country. "You can't help but be inspired by the vastness of the landscape, the red sand and the warmth of the sunsets," she says. "You can see the curvature of the earth. I immediately understood why generations of artists have been drawn to the region. As soon as we came back, we decided we've got to go again."
Step one to achieving that aim is a tradie's van parked at the front of Bonnie's studio. She has big plans to kit it out for future forays into the outback and the work it might inspire.
"I can't wait to get out there again," she says. "The perspective you gain is amazing and, now that I've had
a taste, I can understand why so many artists want to live in the outback."