Kate and Sam Festa aren't sure where their country calling emanated from, all they know is that they heard and felt it loud and clear. "Neither of us is from a farming background," Kate says. "Growing up, my family went camping in national parks every Easter and that was my country exposure. Prior to meeting me, Sam had camped one time, for one night with his dad and brother!"
A fateful family holiday away from their busy lives running an interior decorating business in Brisbane to a farm stay in Queensland's picturesque Scenic Rim ignited a relentless tug towards all things rural.
"I was pregnant with my third son and we decided it might be a good idea to find a weekender with lots of space for three boys to run around," Kate recalls. "We were looking for a property in a location where we potentially had a farming contact who could teach us what to do in regards to all the basics of farming.
''When this property came up and it happened to be in the same street where we had stayed during the farm stay holiday that prompted the whole idea, we knew it was meant to be."
With two homes on 100 acres (40 hectares), and expansive views of lush valleys and mountains near Darlington, things were serendipitously falling into place. Even a run-down farmhouse taken over by local birdlife couldn't deter the couple. "The main house was a multicoloured patchwork inside and very dark with a confusing floor plan," Kate says. "It only had one bathroom, which was accessed by going outside the house, so it wasn't functional at all with three little kids who are scared of the dark! The grass was up to our hips and we had swallows living in the house."
Over the course of a year, Kate and Sam put their interior decorating skills to the test to transform the rickety old main house into a beautiful sanctuary hidden away from the busy world beyond. There's a luxe farmhouse feel throughout with intricate harlequin wallpapers and a showstopping copper bath in the main bathroom. "I wanted something that was traditional to be in keeping with the age of the home (built in the 1800s), without being your typical claw-footed bath," Kate says. "I was hunting for a statement piece and had the idea of a copper bath but I had no idea where to find one or even if they existed. After some research, I found a supplier in Texas, USA, and had it shipped over."
At the same time, the couple was familiarising themselves with the realities of farm life. "We both love learning about new things and Sam, in particular, is very good at taking on a new hobby and researching and learning everything there is to know about it," Kate says. "In just 12 short months, we have learnt a lot with the help of Google and YouTube. Sam can now pull apart his Toro ride-on to fix the fan belt and sharpen its blades. He loves using a chainsaw and has learnt the physics of cutting down a tree safely. I have become skilled at splitting wood and building electric fences and pig shelters."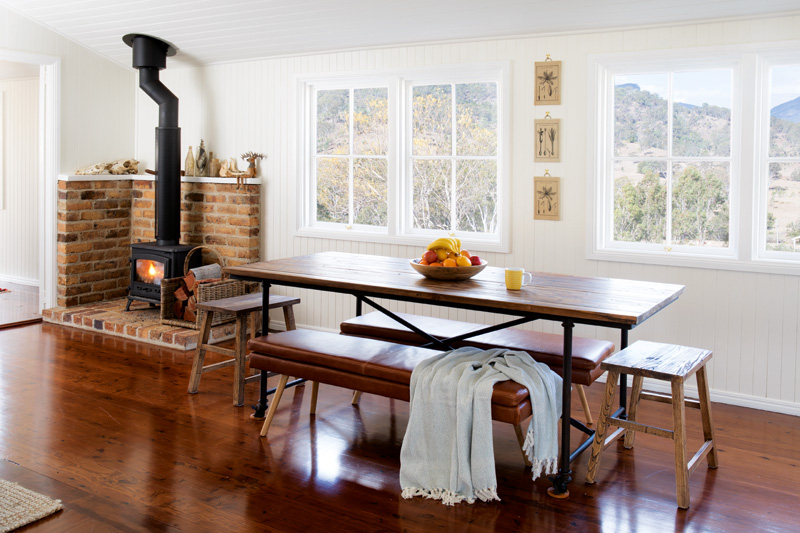 The innate generosity of those who live on the land surrounding the farm has also been instrumental in helping them settle in. "Our new farmer friends are so willing to share their knowledge and their extremely valuable time to assist us in a very hands-on way," Kate says. "Sometimes the payment is lunch and the promise of a piglet."
Their menagerie has grown to include chickens, ducklings, a pair of sheep, pigs and two horses. "We also have an olive grove of 250 trees, which we recently finished pruning," Kate adds. "So, hopefully, we will at some point have some olives."
Sons Rocco, Raphael and Theodore relish their weekends at the farm, where time seems to stand still and life is reminiscent of days gone by. "They can run around and be free to get down and dirty and they're learning about nature and the cycle of life," Kate says. "We do everything together as a family here, whether it's feeding the animals, building a vegetable patch or bush walking our three mountain ridges."
Drives north back along the highway to the city at the end of a blissful weekend are always tinged with a little sadness, but full of excited chatter about plans for the future. "We're keen to start breeding our heritage pigs and see where that goes," Kate says. "And we may look at holiday letting the old dairy shed once we've renovated. It will have an outdoor kitchen, 'help yourself' herb and vegie garden and a bonfire pit."
Three children, two homes, a business and a farm … Kate and Sam manage quite the juggle, but they wouldn't want it any other way and their new happy place has awakened a country kinship that's changed their lives. "It is paradise," Kate says. "My favourite time is at the end of the day at happy hour when the sun is going down, the mountains are pink and purple, the birds are still out and it just feels calm. It's a truly grounding place where it brings life back into perspective, that the things to worry about are what to eat, how to look after the animals and the property, and the weather. Everything else pales in importance." Spoken like a true woman of the land.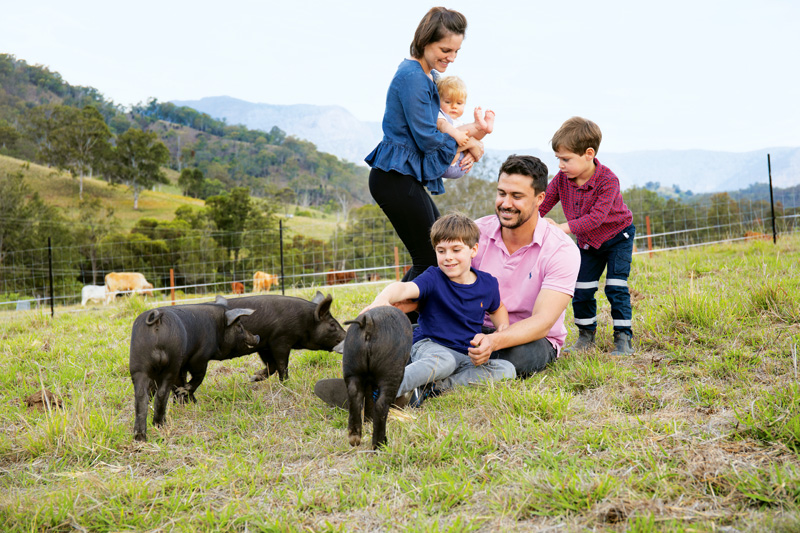 The complete story was originally published in Australian Country issue 22.2. Click here to subscribe to our magazine
Words Tamara Simoneau
Photography John Downs