Leah Stirton cheerfully admits she had never been west of the Brisbane suburb of Indooroopilly when she applied for a teaching position in Charleville. Freshly returned from London and nursing a broken heart, she wanted to move as far away as possible and had no idea that the south-western Queensland town, population 3000-odd, was more than 600 kilometres from Brisbane and lacked most of the amenities she took for granted in her very urban previous life.
Leah grew up in the northern Queensland coastal town of Ayr and, fresh out of school, moved to Brisbane for university studies to become an English and drama teacher.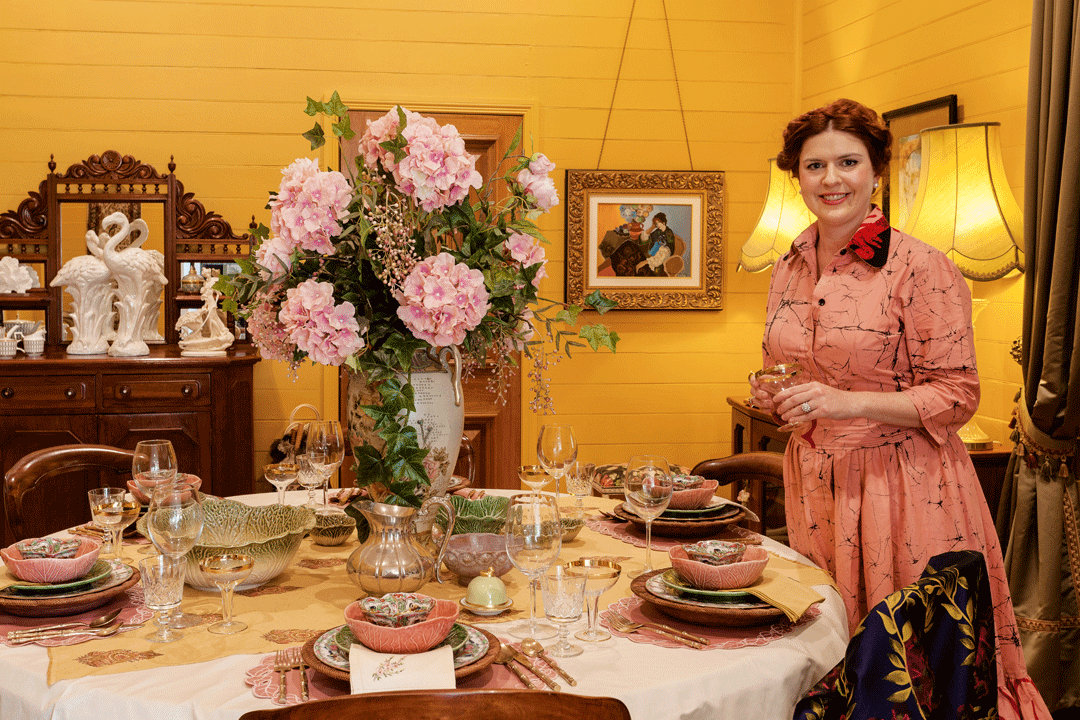 "I was always interested in decorating and event coordinating," she recalls. "I was never the one to spend weekends in bed. When I was at uni, I was always up bright and early on Saturday mornings heading out to garage sales or markets. My friends and I seemed to spend all our spare time manoeuvring pieces of furniture into the backs of small cars."
Propelled by the sense of adventure that stays with her today, Leah decided on a whim to take a year off after uni and successfully applied to become a flight attendant. "I loved it," she recalls. "I worked for Virgin Blue for five years. The only reason I left was because I wanted to take advantage of the working holiday visa. So I went to England as a teacher and travelled all over. I'd developed an interest in special needs as my speech and drama teacher had a son who had Williams syndrome [a neurodevelopmental disorder]. He was a brilliant musician, so I guess that led me to the field. When I came back from the UK, there was a special needs job going at Charleville State School. I applied and got the gig. I don't think I was the only one surprised when I ended up staying for seven years."
Just as her first year-long contract was up, Leah met Angus, better known to all as Brolga, in a pub. A Quilpie lad, he'd come back to the land in 2007 after studying animal science to help on the family farm during a prolonged drought. Now she had a better reason to stay in the bush, Leah threw herself into life as a country teacher, with a strong sideline as an events stylist that began when she helped a friend organise fashions on the field at the Birdsville Races. Leah and Brolga married in 2011 and they ended up buying a dilapidated Queenslander cottage with a huge garden in Charleville. Brolga, meanwhile, was establishing an excavating and earth-moving contracting business.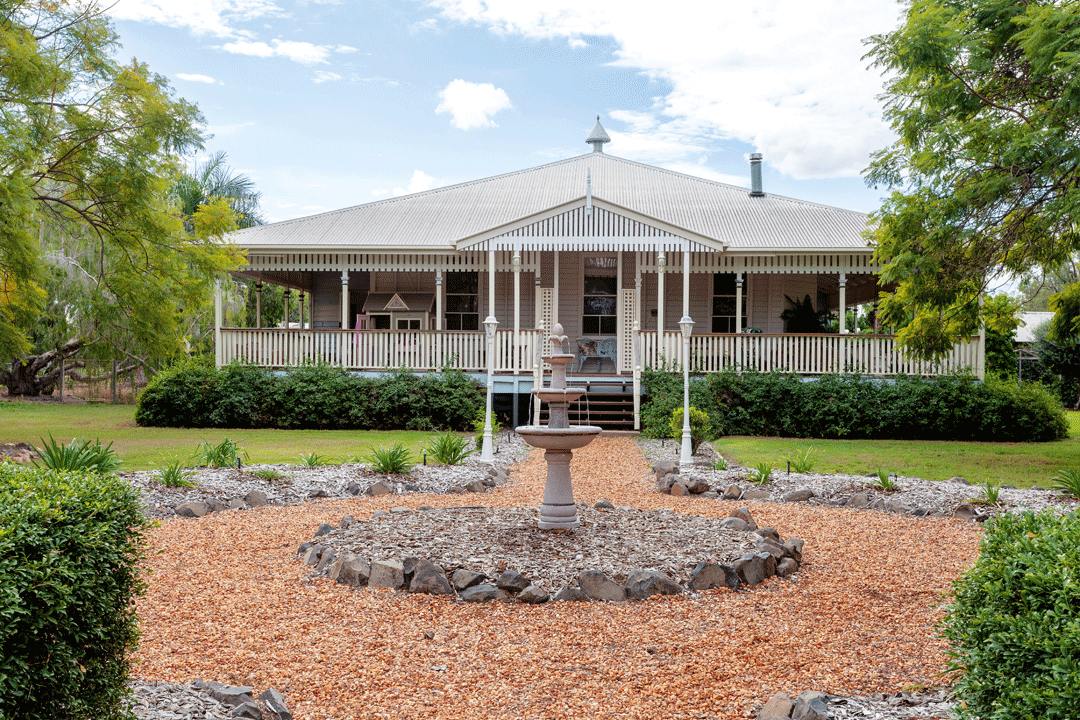 "As romantic as the notion of doing up an old house is, the reality is it's a massive task," Leah explains. "That task only became more complicated when we had our twins, Cora and Gretchen. I felt increasingly isolated and too far from my parents, who were still in Ayr. I wanted to move closer to them and Brolga was open to a change. He'd been to Emerald for a while when he was at uni and I knew he was happy there, so that was the logical place to move to. Brolga thinks the central-west is the land of milk and honey when it comes to having a go, as there is so much demand for civil construction equipment."
In 2015, the Stirtons bought a small farming block on the outskirts of Emerald and began the massive task of relocating. "It wasn't just us and the two babies and their nanny," Leah says. "It was all the heavy equipment and a shed full of the antiques and party props I had accumulated over the years."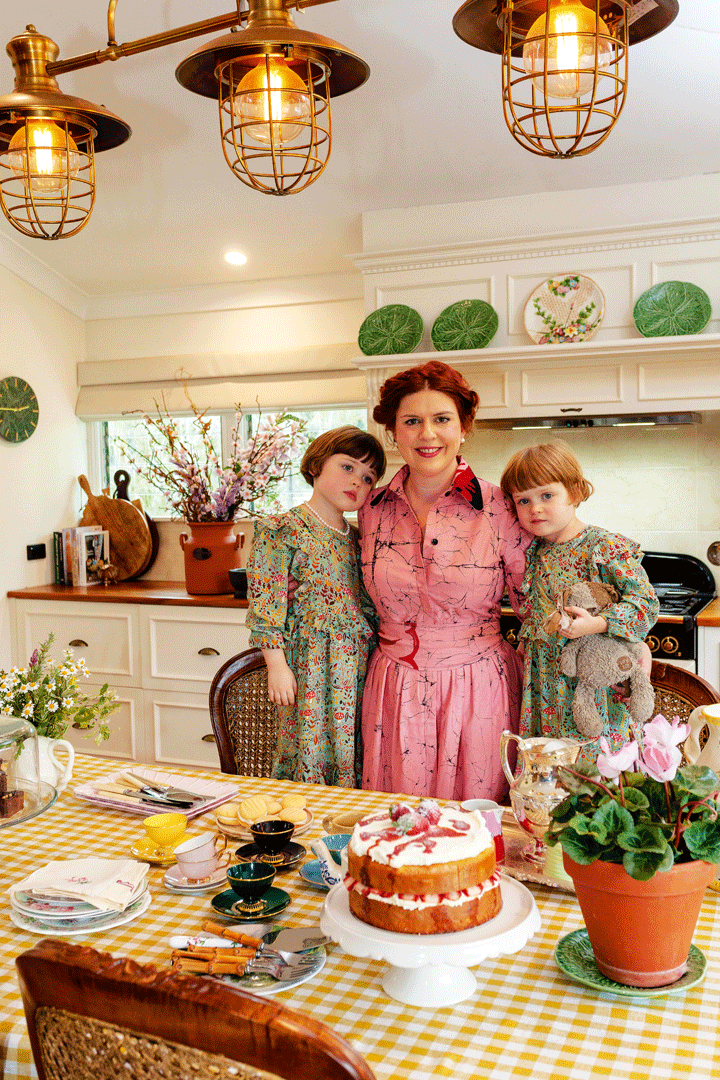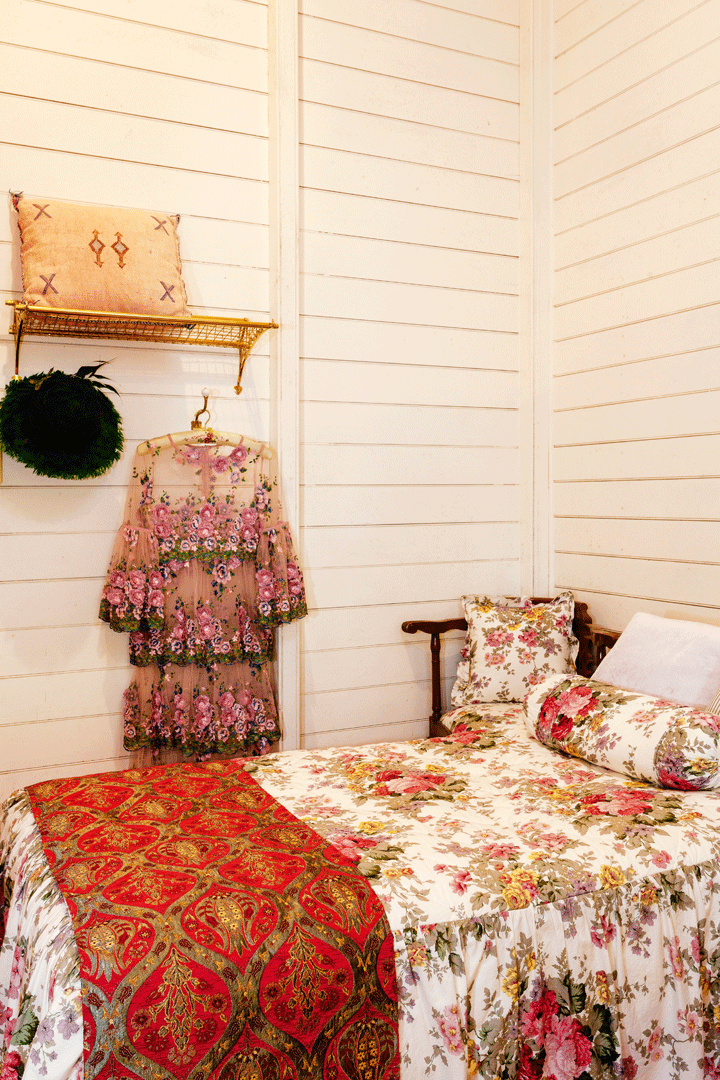 But move they did, and Leah says life became much more manageable with her parents now just six hours away. Initially, they intended to build a new house on their block and they even had plans drawn up. "Then I woke up one day and thought I really can't stand to go through a build," Leah recalls. "So, pretty much on impulse, I wrote an email to all the real estate agents in town outlining my dream house. I said we needed five bedrooms, so we had room for the girls and family to visit. I added a tennis court and a swimming pool and I said I wanted an old house with lots of character so my daughters could get married in the grounds. I added that it had to be fully restored because I'd rather stab myself in the eyes than go through another renovation. I couldn't contain myself when I received a response from one agent asking if I'd attacked myself with a fork yet. Then he asked how old my daughters were getting on and I had to admit that they weren't yet one, so the weddings are a way off."
The property in question was Braeside, a magnificent former bank building on Emerald's northern outskirts. It came with all the requisite amenities, including spacious grounds, though not as huge as their previous block. Brolga was less than enthusiastic.
"After the Charleville experience, he wanted nothing to do with an old house," Leah recalls. "When we first inspected, he walked around with his arms folded. But gradually he came around and in February 2016, we negotiated the sale, just as the owners were going overseas."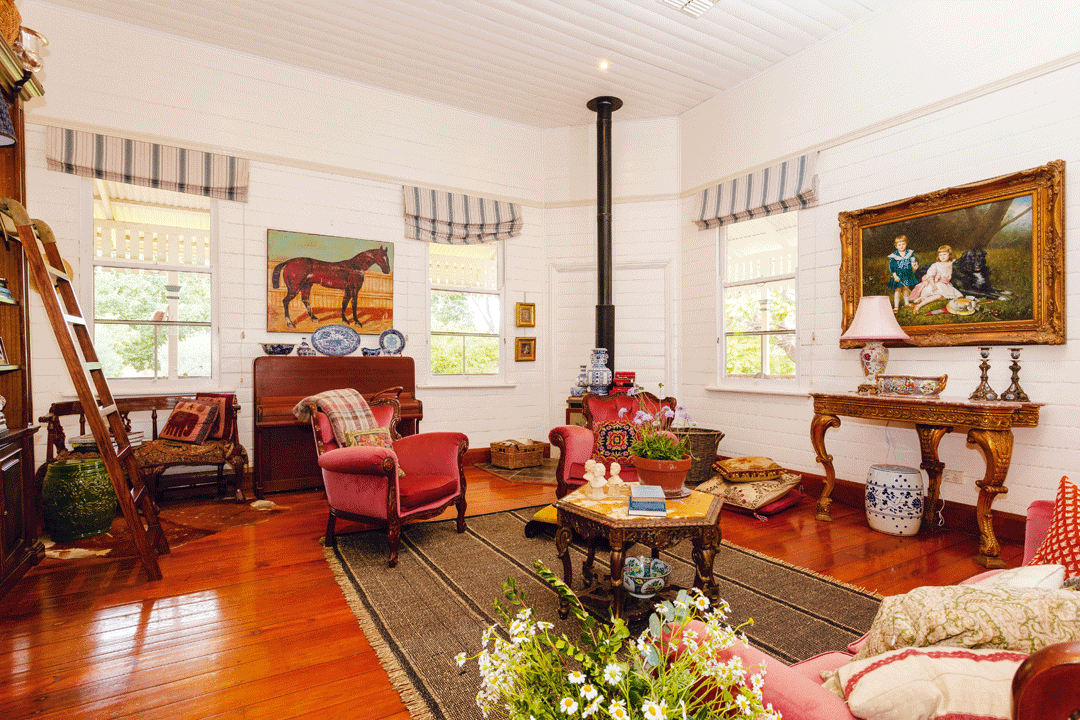 Although Leah initially said she could live with the existing kitchen, they installed a new one to make it more family friendly. But other alterations have been cosmetic, with fresh paint and furniture. Leah has also been able to indulge her passion for wallpaper with designs by William Morris and Oscar-winning film, stage and interior designer Catherine Martin.
"Apart from the furniture I've collected through the years, three women have been influential in supplying pieces for the house," Leah explains. "The first is my mother as I'm always pilfering things from her house. The next was a place called Botticelli House in Brisbane, a great warehouse of contemporary and vintage pieces where I could always find something I couldn't live without. And the third is local dealer Patsy Thomasson off Ellenmave Vintage and Antiques, who has great pieces and has become a good friend. But the truth is lots of people I follow on Insta have been influential and I never have trouble finding pieces to complete a look."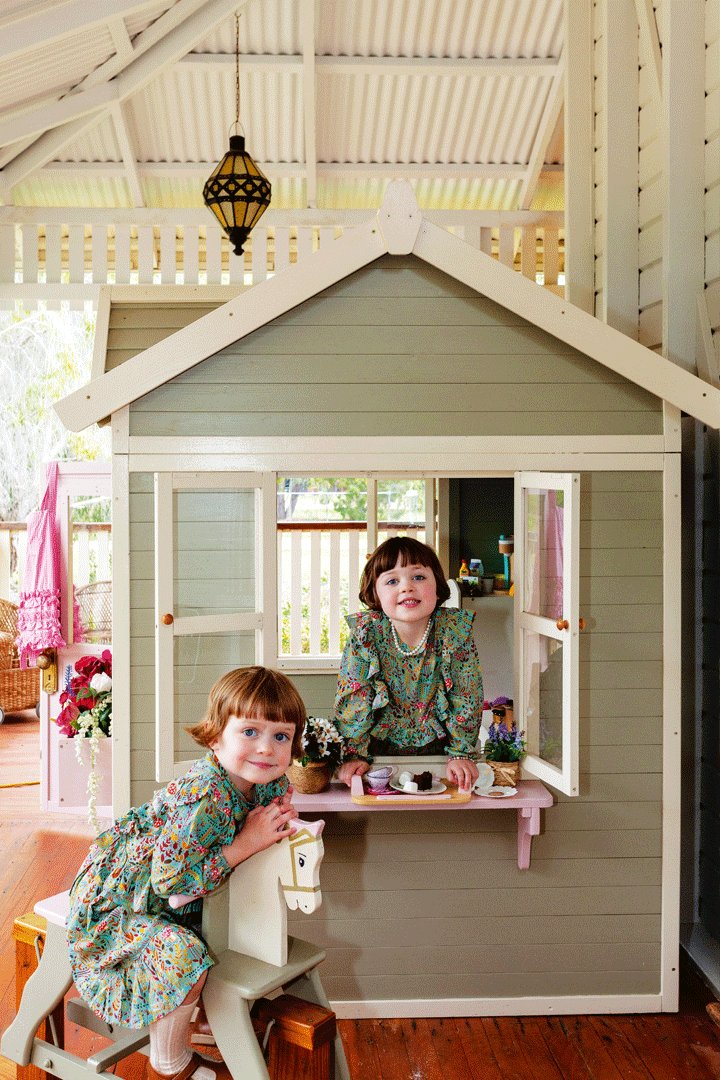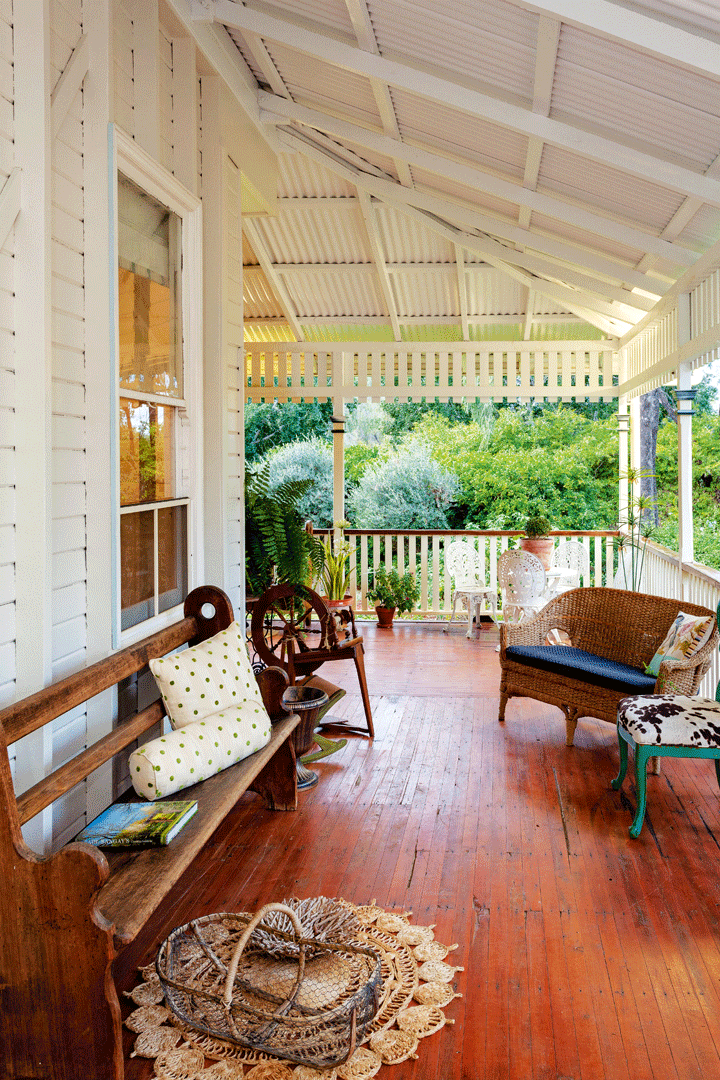 Since the twins have started kindergarten, Leah has returned to work part-time as an inclusive practices teacher. She also manages to find time to indulge her passion for bigger-than-Ben-Hur events with local community functions that include stylish fundraising soirées. She's one of the driving forces behind the hugely successful revitalisation of the remote annual Alpha Race meeting that saw sparkling wine company Chandon sponsor a hospitality tent and thousands converge on the tiny town.
"The fact is we've settled very easily into life in Emerald," Leah says. "Braeside is everything I've ever wanted and we've made lots of new friends. I don't have to remind myself that we've been incredibly lucky. The evidence is there for us every day."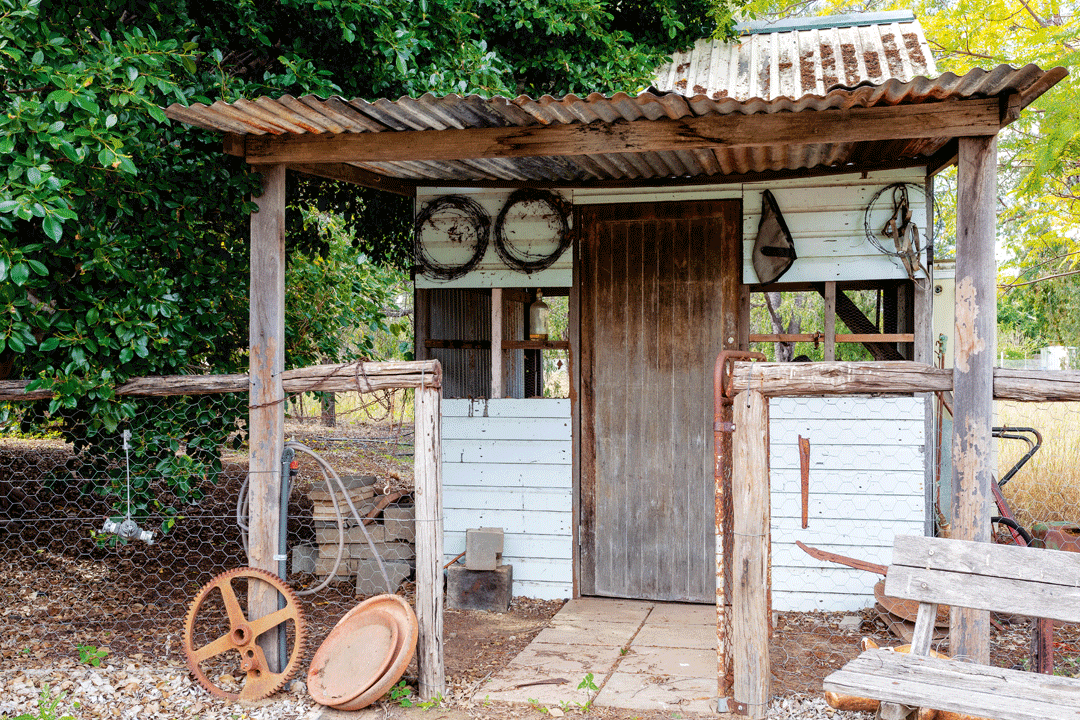 See more of this story in Australian Country Magazine 22.6!