There's a sign in the kitchen at Moira station that reads: 'Don't wait for the perfect moment. Just take it and make it perfect', which pretty much sums up the way Riverina water drilling contractor Rex Watson and his events director wife, Kate Pitt, approach every aspect of life on their property.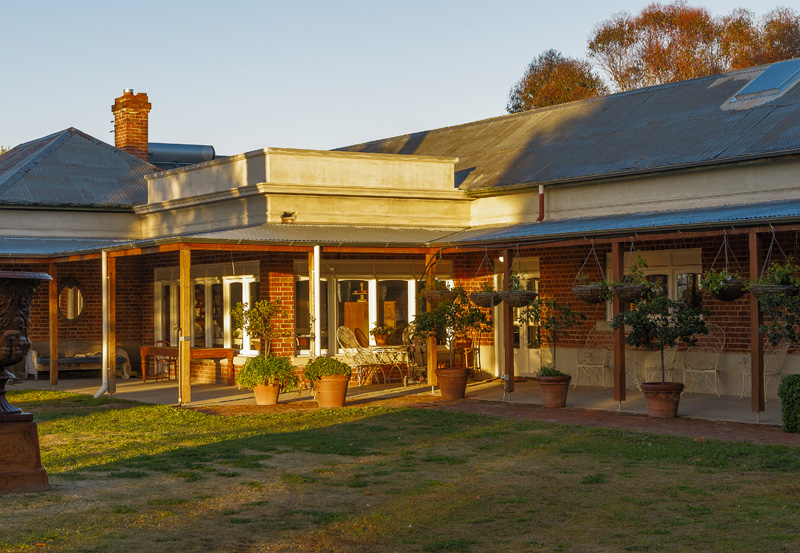 The land upon which Moira sits is significant in Australian geology, as the Cadell fault passes through the property, a seismic shift that started some 65,000 years ago and created a 12-15-metre high rift that runs from Deniliquin to 13 kilometres south of Echuca. The upheaval had major impact on the course of the Murray and other major rivers, and created the Moira and Barmah lakes and the surrounding red gum forests that are now protected by the Barmah National Park on the Victorian side and the Murray Valley National Park in NSW. Moira is also a significant site for the traditional owners of the land, as there are ring trees, canoe scar trees, an ochre pit, ovens and middens on the property. Its European history began in 1842 when Henry Lewes and Charles Throsby settled the station. By 1848, the Moira Run boundaries were defined containing 100,000 acres (40,468 hectares) and carrying 3000 cattle and 4000 sheep.
At various stages Moira homestead served as a Cobb & Co staging post and in 1850 inadvertently hosted bushranger Captain Melville, when he held the cook at gunpoint to make a meal for his gang, before they headed off with some of the station's horses. In 1862, three-times Victorian premier, John O'Shannassy (later Sir John) bought the property as his country estate and four years later started work on the current 18-room homestead from bricks that were fired on site. In 1899 Moira passed to F.S. Faulkiner & Sons, who ran a Clydesdale horse stud as well as other grazing enterprises on the station. From 1910 to the 1960s it was owned by the Clark family and in the ensuing decades it had numerous owners, many of them absentee.
As Rex tells the story, he first spotted the Moira homestead as a 17-year-old apprentice bore driller when he was travelling up from Maryborough in central Victoria to Deniliquin. "You couldn't help but notice it as even from the road you could see it was an impressive cluster of buildings," he recalls. "As well as the homestead there are also servants' quarters, a station store, the bakery, and the barn, which began life as stables for 30 to 40 horses. In later years because no one was living there it gradually slipped into disrepair and people started pilfering bits of the buildings."
Rex adds that he has no doubt that the homestead would have been dismantled beyond salvation if he and Kate hadn't bought the property in late 2003. What has followed has been an intense program of restoration, which includes the building of a boutique resort named Starry Nights, four luxuriously appointed self-contained apartments for visitors seeking the peace and quiet of the bush without having to sacrifice any creature comforts. The accommodation was constructed with bricks recycled from the station's  former shearer's quarters, and is perched along the fault line, looking out to the wildlife haven of the forest wetlands that extend to the Murray River about three kilometres away. The kitchens are fully equipped for entertaining, there are generous decks with barbecues, big claw-footed bath tubs and twin-headed rainwater showers in the ensuites. The bedrooms come with retractable roofs, to provide the ultimate opportunity for enjoying the spectacular night skies.
The quarters are part of Rex and Kate's grand plan for Moira, which includes hosting destination weddings and bespoke events, turning the barn into a farm museum, restoring the former store to showcase local food and wine and even rebooting the old baker's oven to deliver daily bread for their guests. "We have so much here, that it just makes sense to share it," Kate says. "Rex and I do tend to collect things, so incorporating our acquisitions into our business was a good way of displaying them. My daughter, Carly, and I also have always dreamt about setting up a bespoke business together. We have been collecting beautiful frocks, couture wedding gowns and period costumes for years, so for anyone looking for something different for a function we now have enough gowns and accessories to outfit entire groups in every decade from WWI through to now."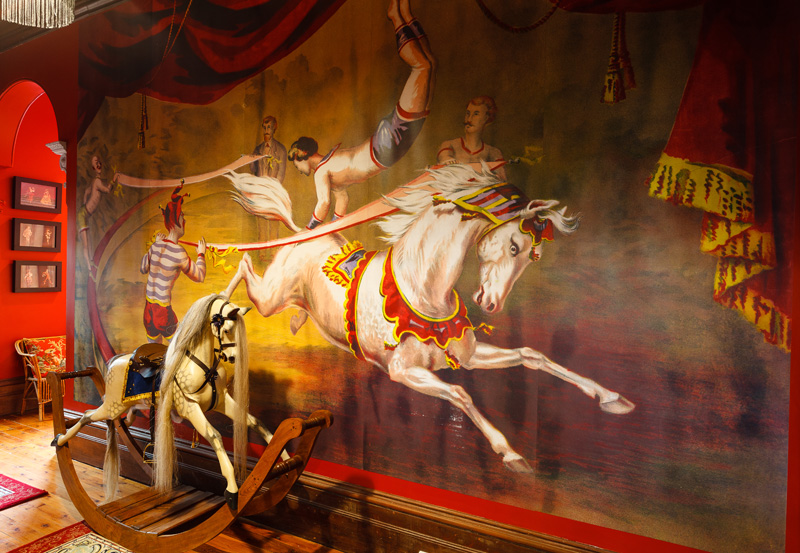 It turns out that Rex and Kate are old hands at the hospitality game. For several years Rex and his brother and partner in Watson Drilling, David, ran a pub in Deniliquin, surely a true test of tolerance for your fellow humans. Kate has long been a staunch advocate for regional tourism and until she recently took a step back to concentrate on developing Moira, was the general manager of the Deni Ute Muster, an annual coming together of country music, utes and Aussie larrikinism. She was part of the community group that founded the Muster, which began life in 1999 as a self-help project for the district, which at the time was grappling with the combined impact of a crippling drought and poor commodity prices. The Muster has put Deniliquin on the map as the ute capital of Australia. The event now attracts around 20,000 visitors to the town and is run by an army of 1200 volunteers who do everything from marshalling the traffic to cleaning up the rubbish.
Kate credits growing up in a close, fun-loving family that never let a milestone pass without a celebration as the genesis of her passion for events and entertaining. So in spite of the fact that she and Rex have been away for several weeks, a new kitchen has been installed, but not fully completed, in their absence, and while Australian Country photography is taking place, she decides to invite "a few family members" around for a homecoming celebration coupled with a christening of the new kitchen. The "few" turns out to be about 15 people around the table and a procession of others dropping by for a catchup, but Kate and Rex seem utterly unfazed by the chaos, perhaps even oblivious to its extent.
It's a joyous, at times rambunctious, gathering with huge platters of food being passed around, wine flowing, and people talking over each other as they vie to tell the best "true story". As is the way when there hasn't been a baby in the family for a while, everyone competes for cuddles with Kate and Rex's granddaughter, Stella, who amazingly seems to enjoy being treated as some kind of human pass the parcel. If this is a casual family lunch, we can only wonder what Christmas is like. There is so much goodwill in the room you wonder if the walls can contain it. Indeed, it follows us out the door as we head back to the quarters, Kate thrusts containers of leftovers and wine in our hands.
Rex emphasises that he's a water drilling contractor not a farmer — his daughter, Josie, is in charge in the paddocks, where a menagerie of animals range freely. She is planning to breed boer goats, but there are also sheep, a few alpacas and Ernie the ostrich, who somehow managed to find his way onto the trailer when she and Rex went to buy chickens. There's also a fledgling orchard, which in time will  provide visitors with a complete paddock-to-plate experience.
Ironically Kate admits that she had no intention of ever living at Moira. "We had a lovely house in Deniliquin," she says. "At first we were weekend warriors, pretty much camping here. For 12 years we didn't have a kitchen, just a trusty old St George cooker parked in the pantry and a barbecue. But then we thought: what's the point of looking forward to the weekends when we could live here permanently, so we made the move."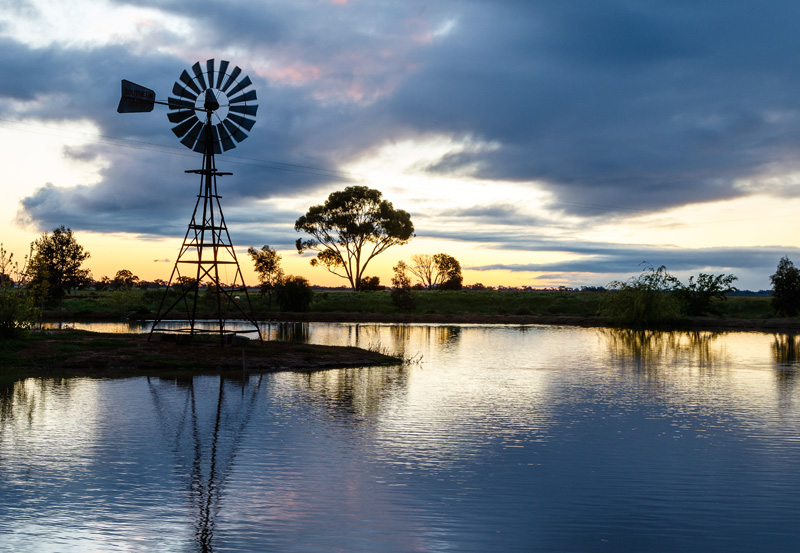 She adds that they are fortunate that Moira has so many tiers to its story. "It has indigenous and farming history, bushrangers, booms and busts," she says. "It's where this region has grown up and we are grateful that it's now our family home and we are in a position to share it and make it work as a business as well. Yes we have big dreams for Moira, but I know we have something special to showcase. I firmly believe that if you offer a real experience, it will work."
For more information visit moirastation.com.au
The complete story was originally published in Australian Country issue 21.1. Click here to subscribe to our magazine
Words Kirsty McKenzie
Photography Ken Brass