Diversify or die is the catchcry in the bush these days and two generations of the Munsie family are giving it a red hot go from their northern NSW farms.
By Kirsty McKenzie, photography Ken Brass  
Agile may be the buzz word of the post-pandemic world, but for the Munsie family of northern, it's just the way they've always been. Binna (Belinda) and Jaime Munsie have lived on Willunga, north of Warialda all their married lives and now their adult children and their partners all have active roles in the diverse facets of farm life and business. Will and his wife, journalist Lauren Marer, live in a cottage on Willunga, while Sam and Emma Rose, and their son Digby, whose story precedes this, live on adjoining Fair View. Marketing guru Kate lives with her husband, Nick Boshammer, on their Angus stud near Chinchilla in southern Queensland, but maintains a well-worn track across the border between the two properties as she promotes the award-winning accommodation venue the Munsies have established in a splendidly secluded part of Willunga. Kate is also the founder of Bush Registry, an online gift service that delivers hand-crafted and distinctive gifts from the bush. It gives established couples greater options for wedding, special anniversary and baby gifts and the makers, access to a market that might otherwise be difficult to reach from their remote locations.
Willunga has been in Jaime's family since his grandfather bought the property in 1897. He continued to live at his Sydney residence and employed a manager on farm, until Jaime's dad, Henry, better known as Bill, became the manager in 1930. Jaime followed in his father's footsteps in 1970, when he took over at the tender age of 20.
In the early days, the property ran Merinos for wool, then Jaime introduced beef cattle. But the recent drought put paid to the breeding program and the Munsies destocked in 2018 and went into the trade market. More recently, they've pivoted again with a foray into fattening lambs on brassica. As well, they grow cereal crops for the domestic market and operate a number of side businesses (see breakouts).
Meanwhile, Binna, who grew up on a farm at Goondiwindi and worked as a phys ed teacher in Tasmania before travelling and working overseas has been similarly flexible embracing every opportunity that came her way. When she returned to Australia in the 1970s, she taught swimming and aerobics at Moree and Yallaroi before she married Jaime, then created a successful business with her sister and sister-in-law painting and selling dried poppy heads. When the kids came along she pivoted into garden design, and developed a client base all over NSW to help offset the seemingly endless costs of their boarding school education. She was quick to enlist Jaime's innate talents for DIY and the children recall his constant support welding and building frames and other garden furniture to realise her visions. Both Will and Sam have inherited their father's knack for a project and have developed considerable building and furniture-making skills.
Binna was also quick to identify a potential market for farm stay on the property and, with Jaime as her willing ally, created Snake Gully Lodge from a shearing shed they relocated from a property near Moree. The lodge these days is an off-grid base for people who basically want a bush camp with no frills but the option of a solar hot shower.
From there, it wasn't too great a leap to develop the more up-market Faraway Domes.
"We consider ourselves very lucky to live in this part of the world," Binna says. "Working across the generations is a complex business and you have to stay flexible to manage it well. Succession planning is important and Jaime and I hope that if the next generations want stay on-farm, being open to opportunity will allow that happen."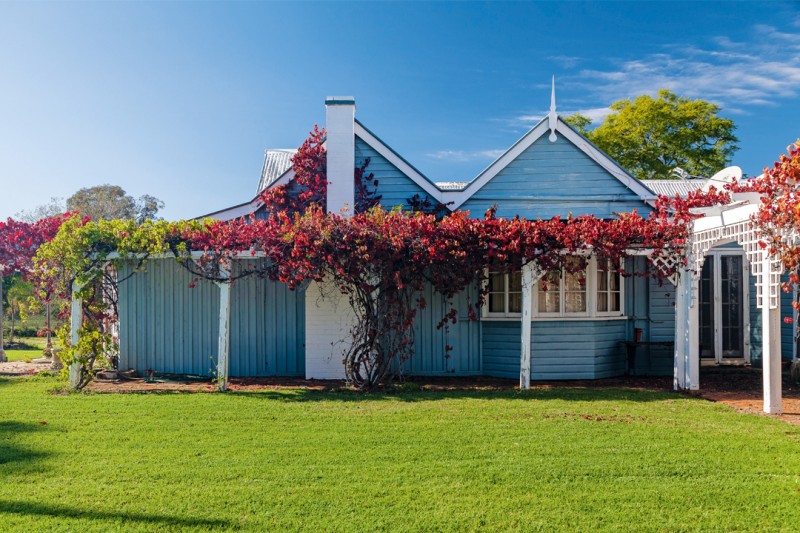 On a roll
For as long as he can remember, Will has loved to tinker. He makes sculptures from repurposed farm machinery, fire pits from plough shares and giant pears from horse shoes. He's a dab hand at furniture restoration as well, so it wasn't surprising that a family member asked him what he should do with an old wool-rolling table that was languishing in a disused shearing shed.
Will set about dismantling the lanolin-soaked remnant of a bygone era, sanding each slat back and rebuilding it with a glass top to make a handsome dining table that would be an asset to any country-style interior. From there, he has gone on to launch WMDesigns, a custom-made furniture business that marries rustic style with made-to-last durability. When he's not tied to a tractor planting or harvesting, or out in the paddocks tending stock, Will can be found in the farm's former shearing shed working on his latest commission and shoring up his future on-farm. "These days the reality of living out here is that there will be a drought every second year," Will says. "You've got to have a side hustle to survive. It just happens that mine is a great outlet for creativity as well."
A faraway vision
As Binna tells the story, the idea for a luxury retreat on Willunga came like a bolt from the blue when she and Jaime were travelling across Canada on the Rocky Mountaineer train. "Most of the passengers were from Vancouver or other cities," she recalls. "Every time they saw a goat or a bird or any passing wildlife, they all got so excited. I guess it was my wake-up call that we have so much access to nature that we take it for granted. I came home convinced that we needed to share what we have on Willunga. I knew that we had a spectacular location for an accommodation venue and after, some research I came up with the idea of a geodesic dome, which is a very strong and energy-efficent structure. Then I just had to get Jaime and the boys on side to help me build it."
With the structure completed, Binna enlisted Will's furniture-making skills to make everything from the bathroom vanity and the kitchen bench to the hall table and the rustic four-poster bed. She then co-opted Emma Rose to help with the rest of the interior styling and Kate to market the couples-only property to city refuges needing a secluded space to recharge without sacrificing creature comforts. "The name Faraway Dome was easy," Binna says. "When Jaime was a kid, he and his siblings would saddle up their horses and ride to a remote setting in the hills they called the Faraway Place. It just made sense to use that name to conjure up all that the retreat offers."
The dome is off-grid, so that means solar power and a composting toilet. It also means you can leave your hair dryer and straightener at home, but there are few other sacrifices involved. The water is hot and plentiful, there's a slow cooker and a big barbecue for cooking up feasts, or Binna can stock the fridge with home-made meals and snacks. There's an outdoor bath on the deck and a spa tub for soaking up the sunsets and guests are welcome to bush walk on the property or venture further afield to explore the natural wonders of Cranky Rock Nature Reserve, MacIntyreFalls, the thermal baths at Moree or tour the cotton farms of Goondiwindi. Most opt to stay close to home and maybe avail themselves of an in-house massage or a private art class with local artist Kate Owen (her story starts on page 20).
The Munsies launched the dome in 2019 and took out best new business awards in both the NSW regional and state tourism awards before going on to place fifth in the national awards. They've continued to trade as much as the COVID-19 restrictions have allowed and remain optimistic that they will bounce back to full occupancy when borders are eventually opened. "We live in such a special part of the world and we love to share it," Binna says. "We've been so pleased with the response that we may build another dome, or we may look at some other accommodation option."
For more information visit farawaydomes.com.