WESTERN AUSTRALIA COOKING SCHOOLS
Brush up on your kitchen skills with a cook's tour around Western Australia.
Kirby's At Rickety Gate
Until recently Jacqueline and Frederick Kirby ran an acclaimed restaurant at Rickety Gate Wines, a boutique winery and weekend cellar door in Denmark's Scotsdale Valley. But now they have closed that business to concentrate on the catering and events side of their business. You can still enjoy the delights of Frederick's menu however, as he shares his recipes and professional expertise with regular cooking classes in the former restaurant's kitchen. Weekend cooking retreats, corporate workshops and private classes are also available.
Baby Cakes
Learn the secrets to baking exceptional cakes, cupcakes and other delicious treats at Baby Cakes cooking classes. You'll receive a coffee and sweet bite to eat at the beginning of class and then spend a fun evening with a hands-on class. Baby Cakes offers membership to its cooking club and great classes such as decorating cupcakes, making cake pops and high tea. There is also a class for parents and children.
babycakes.net.au
Urban Provider
Overlooking a stunning Balinese-inspired garden, Urban Provider's Cooking Passions classes are held in a beautiful gourmet entertaining kitchen in the heart of Leederville. Round-up a group of friends (and a bottle or two of your favourite wine) and enjoy the school's famous dinner party cooking class. With more than 25 different cooking experiences, there are plenty of other classes available, from Sri Lankan to gourmet vegetarian.
urbanprovider.com.au or phone 08 9228 0507
Urban Provider's Cooking Passions School
A purpose-built kitchen overlooking a stunning Balinese-inspired garden is the home for Urban Provider's Cooking Passions classes. This tranquil setting in Perth is the perfect cooking environment for participants of any skill set, with classes spanning from beginners to advanced. Even non-cooks are welcome at Cooking Passions, with those opting out able to enjoy a glass of wine poolside while surveying their friends' culinary adventure.
urbanprovider.com.au
Shikisai
Shikisai in Japanese translates to "the colour of four seasons". The Shikisai Cooking School lives by this phrase, offering seasonal foods for unique tastes and designing food that represents the colours of the different seasons. Learn to prepare these dishes from sushi and teriyaki to deep frying and vegan cooking, either in the comfort of your own kitchen or at Shikisai. Held by professional chef and mother of two, Kyoko Seta, the school provides courses, home classes and even custom classes where you choose what you want to learn. All you need to do is bring your own apron and one or two large containers to take your delicious creations home at the end of the day.
shikisaicooking.com.au

Taste Budds Cooking Studio 
Professional chef Sophie Budd has had quite the culinary journey. Before she started her Perth-based cooking studio she met the Queen, cooked a barbecue with the Duke of Edinburgh and worked with culinary greats including Rick Stein and Jamie Oliver. You can learn how to cook just about anything at her easy-to-follow classes. Master the art of macaron-making or whip up the perfect dim sum. Want to get healthy? Come along to a raw foods and wholefood cooking demonstration. There are even classes for kids during the school holidays to help keep boredom at bay.
tastebudds.com.au or phone 0415 365 395
Latasha's Kitchen 
Reflecting on many regional cooking styles, cooking classes are held in purpose-designed cooking facilities at Latasha's Kitchen in Leederville. With a wide range of influences throughout south and south-east Asia, Latasha's classes offer friendly, informative classes specialising in cooking with spices. Each class, offered on Monday and Tuesday for beginner or advanced level cooks, covers essential cooking skills, methods and techniques through practical cooking exercises and dish preparation. The general classes run for four hours, with private lessons also available.
latashaskitchen.com.au
Edgecombe Brothers Asparagus Classes 
In Western Australia's Swan Valley fresh produce abounds. One vegetable in particular caught the eyes of the local producers at the Edgecombe Brother's winery. From September to December this rustic Perth winery holds a series of classes dedicated to all things asparagus. Take a wander through the property's asparagus patches and learn the wonders of preparing a meal in true paddock-to-plate fashion. You'll be amazed at how versatile these green spears can be.
edgecombebrothers.com.au
Wholefoods
Armed with the aim to share the benefits of natural produce on wellbeing, Wholefoods is a food company with purpose. Offering a series of cookbooks, seminars and intensive cooking courses, the Wholefoods business brings the natural food phenomena to the wider public. For those seeking an introduction into sourcing and cooking organic and sustainable produce, Wholefoods classes are the perfect choice.
wholefoodcooking.com.au
The Cooking Professor
Enjoy a plethora of tantalising cultural dishes on offer at The Cooking Professor, a cooking school in Perth's northern suburbs. Indeed it is the travelling foodie's dream, with hands-on classes ranging from yum cha to gnocchi making and even lessons in Jerusalem street food. Take a tour around the world from the comfort of a restaurant-quality kitchen, we guarantee you won't be disappointed.
thecookingprofessor.com.au
Matters of Taste
One of the largest and most professional cooking schools in the Perth area is Matters of Taste. At this well-equipped school (complete with scullery hands, which the messy among us will like!) you are able to choose whether you'd like to participate in a demonstration, hands-on or technical course. A demonstration is great for ideas, hands-on fabulous for those who aren't afraid to roll up their sleeves and the technical course variety lets you focus on a specialty area of cooking, such as pastry.
Classes at Matters of Taste do book out in advance, so you need to get in early to reserve a spot. Some of our favourite ones seen recently include the Oriental Duck Masterclass, Moroccan Spice Market and the always popular Croquembouche with Caramel. This is definitely a cooking class not to be missed.
Visit mattersoftaste.com.au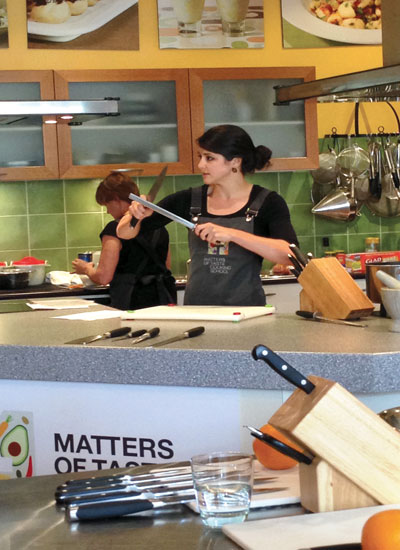 Regional Cooking Schools
Aspenz
What better way to enjoy some time in WA than at a local cooking school brushing up on your culinary skills? Introducing Aspenz, a family-owned kitchenware store and cooking school in Margaret River.
These classes are designed to help take the home chef's skills up a notch, all done in a friendly and non-pretentious atmosphere that will really put class participants at ease. With a range of classes available, make sure you follow the Aspenz Facebook page for all the latest info.
aspenz.com.au
facebook.com.au/aspenzcooking
Foragers 
Gain a gate-to-plate experience at Foragers, a farm-based cooking school near Pemberton in Western Australia's Southern Forests region. Complete with charming self-accommodation, a sprawling kitchen garden and a host of friendly farm animals, Foragers offers visitors a snippet of life on the land. Set in sprawling mountains and taught by passionate local producers, a class at Foragers offer lessons in lifestyle where home-grown and handmade rule. With diverse recipes and tastings covering everything from saffron and truffles to apples and potatoes, the Food of the Southern Forests class is a particular highlight on Foragers' class calendar.
foragers.com.au
Cape Lodge
Spend the day cooking and eating a three-course meal with renowned chef, Michael Elfwing at the Cape Lodge Cooking class. With French culinary training, Michael shows you how to create modern regional cuisine easily at home. Work with seasonal local produce, discover some of Michael's kitchen tips and recipes before sitting down to a superb long table lunch. Cooking class and accommodation packages are also available.
capelodge.com.au

Mad About Food 
Passionate foodies will enjoy the aptly titled cooking classes held at Wildwood Valley B&B retreat in Yallingup. The classes focus on Thai and Italian cuisine and have been designed so that participants can be hands-on in the learning process. Classes are taught by chefs and owners Siobhan and Carlo Baldini. They bring the experience of having lived in Italy for many years as well as working under renowned chef Martin Boetz of Longrain Thai restaurant in Sydney. Classes run throughout the year and tend to fill up fast.
wildwoodvalley.com.au or phone 08 9755 2120
Wildwood Valley 
If you're passionate about food, you will love what's on offer at Wildwood Valley. The classes are held at Wildwood Valley Cottages, nestled in the heart of the Margaret River wine region. Looking out onto superb views of the ocean, you can choose from the Thai Temptations, Taste of Tuscany or Wood Fired Cooking classes. You know you're in good hands when your teacher has trained with culinary geniuses such as Neil Perry and Martin Boetz (from the renowned and multi-award-winning Longrain restaurant). If you've got some kids in tow, you can send them along to a Kids in the Kitchen class and keep the whole family happy.
wildwoodvalley.com.au or phone 0409 084 737
Wild Sourdough (Nationwide)
Get back to basics and feel inspired as chef and author Yoke Mardewi shares her knowledge and passion of food and demonstrates how to make delicious and wholesome sourdough bread. Yoke's one-of-a-kind cooking classes run for approximately four hours and all students are encouraged to get involved with the touch, feel and smell of making their own dough from scratch. Yoke also runs lacto fermentation and culturing classes, which teach how to make sauerkraut, kimchi and more. She also offers gluten-free sourdough classes. Based in Perth, Yoke teaches across Australia, and has been for almost 10 years.
wildsourdough.com.au
Brands Article Feeds