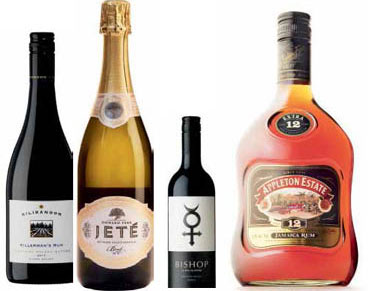 If you can find a reason to detour to Victoria's Pyrenees, you should. Quintessential central Victorian countryside, intriguing handmade wines and lots of interesting characters give it a charm that sets it apart. Renowned for its reds, particularly Shiraz, which is a good all-rounder, the Pyrenean whites are also excellent and don't forget the sparklings. Mount Avoca (mountavoca.com) dates back to 1970. The range is vast and stretches from the Moates Lane varietals at $15 all the way up to the $80 Reserve Shiraz. Blue Pyrenees (bluepyrenees.com.au) has an interesting history and a well-deserved reputation for reds and sparkling wines, while Summerfield (summerfieldwines.com.au) and Warrenmang (warrenmang.com.au) have cult following. Quite a few wineries provide interesting accommodation options also. Check their websites for details.
Discovering
Kilikanoon Killerman's Run Cabernet Sauvignon 2014
This lovely red is available at Dan Murphys for considerably less than it's RRP. It's a typically generous Clare Valley cabernet with hints of mint and blackcurrant against an earthy backdrop. Try it with roast beef.
Celebrating
Howard Park Jeté Brut Blanc NV 
If you like your bubbly to taste lean and long, then you must try Howard Park Jeté Brut Blanc NV. This wine is a great appetiser, palate enlivener and goes very nicely with raw seafood.
Lashing out
Glaetzer Bishop Shiraz 2014
This Shiraz is from the Ebenezer subregion of the Barossa and is made from vines that range from 35 to 125 years old. Fans of the big red will not be disappointed, but those seeking subtlety will find plenty going on too. A good cellaring option for eight for 10 years.
Cocktail making 
Appleton Estate Signature Blend 
There is brown rum and there is Appleton Estate proper Jamaican rum. Compare it to standard Aussie brown and marvel at the difference. Try the Appleton Signature Blend for cocktails or the Appleton Estate Rare 12-year-old Blend for sipping.