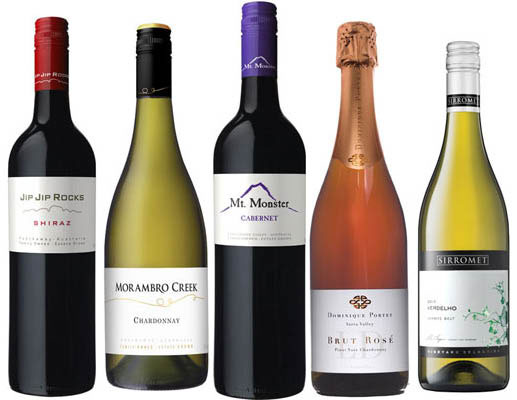 Discovering
Jip Jip Rocks, Morambro Creek, and Mt Monster  
Padthaway first hit the public consciousness way back in chardonnay obsessed 1980s. The craze for Padthaway Chardonnay has eased off since, but the wine region which is 300 km south of Adelaide and 500km from Melbourne continues to produce fantastic grapes. One maker that might be flying under your radar is Morambro Creek which also has several sub brands: Jip Jip Rocks and Mt Monster – all of which are named after land marks in the Padthaway region. Owned and run by the Bryson family – who can claim five generations farming South Australia – there's love, care and pride in the wines that you can taste. The whole range is very good but recent standouts are the Jip Jip Rocks Shiraz 2014, the Morambro Creek Chardonnay 2013 and the bargain priced Mount Monster Cabernet 2014.
Celebrating 
Dominque Portet Brut Rose NV
Don't snub this one because it's pink. The colour is barely there. It's more a salmon glow than a cordial pink. Looks aside, it is how it tastes and feels that counts, and the bubble is tiny, the mousse soft and the flavours dry and delicate. At this price it's a steal.
Quenching
Feral Brewing Hop Hog India Pale Ale
This almost six per cent alcohol brew regularly tops craft beer tastings and for good reason. Not lacking in flavour or hop kick, it still maintains its balance. If you like to sip on one really good beer rather than devour a six pack it's worth checking out.
Lunching
Sirromet Vineyard Selection Verdelho 2015
If you think talk of tropical fruit in wine is an invention of back label writers you need to taste this wine. From Queensland's cool climate Granite Belt (at 820 m elevation),  it's a regular fruit bowl of paw paw, guava and even sugar banana but still manages to be crisp and zingy. It's perfect with Asian-styled fish dishes.
For the budget
Storm Light
This humbly priced supermarket brew won a Silver Medal at the recent International Beer Awards against some much more famous (and expensive) competition. It ticks all the boxes expected in a 'light' — it's inoffensive, quaffable, but nicely bittered.
DID YOU KNOW?
The late Neville Wran helped push chardonnay into the public consciousness in 1982 when his determination to go beyond being Premier of NSW was thwarted by Bob Hawke's success. He famously said that his decision to renounce his federal ambitions "was made easier by half a bottle of Rosemount Gold Medal Chardonnay".