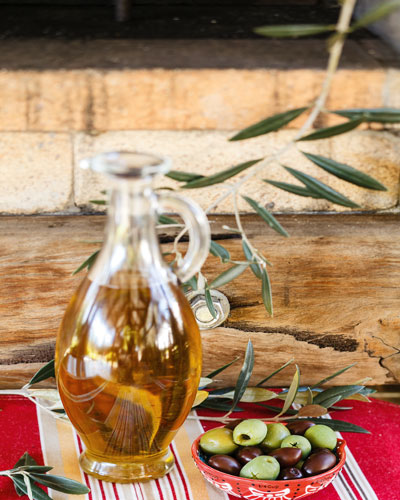 The olive tree (Olea europaea) is native to the eastern Mediterranean: south-eastern Europe, western Asia, northern Africa and the Middle East. It's a hardy, drought-and fire-resistant plant that lives to a great age. Many olive groves are hundreds of years old and some trees have been carbon dated to thousands of years.
The olive is one of the plants most cited in literature, from Homer's Odyssey to The Bible, and the olive branch has come to symbolise abundance, glory and peace. It was burnt in the sacred lamps of Greek temples and was the eternal flame of the original Olympics; its leaves were used to crown the winning athletes. The major use of olives these days is for oil, the cornerstone of the Mediterranean kitchen. As Stephanie Alexander observes, olive oil is the essential ingredient in a green salad. The better the oil, the more memorable the salad.
Olives go with: lemon, fetta, tomatoes, anchovies, garlic, bread and pasta, chicken, veal, fish, herbs.
These recipes were originally published in Australian Country issue 15.6. Click here to subscribe to the magazine.
Click here for more recipes!
Recipes & styling Sue Stadler
Photography Ken Brass
Olive bread
Serves 6

This recipe is an adaptation of one published in Richard Flanagan's And What Do You Do, Mr Gable? He promises it needs no kneading and it's true.
500g pizza or bread flour
1½ tsp salt
2 level tsp dry yeast
400mL cold water
80g kalamata olives, pitted, quartered
20mL olive oil
cornflour, for dusting cast-iron pot base
Mix the pizza or bread flour, 1 teaspoon of salt and the yeast together in a bowl. Add the cold water and mix with your hand until you have a thick batter. Cover the bowl with cling wrap. Leave to rise for between 16 and 24 hours. Thickly flour a bench and pour out the dough. Lightly flour the sticky mass and then push and prod it into the biggest square you can. Evenly spread ¾ of the olives, the remaining salt and drizzle the olive oil over the dough. Pick up the corners of the dough, stretch them out and fold inwards, one on top of the other, until you have a lump-like loaf. Push remaining olives gently into dough.
Leave for an hour. Place cast-iron casserole in the oven and preheat to 240°C. Take the hot casserole out of the oven, remove the lid, dust the base with cornflour and drop dough into the centre. Replace the lid and bake for 30 minutes. Remove the lid and bake for approximately 10–15 minutes until the bread is browned. Cool on a rack before cutting.
Olive tapenade
Makes approximately 1½ cups

150g kalamata olives, pitted
50g green olives, pitted
1 tbsp capers, drained
1 roasted garlic clove, fi nely chopped
2 anchovy fi llets, drained on kitchen
paper, coarsely chopped
1 tsp Dijon mustard
2 tbsp extra virgin olive oil
toasted Italian bread, to serve
Place the olives, capers, garlic, anchovy fillets and mustard in the bowl of a food processor and process until finely chopped. With the motor running, gradually add the oil in a thin, steady stream until well combined. If a little dry, add more olive oil. Serve with toasted Italian bread. Store in an airtight jar in the refrigerator.
Olive, cherry tomato, bocconcini and rocket pizza
Makes 1 large pizza

1 pizza base or flat bread
2 tbsp tomato paste
1 tbsp tomato puree
1 garlic clove, crushed
10 kalamata olives, pitted and halved
1 0 baby bocconcini, drained and torn in half
10 cherry tomatoes, halved
cracked pepper to taste
1 cup baby rocket leaves, to serve
Mix the tomato paste, puree and garlic together until combined and spread over base or bread. Top with olives, bocconcini, cherry tomatoes and cracked pepper. Bake in a hot oven at 200°C for 10–15 minutes, or until base is crisp and bocconcini has melted. Serve pizza with baby rocket leaves spread on top.
Olive oil dessert wine cake with peaches
This recipe is an adaptation of one published in Stephanie Alexander's The Cook's Companion. She in turn credits Alice Waters' Chez Panisse Menu Cookbook.
5 eggs, separated, reserving
2 of the eggwhites
¾ cup sugar
½ cup dessert wine
½ cup extra virgin olive oil
1 50g plain flour, sifted
pinch of salt
½ tsp cream of tartar
pure icing sugar, for dusting
whipped cream, to serve

Peaches in Dessert Wine Syrup
1 cup dessert wine
3 tbsp caster sugar
1 strip of lemon peel
4 –6 peaches, peeled and quartered
Preheat oven to 180°C. Butter a 24cm springform cake pan and line base and sides with baking paper. Beat egg yolks with half the sugar until pale and thick. Add wine and the olive oil. Transfer to a large bowl and fold in the flour and salt. In a clean dry bowl, beat 2 eggwhites with cream of tartar until you have soft peaks. Beat in remaining sugar until you have a soft meringue.
Fold lightly but thoroughly into yolk mixture. Spoon the cake mixture into prepared tin and bake for 20 minutes. Lower temperature to 160°C and bake for a further 20 minutes. Turn off oven, cover with a buttered round of baking paper and leave to cool in oven for 15 minutes. Open oven door and leave ajar to allow the cake to cool slowly. (The cake tends to deflate as it cools, so it needs to be protected from sudden temperature change.)
To make the peaches in syrup: Bring the dessert wine, sugar and lemon peel to the boil, then reduce the heat to a simmer. Add the peaches and poach for 2 minutes. Remove the peaches from the liquid and allow the liquid to reduce until you have a syrup. Remove the lemon zest and then allow the syrup to cool.
To serve: Dust the cake with icing sugar and serve along with the peaches drizzled in dessert wine syrup and whipped cream.