So, if it's not a rude question, how did a former paramedic and a management-training executive come to be farming silk worms? While the route from living and working in the resources industry in South-East Asia to raising silk worms for a hand-woven fabric business may seem obscure, for Rob Sheahan and his partner, Amanda Tagliaferri, it was a natural progression.
Rob and Amanda had extensive experience with mining companies in Laos. He worked in occupational health and safety and she in human resources, and their employers introduced them to the concept of foreign aid ventures. When the time came to return to Australia, they looked to Amanda's home state of WA and started searching for an appropriate place to live and a business to develop.
"We decided we wanted to move to Margaret River," Rob says. "In 2004, we were lucky enough to buy a 100-acre slice of a former dairy farm. We started casting around for something tourism-related to do with our land. We gave ourselves a pretty broad canvas, except we knew we didn't want to grow grapes or olives because there were plenty of those here already. From our South-East Asian experience, we knew about the village cooperatives in the silk industry so it wasn't too great a leap to come up with the idea of developing a silk farm. However, it took us six years of constant research and development to reach the stage where we could say we had a viable business model. Margaret River Silk Road officially opened in Easter 2012 and, a year later, we added a cafe to the tourism side of our venture."
While there are mulberry trees in gardens all over Australia, there was very little precedent for commercial silk manufacture in this country. "Traditionally, silk comes from China, India, Turkey and Italy," Rob explains. "In the 1890s, the then equivalent of the CSIRO set up pilot silk farms in Perth, Brisbane, Melbourne and Adelaide to determine whether of not it was a viable industry for Australia. Basically, they concluded it was not. So it seems that everyone forgot about it … until we came along, that is. We're making it up as we go."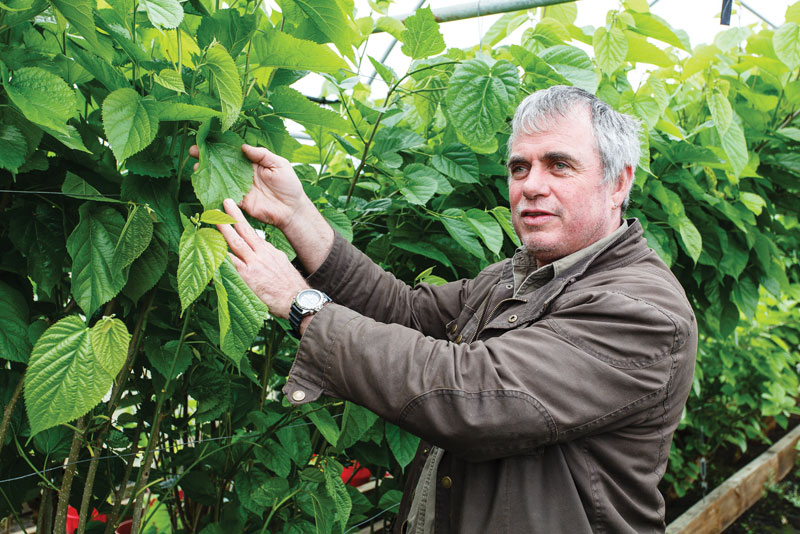 The farm currently produces approximately 25,000 cocoons annually. As it takes 10,000 cocoons to produce a kilo of silk, that's an output of about 25 to 30 scarves each year, way short of the quantity the farm shop needs to sell to be a viable enterprise. Rob and Amanda make up the difference via a joint-venture arrangement with silk farmers in Cambodia.
Margaret River Silk Road is located at 307 Harmans Mill Road, Metricup. For more information, visit margaretriversilkroad.com.
This story was originally published in the February 2014  issue of Australian Country. Order the back issue here.
Click here for more creative corner.
Words Kirsty McKenzie
Photography Ken Brass