Lisa Mack and Paul Roberts have transformed a property in Central Victoria's Strath Creek, where they keep at least two of every animal they own.
What happens when a horticulturist meets a market gardener? Why, they fall in love and live happily ever after, of course. No, well, yes … eremophila, acacia, grasses, banksia and leucadendron … but there's much more to this green-thumbed couple's story than that. Horticulturalist Lisa Mack met Paul Roberts about nine years ago down at the pub and the pair quickly realised they had lots in common. "Paul happened to have acreage in Gippsland and as the relationship continued, we spent a bit of time down there," Lisa says. "It was always my country living dream to buy a parcel of land and develop everything."
So in 2017, the couple did just that after purchasing 40 acres (16 hectares) in Central Victoria's Strath Creek, roughly 100 kilometres north of Melbourne. Although they were excited by the prospect of developing the gardens and paddocks, they got a bit more than they bargained for. "We weren't planning to build a house as well, and this was a bit further out than we wanted," Lisa says." But the beauty of it … it was just everything I dreamed of. It's very picturesque. It's not hilly, it's undulating, so it's not flat, either. There are views everywhere you look. Trying to find that right pastureland with the right house just wasn't happening, so we saw a vision to get this for the price that we could afford. And then Paul happened to
buy a caravan beforehand, so we thought, 'Well, we'll just live in a caravan.'"
"We had no power, water or anything in the caravan, we were completely self-sufficient," Paul adds. "We moved in October, so it was fine in the spring but then it got tough in June, when it was damp and cold," Lisa says. "Our wardrobe was outside, and it just wasn't practical anymore."
Lisa and Paul braved the rigours of life outdoors for eight months while the house, which was designed by a local architect and modelled on an illustration of a corrugated-iron home Lisa found on Pinterest, was
being built. Now, five years later, the picture is complete. Upon entering the property, you approach a large front portico and once indoors, you're met with a corridor, off which the four large bedrooms and main bathroom are located. Beyond that, "It's all one big, open-plan space, with the living, dining, kitchen and even the mudroom," Lisa explains.
Between them, Lisa and Paul have five kids and nine grandchildren, and family living was very much front of mind when designing the home. "The kids needed their privacy growing up but now that they're grown and out of home, that's not necessary," Lisa explains. "Now when we're together, we're together, and that was the plan." The house also features raw concrete flooring, which has been subtly polished, allowing for practical living so the grandkids can run amok and ride their plastic bikes around indoors. "We wanted that lived-in feel," Lisa says. "It's not a show home, it's to be utilised and enjoyed."
As for the decor, Lisa's love of vintage and upcycled pieces is evident throughout, as is her fondness for rabbits. "Anyone who knows me knows that my love is rabbits and the colour green," she says.
"Everything in the home is really special and unique to me, and usually comes with a story. There are lots of pieces of crockery that were my mother's and mother-in-law's. I still have the original pair of secateurs from 1985 that I did my apprenticeship with. I'm not into replacing things and buying new. I like to look after what I have. Most of the grandkids' toys that I have here belonged to my boys and some were even mine."
When it came to the outdoors, Lisa and Paul started, quite literally, from the ground up. "It was covered in blackberries," Paul says. "There was no infrastructure whatsoever." Although they technically waited for the house to be built before developing the grounds, there was one thing planted just three months after they purchased the property. "My son Corey has a commercial landscape company and came round with a tree he wanted us to plant," Lisa explains. "At first, I was reluctant as it's not native, but he insisted, so now we have this great maple as a roundabout in our driveway, and my son wanted us to name it and suggested Pricormadnicibilly, which is all our kids' names put together."
Prior to planting out the rest of the garden, Lisa and Paul first needed to build fencing for their animals, all of which come in at least a pair, much like those of the famed biblical fable. They include two donkeys, called Moriarty and Holmes, two cats, two dogs, a horse and pony, 10 geese, 10 chickens, four ducks and 29 sheep. They don't consume their animals, although they do eat the eggs, which they also share with the community, as they do with the produce they now grow, which changes with the seasons and includes lettuce, rocket, silverbeet, spinach, broccoli, broad beans, garlic and onions.
There is an orchard where they grow passionfruit, berries, citrus, cherry, apple, pear, cumquat, rhubarb, blueberries and strawberries. Although it is only two and a half years old, it is already well established, not surprising given the time the duo devote to their garden, which Paul estimates is about four hours each weekday and 16 over the weekend, and that's after they've done a day's work in their jobs of the same ilk. "I could spend even more time out there," Paul adds.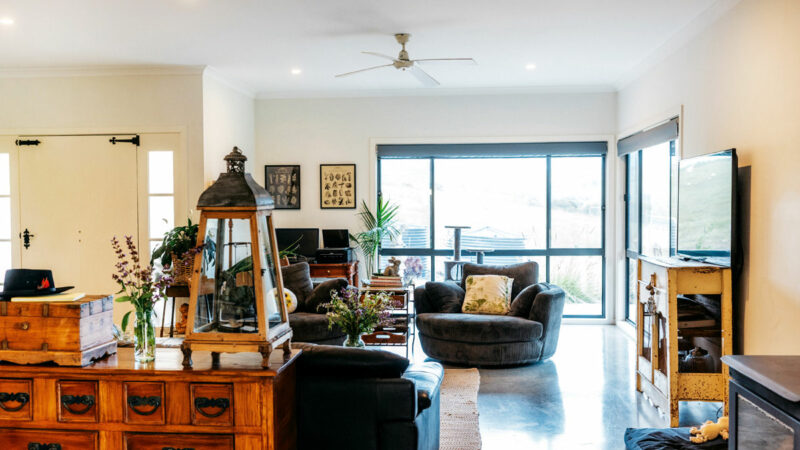 The pair have also planted lots of native species, which encourage beneficial insects and birds to the garden. "One of the natives we've grown is a particular species, Acacia pravissima, that's indigenous to this region," Lisa says. Other natives include eucalyptus trees, several species of grevillea, which provide a beautiful array of red colour, eremophila, acacia, grasses, banksia and leucadendron. There are also several features positioned around the garden, including an old metal pig-feed trough manufactured by Furphy & Sons in Shepparton, Victoria, that was gifted to Paul by a client and a three-metre-tall gum tree stump, which the couple estimate is over 100 years old and which they manoeuvred in place using chains and an ATV. "We're doing things like that all time, injecting little pieces and recycling," Lisa says.
Going forward, Lisa and Paul plan to do more regenerative farming practices including rotational grazing, and less machinery operation. And while the property is still young and the couple admit they still have lots to do, they're pleased with the garden's progress and the family home, dubbed Strath Haven, that they've lovingly created. "We build memories here," Lisa says. "When we congregate, it's not just for lunch and see you later. It's a place to spend quality time together."
Photography by Kim Selby