Longtime locals, visitors and newcomers to Goondiwindi all agree that there is much to celebrate in the small southern Queensland town, for a happy and joyful bush Christmas.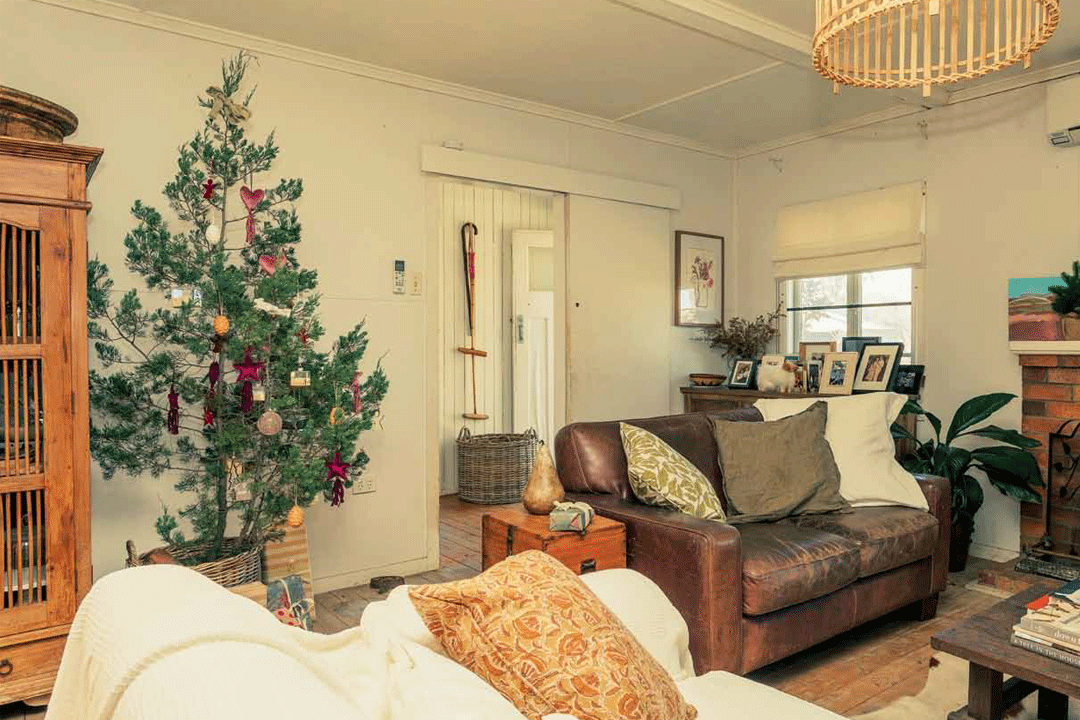 You feel it as soon as you hit town. There's an energy about Goondiwindi, home to approximately 6000 people on the Queensland-NSW border. Gundy, as everyone calls it, may be a service town for the surrounding agricultural industry, but there's a touch of brio in the cafes, boutiques and design stores, even the pubs and shops that line the main street. There's no doubt this rural community punches above its weight with an annual arts show in May, a gourmet weekend in September and even a festival, Lanescape, promoting public art in town in October. It's clear there's something in the water of the town's Macintyre River, and it's not just the hundreds of triathletes who converge every February to complete a two-kilometre swim in its muddy waters as part of the gruelling Hell of the West competition.
Lillie Holcombe noticed it when she came to town for a pre-wedding party for her sister Hannah, who was marrying a local. She met her future husband, farmer and manager of Goondiwindi's Suncorp branch, Henry Holcombe, at the same party, so in a twist of fate, the two women have ended up as neighbours living on farms in the Yetman district on the NSW side of the border. These days, Lillie is making her own contribution to that Goondiwindi's cool vibe as she runs Harry & Kit, a homewares and designer clothing store in a converted tin shed in a back lane.
In her former life, Lillie was a Brisbane-based marketing executive who worked on tourism and later construction equipment and farm machinery projects. She grew up on a cattle property near Bowen on the northern Queensland, went to boarding school and university in Brisbane, and admits that moving to the country was not in her game plan when she met Henry.
Although Henry had grown up on the land in northern NSW, he went to boarding school in Sydney and, after a gap year jackarooing in the Northern Territory, studied at Sydney University and moved into a banking career. Henry and his brother bought one of their family's farms, Rocky Bar, from their parents and Lillie and Henry and their two-year-old son, Eustie, now live in a farmhouse on the property, which has a beautiful creek running through it. They run Merino sheep and cross-bred prime lambs and grow pastures for forage for their livestock.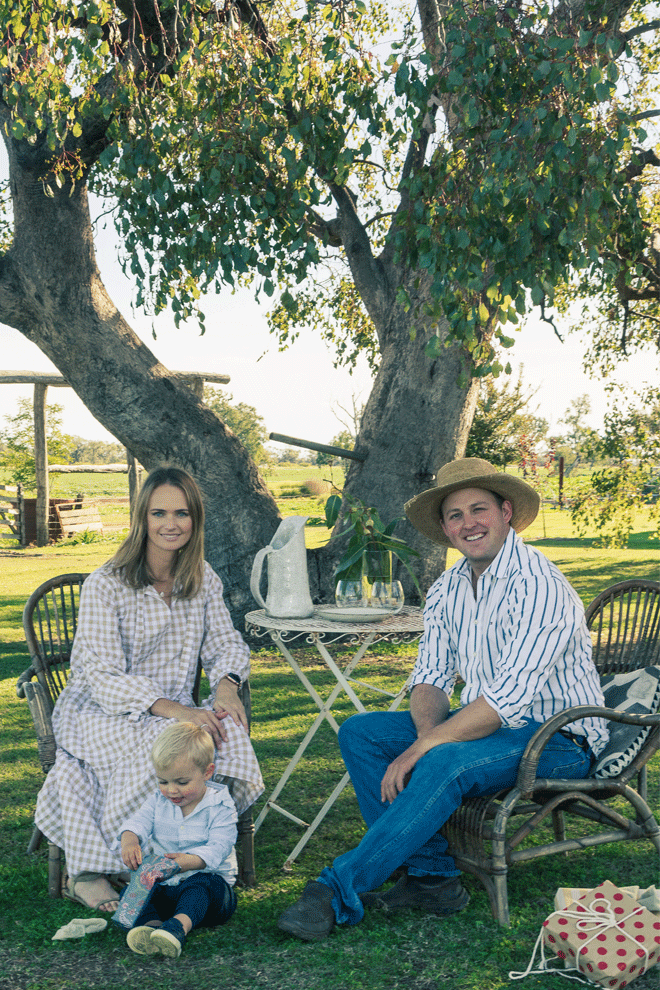 "I must admit I was a bit concerned about how I'd go when I moved out here," Lillie recalls. "At first we had a long-distance relationship and then I worked remotely from the farm when I became pregnant. We'd had a few trips to Bali and I'd always admired the handicrafts and decorator items made there. So when the shed became available, Henry and I did the figures and decided to launch the shop. We went back to Bali on a babymoon and spent the time sourcing stock through an agent."
The arrival of the first container coincided with Eustie's birth, and friends and family pitched in to help unpack it. In September 2019, Lillie, with nine-week-old Eustie by her side, opened her shop, named for their dogs, Harry the Cocker Spaniel and Kit the Kelpie. Lillie's feet have barely touched the ground since as she juggles raising a toddler with the demands of the shop and its online arm.
"The online side of the business has been particularly important since Covid as it's kept us ticking along," Lillie says. "There have been times when, due to border closures, I haven't been able to get into Goondiwindi to open the shop, so it's been tricky. I'm immensely grateful to Buy From the Bush as it drives so much interest and trust from the consumers and demonstrates that quality can come from the most remote places."
To keep touch with her customers and showcase new stock in the store, Lillie hosts occasional In the Country events when she invites people to come and browse and meet other country people who have businesses or represent organisations that might be of interest to her demographic.
Little wonder then, as Christmas approaches, Lillie is looking forward to some time to relax a bit and spend time with family and friends. For her pre-Christmas get together on the farm, she invited Felicity White from the newly opened Goondiwindi restaurant, Boathouse on Macintyre to help with the catering. Felicity and chef David Gill responded with a menu that reflects the abundance of the local larder, with a focus on the incredible produce farmers in the regions are growing.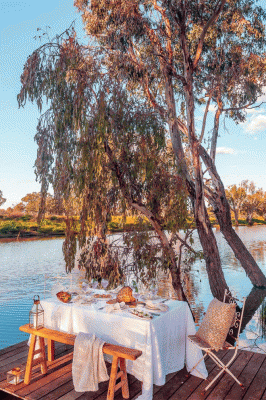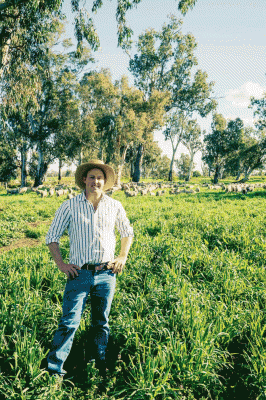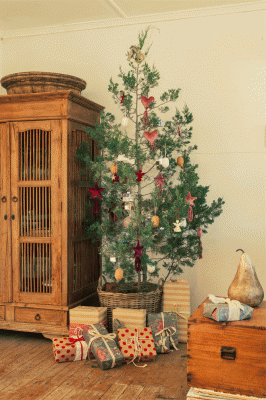 They include local citrus and other fruit and vegetables along with Gooralie Pork's free-range ham, Condabilla Murray cod from Chinchilla, Woods Food's red sorghum flour, Woodhouse Macintyre honey and Macintyre Brook Grove extra virgin olive oil, which comes from nearby Inglewood. David and Felicity also showcase Macintyre Brook white lamb and Inglewood organic chicken on the menu at their restaurant and its associated providore.
David says that the region's produce is one of the many reasons his planned year-long stint in Goondiwindi has stretched to four. "I grew up in the Toowoomba region but my career has taken me all over," he says. "I initially came to Gundy because I wanted to be closer to family in Pittsworth and Warwick. But then I saw all the potential here, so I decided to stay. To me, Goondiwindi is everything a small country town should be. The people are welcoming to newcomers and supportive of new ideas. I think the region is one of Queensland's best kept secrets and I'm just glad I came across it."
Words By: Kirsty McKenzie
Photography By: Ken Brass