Dave Roberts-Thomson confesses that he only knows four words of Dutch, so visitors to his family's tulip farm hoping for a Dutch D&M will be sorely disappointed.
Dave and his sister, Meredith, represent the fourth generation of their family to work at their spectacularly located farm at Table Cape near Wynyard in Tasmania's north-west. Their great-grandfather came to Australia in 1910 following a stint in the British army in India.
"He met someone on the ship on the way out who told him about the great farming land in Tasmania," Dave says. "I think he spent a day in Melbourne before heading south. Like most people in the area, he farmed livestock and potatoes, and my grandfather followed suit. But when my father, Paul, was at uni in Hobart studying agricultural science, his professor was into tulips. Dad caught the spark, mainly because of his interest in genetics."
Paul and his wife, Bronwen, planted their first tulips in 1984. "There were, and still are, a number of small tulip farms in the Dandenong region of Victoria," Dave says. "But Tasmania offered close-to-perfect conditions for growing bulbs. At first there were restrictions on the number of bulbs you could plant, but as soon as they were lifted my parents expanded. These days there are three major growers in Tasmania and we're a third of that. But ours is the only farm that's open to the public."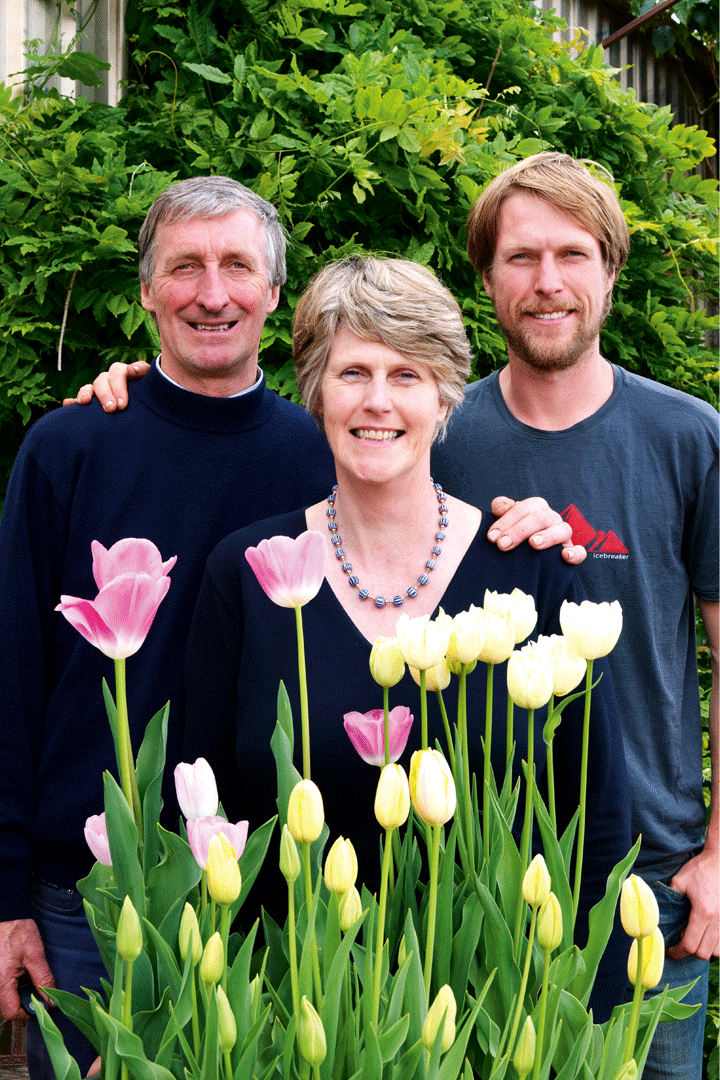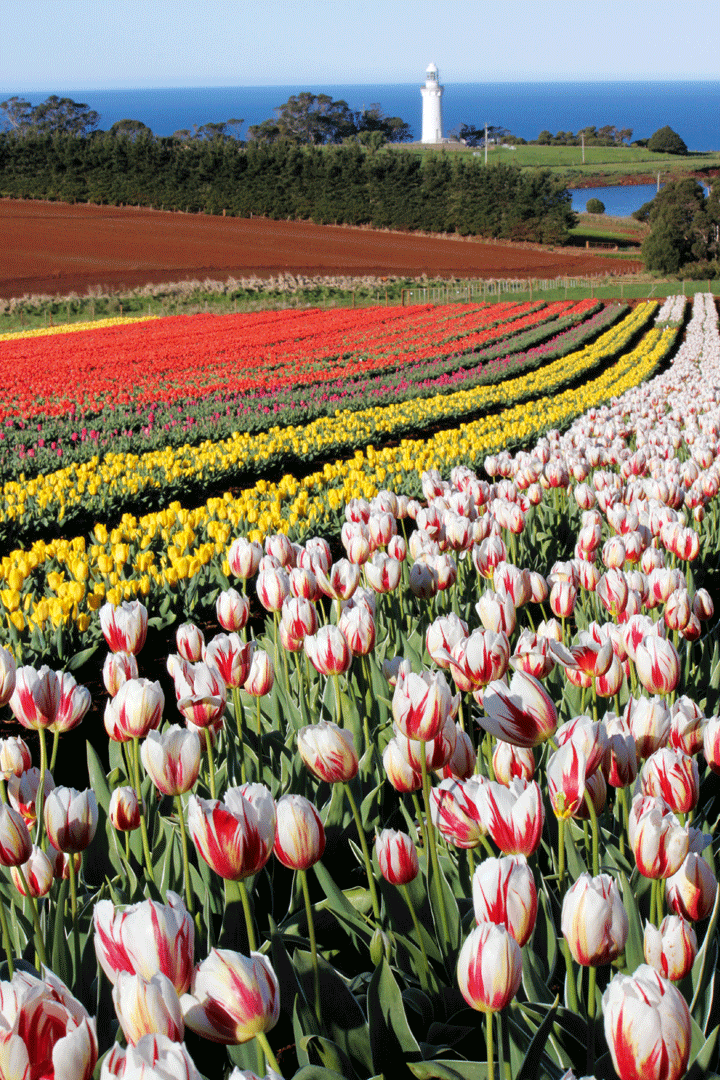 For six or seven weeks from late September Table Cape Tulip Farm is ablaze with colour as row upon row of tulips come into flower. Dutch irises, lilies, hyacinths and daffodils add to the spectacle and visitors flock to the farm to enjoy the display. The Insta-worthy setting doesn't hurt either, as the farm is located on the coastline with the 1880 Table Cape lighthouse looming 170 metres above the sea in the distance. As well as photo opportunities in the fields, Bronwen and Meredith work hard to create a magnificent indoor flower display while Dave choreographs music, art and storytelling events on the farm. "I actually studied fine arts before I became a farmer," Dave explains. "So I've got lots of friends I can call on to help. We're also fortunate that the region is home to Big hART, a nationally recognised arts organisation that was founded to create new ways of dealing with disadvantage following the closure of the paper mill in Burnie. Through them, we have  help from students from the local high school, mainly kids who might otherwise be slipping through the cracks both academically and socially. As well as floral art, we have catering on-site, a bulb store and a music program."
While all this activity goes on, the business of farming continues, but Dave says their visitors actually like giving way to the odd tractor and the experience of being on a working farm. "People seem genuinely interested in what we do," he says. "Although we do sell some cut flowers, they are not our main game. We concentrate on wholesale bulb production and selling bulbs by mail order."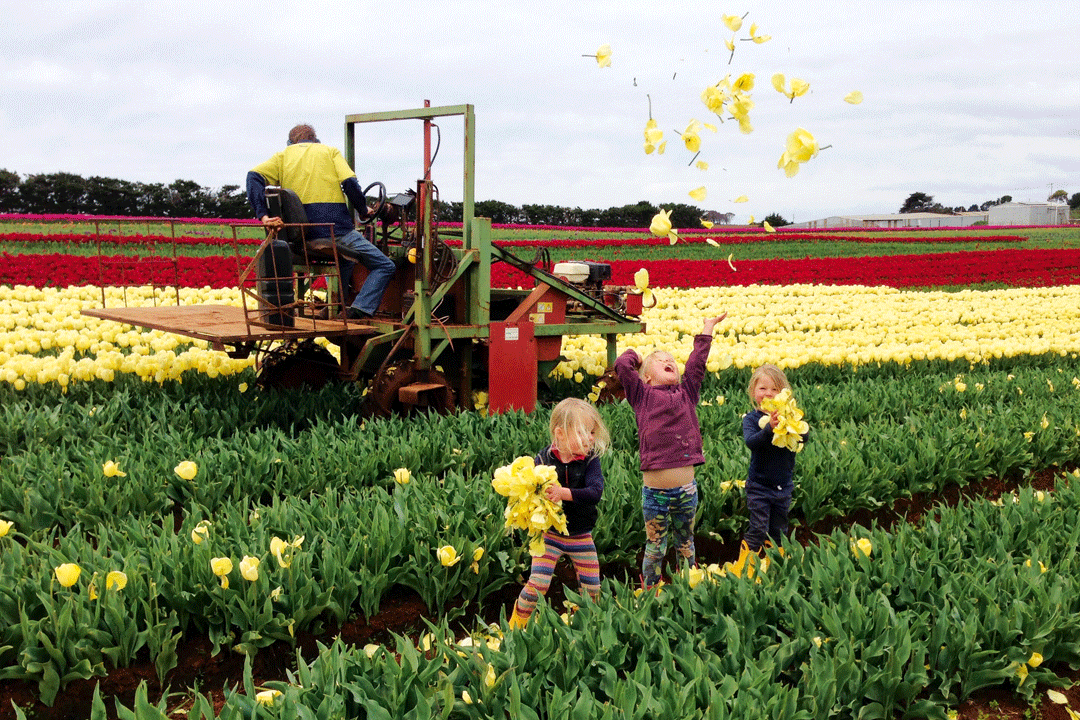 Among the many things tulip fanciers learn at Table Cape are that the farm's well-drained volcanic soil is ideal for growing bulbs. Tulips like a cool to cold winter, preferably without hard frost, and a prolonged spring, so the bulbs keep growing for longer. And in spite of Dave's lack of proficiency speaking Dutch, the Netherlands still remains the main source of bulb stock. Although these days the Roberts-Thomsons keep only a few Poll Dorset sheep mainly as lawnmowers, they still grow other crops including poppies, pyrethrum, peas, wheat, barley and hemp for edible seed.
"Like all farmers these days, we're trying to become better stewards of the land," Dave says. "Regenerative agriculture is what we aim to achieve and, in the past few years, we've been doing a lot of work towards improving the soil, mainly by modifying how we look after the land between the crops. I've learned a lot from farmers overseas via Twitter and YouTube. There's always something to learn particularly from people who share similar conditions."
Although Dave pursued a very different career straight out of uni, working as a white-water rafting instructor and adventure tour guide, he says he couldn't be happier now that he's come home to the farm. "It's such a diverse life," he says. "I get my arts fix every year with the events during tulip time. Then there's the farm work. This morning I did an earthworm count, as part of soil health monitoring, and a bit of propagation. We have a short but very happy tourist season, so we don't have time to get sick of each other, and we work in an industry that brings a great deal of pleasure. I reckon we're pretty lucky my great-grandfather met that bloke on the boat."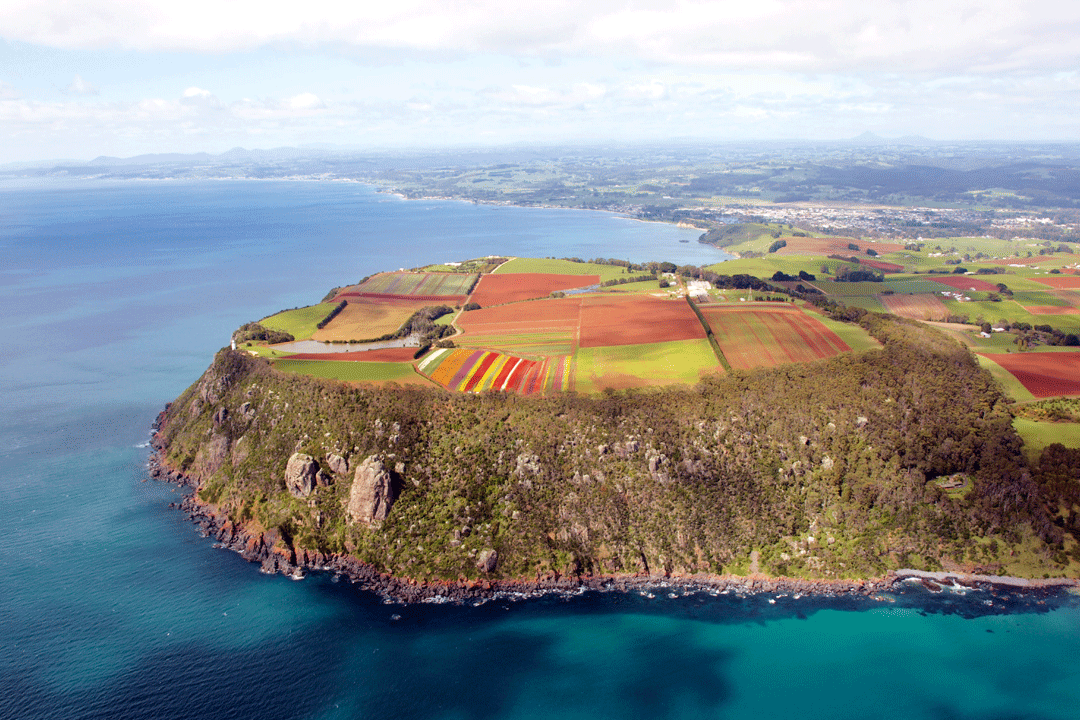 For more information, visit vdqbulbs.com.au.