Dominic Romeo always knew there was something special at the end of the narrow driveway high on the southern slopes of Mount Macedon. While some would-be buyers shuddered when they arrived at the top, Dominic knew he had found his next home as soon as he opened his car door. "I could tell from the front gate," he says. "I just knew that up that drive there was something amazing."
Karori is a heritage-listed, two-storey, six-bedroom hill station property on Victoria's Mount Macedon, an hour north of Melbourne. When Dominic came to have a look at it two years ago, he found the historic 1880s Swiss-Italian-style chalet languishing in the winter mist. It hadn't been lived in for a year and was damp, cold and full of mould. Welcome to restoration hell, anyone other couple would have called it quits, but the Romeo's saw it as the ultimate  opportunity.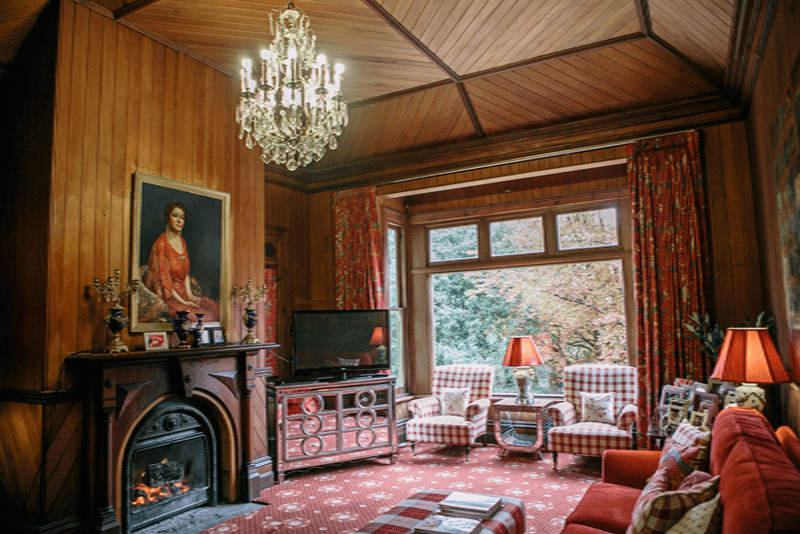 For Marie, the challenge was how to decorate what she describes is a "very masculine" house. There was no question of painting over the timber walls, which meant being creative with the soft furnishings.
"I've gone with quite bold carpets and curtains and used chandeliers to brighten it up and create a bit of drama, while ensuring there is some warmth in what are large rooms," she says.
For Dominic, the social history of the property is very important. As is the broader infrastructure, which once included stables, a tennis court, an orchard and flower-picking garden, a greenhouse and a gardener's cottage. Unfortunately, much of it was lost during the Ash Wednesday bushfires in 1983.
Luckily, he has had an extensive photo collection to refer to, with more than 1000 photos provided by the Dewez family, who owned the historic house from the turn of the century to the early '70s. More than 30 members of the Dewez family returned last year for a tour and a barbecue on the lawn tennis court.
Read more about the complete transformation of Karori in the April issue of Australian Country, available for order or online now!