Karren and John Hunt planned for all eventualities when they designed and helped build their retirement home on the outskirts of Bordertown.
After enduring countless scorching summers on their sheep and cropping farm in South Australia's south-east, Karren and John Hunt had a very clear picture of what they wanted when they started searching for land on which to build a new home closer to the agricultural service centre of Bordertown.
Top of the wish list was proximity to town as, after many years of ferrying their own children to and from sporting and school commitments, the Hunts wanted to live close enough to be involved in their grandchildren's lives without lengthy commutes. They also wanted a bit of space around them and the 3.4-hectare (8.5-acre) block bounded on one side by Tatiara Creek ticked that box. Minimal impact on the environment was another requirement and as John and Karren designed the home themselves, they were able to incorporate as many sustainable features as their hearts desired.
"When you live on the land you learn from it," Karren says. "The farm has been in John's family since 1910, when his grandfather settled there, so there has been plenty of time to figure out how to work with the environment. Karren also grew up in the district after her family moved there from Kangaroo Island where her father had been a ranger in the Flinders Chase National Park before taking mainland jobs with SA Railways.
"Because we started with a bare block, we had a blank canvas to work with," John says. "We were also very hands-on with the build so we could tweak things as we went along." The project addressed all the usual eco-friendly requirements of northern orientation with minimal windows on the western side, good cross ventilation and thermal mass. Karren and John laid the concrete slab themselves and harvested the straw bales from the farm. They also did all of the internal and external wall tying down and rendering and incorporated stone from the paddocks for the freestone walls. Mount Gambier limestone sanded back to reveal fossils added further thermal mass and an interesting talking point in the prehistoric record captured as the stone settled. The Hunts also made use of extensive recycled timbers with beams made from the old jetty piers from the Yorke Peninsula, second-hand doors refurbished with hours of stripping and scraping and Baltic pine from a building which began life as a church and ended up as a shearing shed before being born again as the bench and walls in the kitchen.
"John and I both come from big families, so a large entertaining area was another priority," Karren explains. "We decided to add a large alfresco area beside the living and dining are that can be closed off with a zip track blind that keeps out 95 per cent of the dust and cold. When we open the whole area up we can fit everyone in comfortably. We often have 20 around the table at Christmas and if both families got together we'd easily be 80 people."
The Hunts also factored potential future needs into the design. Karren has long experience in aged care, so incorporated a more spacious garage, wider passageways and doors, with the possibility of disabled access in mind. "The reason many people end up in residential care is because their homes aren't safe for them," she explains. "So we created secure tactile sections in the living area and garden. We also added lots of features for ease of living and cleaning. We raised the power points and wall-mounted the toilets and have no skirting boards or architraves."
Once complete, the Hunts went to work on the garden, which includes an orchard and vegie patch. "We are connected to mains water, but most of the time we use rain water," Karren says. "We share a bore with our neighbours for the lawns and if we have a drought, we can always swap over to town water."
Now that they are settled in town, Karren adds that she's been delighted to have plenty of space to incorporate the art works she's collected through various travels. "People often ask if we'd do anything differently if we had the chance to build again," John says. "But the truthful answer is 'not really'. It's a great place for entertaining and having family to stay and we really feel we have created our forever home. We couldn't be happier."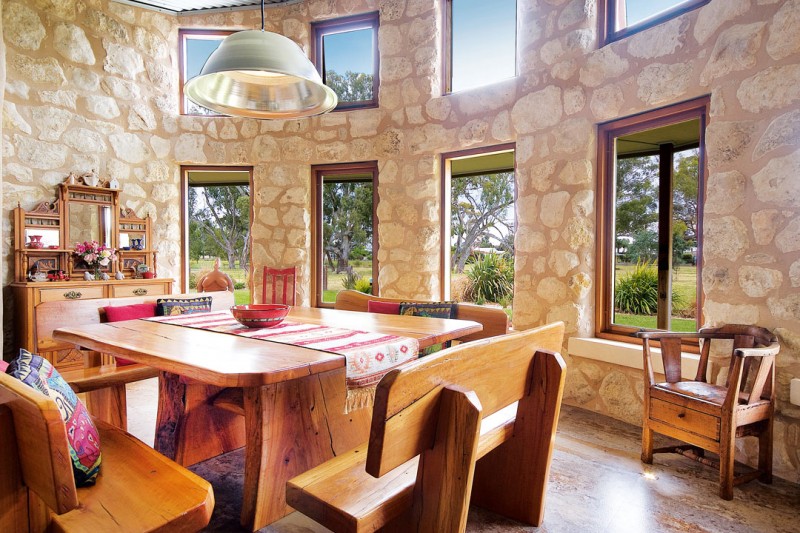 Words by Kirsty McKenzie
Photography by Ross Williams
Styling by Bronte Camilleri