As Alex Kowald traces the story of her garden in the Adelaide Hills, she began with a blank canvas in 1988 and has spent the better part of the ensuing 30 years colouring in the details.
"My family moved to the Hills when I was a teenager," she explains. "I ended up marrying Neil, the boy from the dairy farm across the road. He was the fourth generation of his family to farm on Frosty Flats and his parents moved out when we moved in. Up until then, the farm had a substantial vegie garden, which they ploughed and manured every year, and there were a couple of apple trees, but not much else."
Alex started by planting conifers, gums, Chinese elms and callistemons with lawn in between. Through the years she's added bed after bed bordered with old logs and now the only gaps are the paths that are just wide enough for a wheelbarrow. The beds provide an almost continuous kaleidoscope of colour as Alex has added more than 800 roses, irises, day lilies, cannas, geraniums, penstemons, aquilegia, sedums, alstromerias and bulbs. Today, Alex calculates she has cultivated three-quarters of an acre surrounding the homestead as gradually she extended the garden into the paddocks.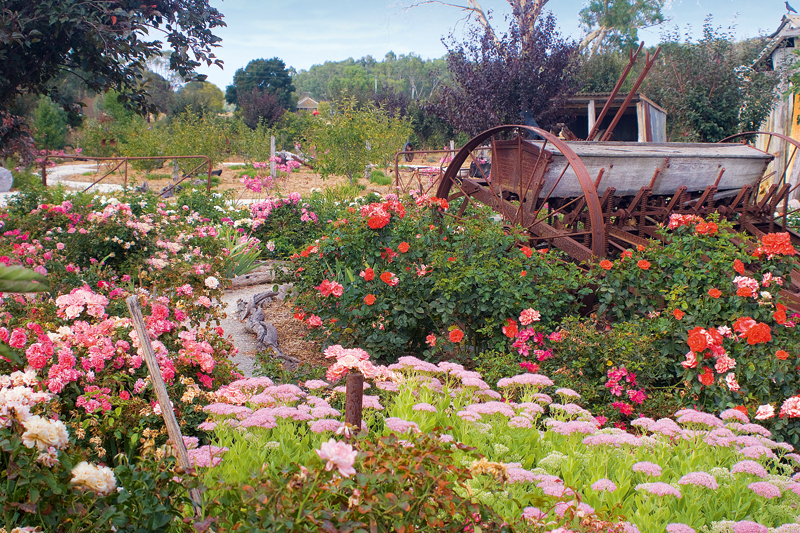 "Neil suggested I plant a few trees in the calf paddock to give the cattle some shade," she recalls. "That was a big mistake. After a couple of months of planning I fenced it off and now it's full of prunus, crabapples, groundcover roses, lots of bulbs, figs, a quince and there's an old seeder in the middle. We've actually incorporated quite a few old farm machines, and recycled farm fixtures such as gates and stumps to make features throughout."
Although Neil is not allowed in the garden beds — "he walks around like he's out in the paddock and steps on all my plants" — he is her willing accomplice when it comes to building detail. He's helped with arbours from rustic timbers for climbing roses and clematis, a pergola from recycled timber and iron and making a border for a small creek with stone from an old building that became unstable and had to be pulled down.
Alex adds that it's a case of survival of the fittest in her garden. "I've learnt what works by trial and error," she says. "We have winter frosts of minus four to minus six and in summer it often reaches the low 40s, so the range is pretty extreme. Our bore water is also slightly salty [2500 parts per million] so we have a Care-Free water conditioner that makes it possible to water the plants with drippers. So if anything does well I split it up and spread it around."
In spite of the slightly ad hoc approach, her methods are obviously working. "I love colour, and I've pretty much succeeded in achieving it year round," she says. "As the roses finish, the camellias come out. There might be a couple of weeks at the end of May and June when not much is happening. But then the bulbs start mid-July and we have loads of colour right through spring and summer. I hate gaps so I've planted densely. It's a nightmare to mulch, but it achieves the desired result."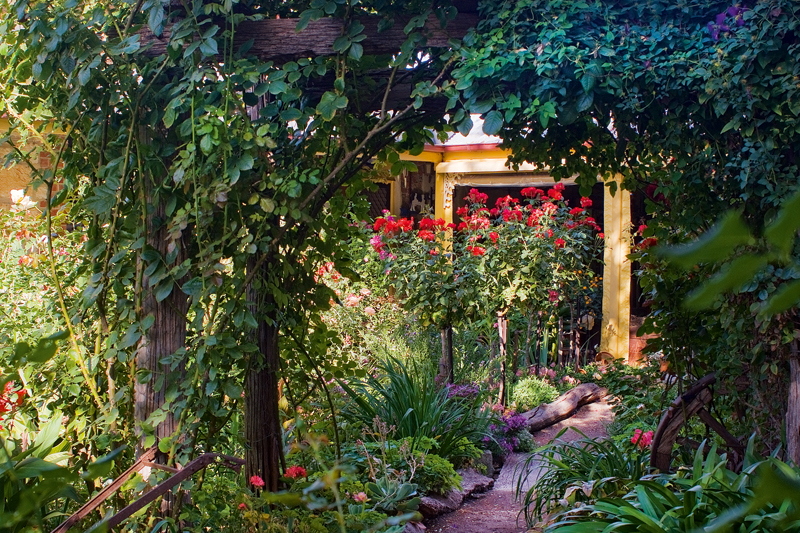 In the wake of Victoria's Black Saturday bushfires in 2009, the Kowalds decided to remove the highly flammable conifers and some gums, to open up the space and reduce the fire hazard. "I had a few callistemons doing well, so I decided to make a hedge from them to give us privacy," Alex says. "They are incredibly hardy and do without irrigation. The only maintenance is that I prune them a couple of times a year and they reward us with a spectacular flush in March."
Alex estimates she spends a couple of days a week in the garden, perhaps more when she's leading up to a showing for Open Gardens South Australia. "I used to open every year, but now I've decided to do it every 18 months," she explains. "It's a lot of work and I wanted to have a summer off so I could get a few other projects out of the way. I do love watching people enjoy the garden and the next opening will be spring 2019. Then autumn 2021."
Alex says it's all hands on deck during the open weekends. She donates all of her portion of the funds raised to charities so friends help out with marshalling and catering and Neil works as a waiter. "The only problem with opening is that the paths are a bit too narrow for wheelchairs," she says. "I can't broaden them because the beds are bordered with logs. Even if I could I'm not sure that I would want to change it. I like the narrow paths because you feel as though the garden is wrapping itself around you."
The complete story was originally published in Australian Country issue 21.6. Click here to subscribe to our magazine
Words Kirsty McKenzie
Photography Ross Williams
Styling Bronte Camilleri