The European history of the Orange district of central-western NSW goes back almost to the foundation of colony. A steady flow of pastoralists followed in the wake of the crossing of the Blue Mountains as squatters and their stock took up runs on the vast plains west of the Great Dividing Range. The trickle became a torrent with the discovery of Australia's first payable gold deposits at Ophir in 1851. Further gold was uncovered throughout the region in the 1860s and '70s and, although fortunes have fluctuated through the years, contemporary extraction methods mean that mining has once again become a significant industry in the area.
More than 130 years after that first discovery, Jane Cowper and her late husband, Richard, also thought they'd hit the mother lode when they went prospecting for a country property in the Orange region. They'd moved to town in 1980, where Richard was a clinical psychologist at the local community health centre and, soon after, started looking for space to raise a family, enjoy a bucolic setting and run a few cattle. They found what they were looking for in a 25-acre (10-hectare) block in the rolling hills near the hamlet of Forest Reefs, about 10 kilometres from the historic village of Millthorpe and 25km from Orange.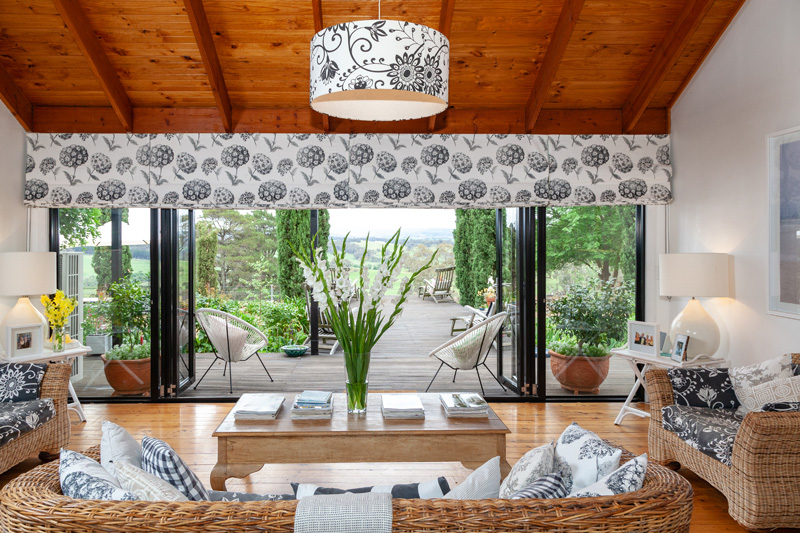 At that stage, Orange was a thriving service centre for the surrounding agricultural land, which has a long history of apple, stone fruit and table grape production, as well as sheep, cattle and grain growing. Its renaissance as one of the state's premier cool-climate wine regions was in its very early days, but Jane and Richard saw the potential of their beautiful block with its views to Mount Canobolas in the distance and embraced the opportunity to turn it into the site for their new home.
Richard took three months leave and worked with a local builder to build the house. "Our son, James, was two and daughter Prue was a baby when we moved in," Jane recalls. "We finished the house as finances permitted and in the time we could spare as we added Harriette and Gabriella to the family." The dream existence came to an abrupt halt, however, when Richard died at only 45 and Jane became the sole carer for their young family. Her training as a registered nurse and practical nature meant that she was able to maintain their hobby-farm base, while the children completed their education.
Jane says she was too busy with her life and family to be actively looking for love, when Michael Moore inveigled his way into her heart. "Michael used to come up on weekends and help out on the farm with jobs such as painting and fencing," she recalls. The couple married in 2008.
In the ensuing decade, Jane and Michael, who has a long career in financial management and now works in Orange, have gradually finessed the homestead, adapting it as family life ebbed and flowed. At one stage, James and his wife, Emma, and their daughter, Isabella, moved in while they built a house in Millthorpe, while the extended family comes and goes as holidays and weekends in the country permit.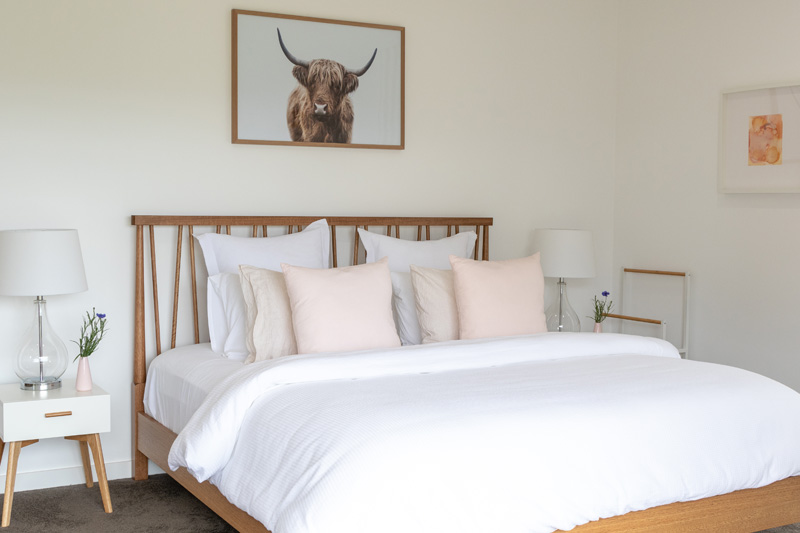 Jane has brought a designer's eye to the interiors, which has a cool white aesthetic enlivened with lamps from Steal the Limelight in Brookvale and homewares and soft furnishings from Alexander Santorini and MCM House. Every window captures views of the surrounding farmland, which may include glimpses of Jane's herd of Belted Galloways. "They are pets really," she says. "We raise them for fun and because they are beautiful cattle. They are quiet and easy to manage and we sell them privately from time to time."
The garden is a constant work in progress and Jane and Michael open occasionally in spring for the Millthorpe Garden Ramble. This event, which is held every November, attracts thousands of visitors and raises money for community amenities. More recently, Jane and Michael have decided to share their country idyll and built a luxury B&B cottage for couples on a hill behind the homestead.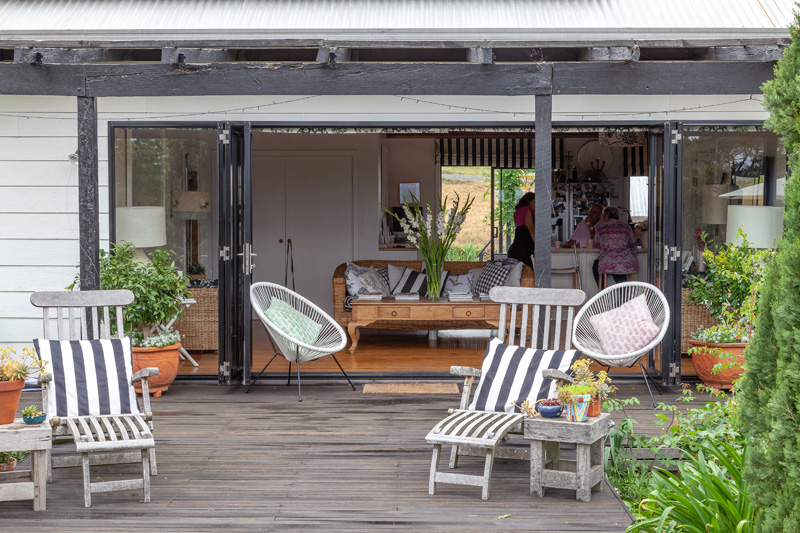 "This region has so much to offer and we like to share it," Jane says. ''To go with our wonderful wines from venues including Brangayne, Borrodell, Angullong and Heifer Station, there are restaurants including Tonic in Millthorpe, Lolli Redini in Orange, and Racine and Fiorini's near Mount Canobolas. There are also some great events throughout the year. It's a truism that you don't know what's around the corner but, on balance, I think I've been very lucky. Richard left us an amazing legacy and now I'm fortunate to share my life with Michael, who is an amazing man. We live in a beautiful environment and community and try to make the most of every day. That, to me, is the definition of riches."
For more information on the Mirraweena B&B, visit mirraweenacottage.com.
The complete story was originally published in Australian Country issue 22.3. Click here to subscribe to our magazine
Words Kirsty McKenzie
Photography Ken Brass