With help from architects, designers, gardeners and farm workers, six generations of the Litchfield family have shaped the benchmark that is Hazeldean station in the Monaro region of NSW.
The old adage says that good things, like fine wine, improve with age. The farming operation, homestead and garden at in the Monaro high plains are a case in point. They've been a work in progress since the 1860s, when James and Ann Litchfield arrived in the south-eastern NSW high country.
When James arrived in the colony from Saffron Waldron in Essex, England in 1852, he had a letter of introduction to William Bradley, a pioneering member of the Monaro squattocracy, who built an empire that, at its peak, covered 200,000 acres (81,000 hectares) of the naturally treeless high plains. James gained employment as a manager of one of William's properties, Myalla. With the division of the region following the Lands Act of 1861 under Premier John Robertston, James was able to select his own 320-acre (130-hectare) block. He built his original stone cottage in a natural bowl, which he surrounded with radiata pines and English elms that have suckered through the years to create several forests surrounding the homestead. The Litchfields added to their holdings through the generations, and in 1967 they bought Myalla station, which is where the present custodians, Jim and Libby, lived when they were first married.
Jim and Libby's children, lawyer and film director James, interior designer Iona, and agricultural scientist Bea, represent the sixth generation of Litchfields to have grown up at Hazeldean. After completing her studies and working both here and in the US and Canada, Bea came home in 2015 to help her parents run their business. She is now stud stock manager for both Hazeldean Angus and Hazeldean Merinos while her husband, Ed Bradley, is in charge of sales for the entire operation.
Hazeldean Angus was founded in 1927 with the purchase of purebred Angus females and the herd was registerd in 1952 with the importation of heifers from New Zealand. In 1960, Hazeldean became one of the first herds in the world to embrace the concept of performance testing and selection on measured gain remains a cornerstone of the stud, which today is one of Australia's largest Angus seedstock operations. It sells more than 400 bulls annually, at sales on-farm and in Queensland and South Australia. The stud uses all available means to maximise genetic gain. Each year a large artificial insemination and embryo transfer program is undertaken using the breed's most proven, progeny-tested sires.
The latest in science and technology also drives Hazeldean Merinos, which has grown since James Litchfield established his flock in 1865. With more than 20,000 sheep, Hazeldean Merinos now boasts one of the largest individual gene pools in Australia making intense selection pressure possible in the breeding program. Around 10,000 ewes are mated annually and Hazeldean rams are known for being well acclimatised and adapted to most areas of Australia.
The homestead Jim's great, great-grandfather built was demolished in 1907 and the existing dwelling was built on the same site to plans by architect G.D. Cochrane, who was responsible for many landmark Monaro buldings including the homestead at Curry Flat near Nimmitabel. The Litchfields' association with the property faltered briefly when Jim's great-grandfather, Arthur James, sold it in 1917. "Fortunately, he was able to buy it back for his son, James Francis, five years later," Libby explains. "This was amazingly lucky as Jim's grandfather was absolutely passionate about the place."
It was during his watch in 1934 that the family commissioned Professor Leslie Wilkinson, first dean of architecture at the University of Sydney to remodel the homestead. His brief was to let the light into the old Federation house with its dark rooms and corridors and his response was a bold Mediterranean-inspired design. He created a terrace at the front by removing the verandah and two rooms that had been a dining room and a service anteroom. The bricks from the central fireplace were reused to build a pond. Ornamental grape vines and wisteria were trained over the terrace columns to create a canopy and a haven from the heat of summer. An avenue of pencil pines was planted through a sunken garden to add to the Italianate feel. During the 1940s, stables made from basalt quarried on the property were added and, a decade later, a park incorporating the manager's house, station buildings and access roads was established with tree and hedge plantings.
Libby, who is originally from Melbourne, was working as an occupational therapist in Sydney when she met Jim during a weekend at Thredbo in the late 1980s. After spending their early married life at Myalla, Libby and Jim marked their move to Hazeldean with extensive garden additions including two courtyards at the back of the house cross axis Manchurian pear allées through the side garden.
Libby cheerfully confesses she knew so little about gardening that she didn't realise the instruction 'mulch close to the roots' wasn't to be taken literally. But she has embraced the garden enthusiastically and these days is proud to share it with visitors on occasional open days.
"Gardening is really hard down here," she says. "It's much colder, higher and drier than the Southern Highlands, which has maybe 750mm of rain a year, whereas we get 500mm. In winter, we get severe frosts and heavy snowfalls two or three times a year. Minus 12°C is not uncommon, so plants have to be hardy. The basalt soil is rich, but it cracks, which makes it hard for trees to establish. The lighter granite soil on the hills grows eucalyptus, but not much else. Elms do well, however. They sucker prolifically, so if you let them go, the house would be like the palace in Sleeping Beauty, and be engulfed by them. We've been lucky that so far they have escaped the elm beetle, which is a real problem down here. The elms in the paddock seem to be immune and we successfully injected the trees around the homestead about six years ago."
In 2013, Libby and Jim took the bold decision, given the garden's history, to alter the layout of the front garden. With advice from their friend, retired Sydney architect Leigh Prentice, they got rid of the sunken garden and created two lawn terraces with retaining walls and steps all made from basalt quarried on the property. "The decision to make the terraces opened up the vista to the paddocks and got rid of some rather fussy garden beds," Libby explains. "They also retain water for the elms on either side."
Inspired by a gravel-surfaced outdoor dining area at a friend's house in the Loire Valley, the Litchfields added another terrace by infilling an area beside the homestead. A towering elm that shades this section was cleverly preserved by building up around it. A plaque in the garden gives credit for this and many other feats of stonemasonary and earthworks to local artisans Roger McCulloch and Grant Mugridge. The massive project was completed in time for the 150th anninversary of the sheep stud in 2015.
As well as the elms, various oaks, maples and deodars populate parkland garden. Daffodils, jonquils and bluebells lend early spring colour to the understorey, while Libby admits a passion for peonies, with both herbaceous and tree varieties lending their blowsy beauty to the beds. Roses are another favourite with Icebergs and Silver Ghost shrub roses from Treloar Roses proving their hardiness and reliability. Libby admits she bought the showy pink climber, Madame Gregoire Staechelin, purely because she loved the name, while Madame Legras de St Germain provides fragrance and adds to the display. Hellebores and day lilies are among the perennials, along with irises in blues, purples, yellow and white, a nod to the influence of local breeder, Margaret Summerell from Bombala.
In spite of the vast area they have to maintain, Libby and Jim manage most of it on their own. "While there is no such thing as a no-maintenance garden, we really do try to keep it to a mimimum," Libby says. "The lawns take two hours to mow on a big mower, but I like to get stuck in and get it done. I don't rake a single leaf in autumn, I just flick them onto the beds for mulch. My theory is that anything that grows is welcome, and if you fill the beds with groundcovers and plants you control weeds naturally."
In spite of all the additions and modifications, the grounds are always expanding. The Litchfields recently planted Acer negundos (box elders) to create a vista down to the bull shed for when clients come for the sales in May and September and Jim is still working on his "Great Wall", a boundary which will eventually contain the rose garden and be covered with a trellis. They've recently created an apple orchard in a former vegetable garden and a nearby section has been planted to horse chestnuts will blend the end of the garden with the paddock beyond. "And we're stopping there," Libby announces. "Well at least we say we are, but the truth is I guess it will always be a work in progress."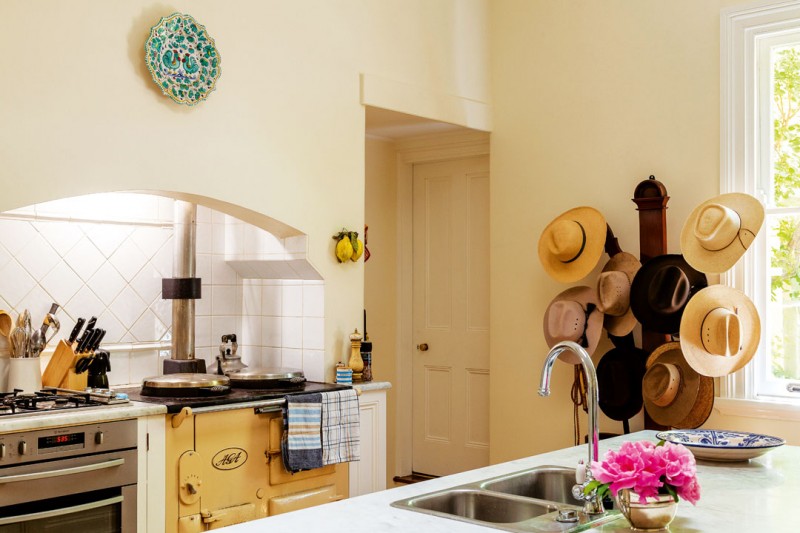 During spring and autumn, Hazeldean, along with two other splendid Monaro gardens of the Monaro — Curry Flat and Shirley — are open for self-drive tours. The entry cost of $240 per person includes morning and afternoon teas and lunch. Open days for this autumn are April 14, 20, 28 and May 5. For more information or to arrange a private group tour, visit privategardensofmonaro.com.au.
Words by Kirsty McKenzie
Photography by Ken Brass