Yealands Estate is extraordinary by any standards. Its vineyards in the rolling hills perched above Cook Strait in New Zealand's South Island are picture-postcard perfect, immaculately tended and would be remarkable for a boutique winery, let alone one on the scale of Yealands. Four thousand kilometres of rows and 1.6 million vines are heady figures, especially if you have to drive a tractor down those rows.
Most big wineries are not privately owned and proudly — if not very loudly — exist for their shareholders, and when it comes to marketing themselves have to come up with a slogan less truthful than the truth: "We make wine to make our shareholders rich" is not particularly appealing to the average wine consumer. But herein is the difference between a corporation and the dream of one person. There's usually more to a dream than making money. Dreamers don't have to answer to shareholders and can write their own script — as long as the bank manager is willing. For all these reasons a person with a big dream tends to come up with something unique. But you need to be unique to make something unique and they don't come much more inimitable than Peter Yealands who heads up the Yealands Estate enterprise, which also includes Crossroads Winery in Hawke's Bay and The Crossings wine brand. You just have to look at his long silver hair and the beard that rock stars used to wear in the early 1970s to know that he hasn't led a standard life and is not your standard head of a large winery.

Peter grew up in Marlborough which, at that at that time, was dotted with sheep not vines, and he worked in his dad's grocery store. His mantra "think boldly, tread lightly and never say it can't be done" may not sound that grand when you're selling Brussels sprouts, but be patient readers, this was just the start. In 1971 Peter went on to hold a the first mussel farming licence in Marlborough Sounds, an industry for which New Zealand is now renowned, and then pioneered the deer farming industry. He may have come to the whole winery/vineyard thing relatively late but as you'd expect did it his own way and the tread lightly part of the credo is the story that became what Yealands Estate is all about. After choosing a beautiful coastal spot in the Awatere Valley in 2001 to start the venture, eight farms were purchased to create the vineyard and the winery opened on the 08/08/08 (eight is a very lucky number in Chinese astrology). It was the first winery in the world to be carbon neutral from day one. Sustainability is a buzz word thrown around willy nilly in most industries these days, but rather than just playing lip service to the concept, Yealands has followed a solid philosophy from the dirt the vines are planted in all the way through to the bottle it is sold in.
Wine is so fascinating because everything affecting the vine has an effect on the flavour. Getting the soil right and using compost to encourage beneficial micro-organisms is step one and to this end Babydoll sheep (which are too small to reach the grapes) and Kunekune pigs are not just there for the aesthetics. They keep the grass and weeds down and do a fair job of fertilising. Solar power is a given and the roof of the winery houses one of the largest solar installations in New Zealand.
As a person in a shop looking for a bottle of wine for dinner you may be unaware of the tiny sheep and cute pigs that went into the making of it, but the weight of the bottle will not escape you. Yealands began bottling some of its wines in PET (totally recyclable plastic bottles) in 2009 which reduces the transport carbon footprint by 54 per cent. It's a brave move. Many experts thought that consumers weren't ready for screw caps when a few pioneering wineries introduced them back in 2000, but the notion that the heavier the bottle, the better the wine is mental barrier that might prove harder to shift.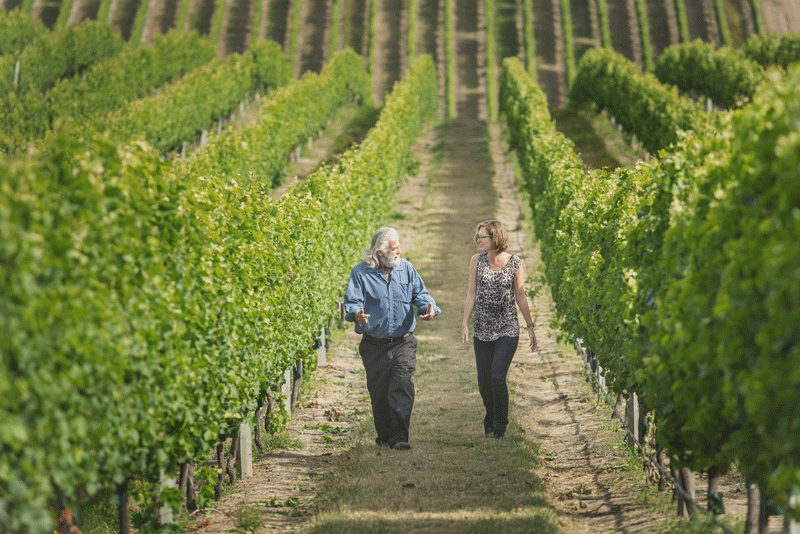 All this focus on sustainability does not just leave a winery guilt- and carbon-footprint-free, it is smart business. It won't be long before these are the criteria by which a winery is judged and a bottle of wine is chosen. From an agricultural sense looking after the land ensures you have wine to sell in the future. It must be an exciting environment in which to work. "Sustainability means different things to many people," says chief winemaker Tamra Kelly-Washington. "We focus on making the best possible wine in the most sustainable way, which means giving more to the environment than we take out."
This producer profile is an excerpt taken from Australian Country Field to Feast Cookbook. To find out more about Yealands Estate, head to their website.
Words: Greg Duncan Powell 
Photography: Jim Tannock