A joint venture rewilding program between the Australian Wildlife Conservancy and the NSW National Parks and Wildlife Service is providing renewed hope for the future of the endangered numbat and other threatened wildlife.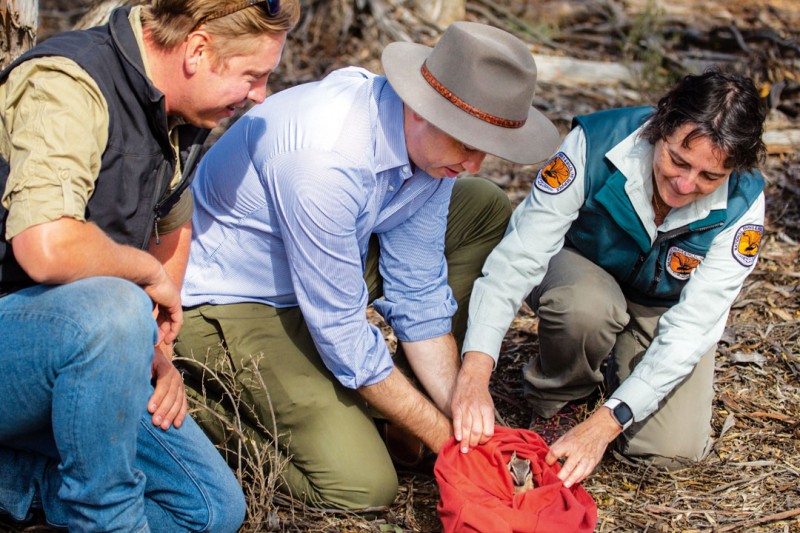 Numbats are rarer than the giant panda or the black rhino, and there are estimated to be fewer than 1000 of them in the wild in a tiny pocket of the Western Australian Wheatbelt. So it's hardly surprising there was much excitement when Australian Wildlife Conservancy (AWC) released eight of the endangered, uber-cute little marsupials into a protected part of the Mallee Cliffs National Park in south-western NSW.
The striking rusty orange and grey animals with white-stripes on their rumps are unique in the world of marsupials in that they are more closely related to Tasmania's (now extinct) thylacine than any living animal. They grow to about 25cm long, not counting the fluffy tail, which adds another 17cm to their size. Unlike other marsupials, numbats are active during the day, have no true pouch and live on termites, extracting them with their specially adapted long, slender tongues. Before European settlement, they were common across much of arid and semi-arid southern Australia and would have been abundant in the spinifex-covered sand dunes and old-growth mallee woodlands of the Mallee Cliffs National Park, which is located just north of Mildura on the NSW/Victorian border. They have been presumed extinct in NSW since the end of the 19th century Dr Laurence Berry, a senior wildlife ecologist with the AWC, explains that the assumption about the numbat's former proliferation is supported by a variety of early records ranging from evidence found in Aboriginal middens along the Darling River to drawings and journal entries by early European explorers and sub-fossil records in Mungo National Park. "Their numbers declined due to a range of factors," he says. "They include habitat and land-use change, bushfires, predation by cats and foxes and competition from rabbits. The main reason we are able to reintroduce them to this part of NSW is because the AWC has constructed a 9570-hectare fenced area within the 58,000-hectare national park. It's the largest feral-predator-free area on mainland Australia."
Laurence adds that the numbat introduction is part of a grand scheme to rewild 10 endangered or threatened species by allowing their numbers to increase in the protected zone before releasing them to wider habitats. "We began in 2019 by introducing 50 bilbies to the enclosure," he explains. "We're pleased that their numbers have more than doubled. Then we added a population of greater stick-nest rats and now the numbats. We also have plans to reintroduce the red-tailed phascogale, bridle nail-tailed wallabies, both burrowing and brush-tailed bettongs, Mitchell's hopping mice, western quolls and western-barred bandicoots. All these animals used to exist in this part of NSW and they had important ecological relationships. For example, the bilby burrows provide shelter for numbats and they also aerate the soil when digging to give the numbats, which have soft feet and aren't very good at digging, access to the termites they live on. It's a neat project that aims to restore the bush and the small mammal population back to the way it was more than 200 years ago."
The Mallee Cliffs project is just one facet of the AWC's portfolio, which includes more than 30 locations across WA, the NT, SA, Queensland and NSW. Covering more than 6.5 million hectares, the AWC owns, manages or works in partnership on more land than any other non-government conservation organisation in Australia. The partnership with the NSW National Parks and Wildlife Service (NPWS), which is part of the NSW Government's Saving Our Species program, broadens the potential exponentially.
Laurence, who earned his PhD at Canberra's Australian National University for work on the impact of Victoria's Black Saturday bushfires, has worked for the AWC, both in the Pilliga and south-western NSW, since 2016. He explains that many of the animals being released have been bred at a nearby AWC protectorate, the 65,000-hectare Scotia Wildlife Sanctuary. "All our animals are marked or micro-chipped before release," he says. "We monitor the populations via cameras or tracing, and put traps out to recapture them for counting up to four times a year. When the populations grow to significant numbers, we will be able to reintroduce them to the greater park, and hopefully one day, an even broader area. Based on best estimates, it's expected the numbat introduction at Mallee Cliffs will boost the total population by approximately 270 animals."
From little things big things grow, and Laurence dreams of a day when wildlife conservation becomes a significant attraction for Mildura and the Mallee Cliffs, not to mention an economic driver for the region. "At the moment, it's a closed national park because you have to go through private land to get there," he explains. "Hopefully one day though, there will be sufficient populations and investment in the work in the region so that tourists will come to see these animals that organisations like the AWC have saved from extinction."
Words by Kirsty McKenzie, photography courtesy of Australian Wildlife Conservancy