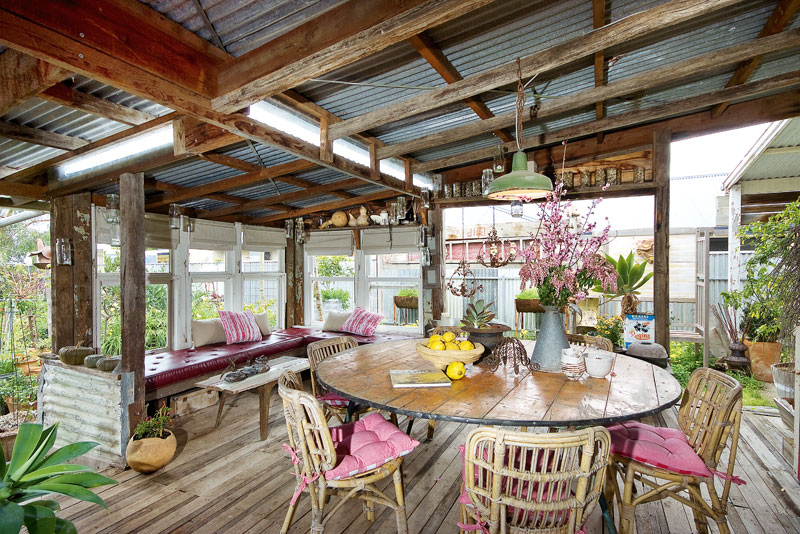 Though Colleen McLeod is quick to point out that she's "no artist", those familiar with her home and creative pursuits would disagree. In searching for a simpler lifestyle by the beach, she has developed a keen eye for the kitsch and quirky and spends her spare time making pottery, taking and developing photographs and hunting for "junk" to add to her home.
"An artist I am not," she says. "Art is just something I enjoy doing, and I am always both humbled and excited when someone else can see the energy behind a particular piece."
Perhaps just as much an artisan as an artist, Colleen's lifestyle in the suburb of Normanville, on South Australia's Fleurieu Peninsula, is very much focused on the things she enjoys. "I moved from Yankalilla, about five kilometers inland, because I need to be by the beach," she says. "It's so nice to be able to take the dog for a morning walk along the coast."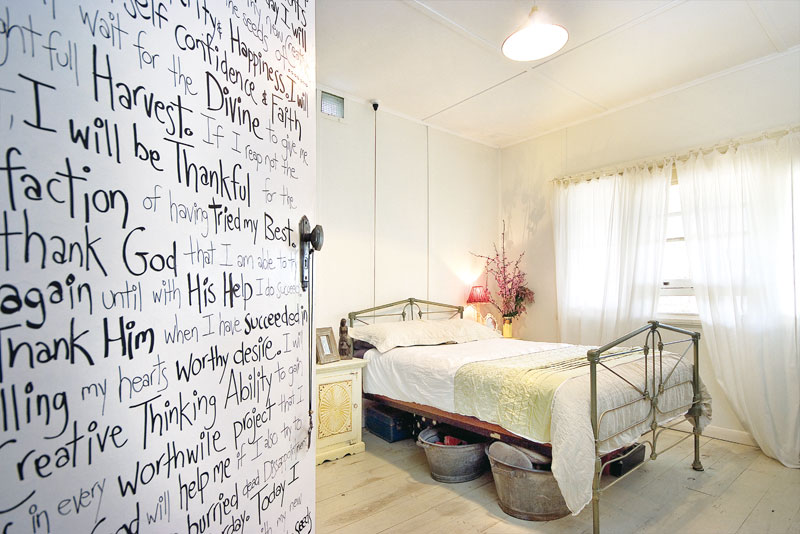 Colleen lives with her daughter Pearl, 15, and fills her spare time with her pottery and photography, while continuing with her job as a chef. Her shed has been converted into a dark room, and her garden is dotted with some of the sculptures Colleen has created. Clay is her material of choice, along with whatever else she finds during her daily travels.
"I really like to experiment and have fun with my sculpting," she says. "Sometimes I'll find wood chips, bark, cuttlefish or even steel wool, and I'll do my best to incorporate them in my pieces. There is such beauty in natural things like feathers and stones."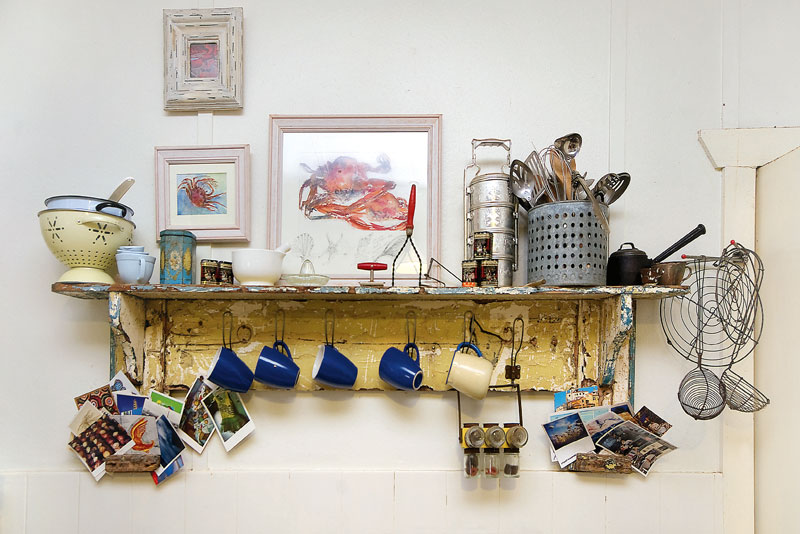 The local landscape not only provides various artistic materials, but also the inspiration for Colleen's work. "I am very much influenced by my frame of mind," she says. "Sometimes I'll have a bee in my bonnet, and sometimes I'll just see something beautiful on the beach and think 'I'm going to make that'."
To Colleen, the process of sculpting takes on a meditative property. "I love the feel of clay," she says. "I also like making things that look good." Colleen has turned some of her works, one of which is a set of large ceramic beads, into wall hangings. "I really like that the place is constantly evolving with me, and I try to have the things I like on display," she says.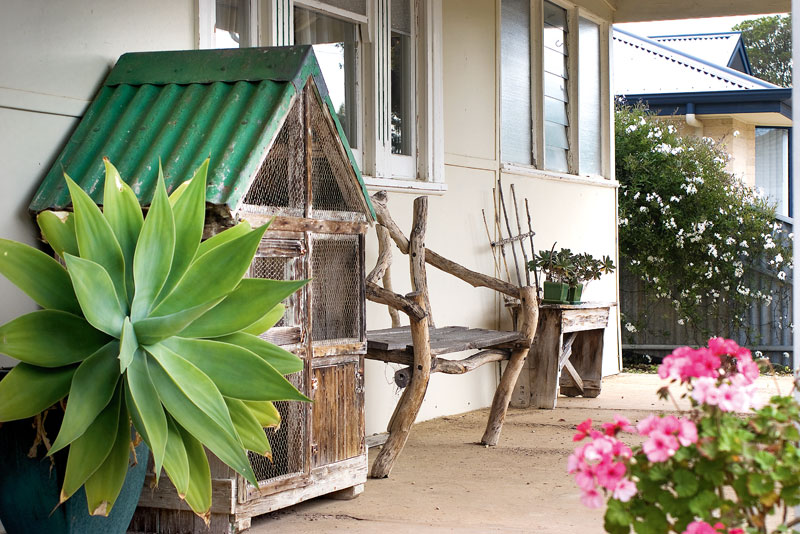 Colleen's house, or "the shack", as she affectionately refers to it, is a traditional beach house with a simple structure. Bought six years ago, it was in need of a face-lift but had enormous potential.
"Before I had it, the house was owned by an elderly man who had cared for the place, but not updated it in a very long time," she says. "It had so much promise and I grabbed the opportunity to be close to the beach."
To give her beach shack a new lease on life, Colleen stripped the décor back to its bare bones. Removing the existing floor coverings gave way to beautiful timber floorboards, in an excellent condition."I ripped up the lino that was covering the floors, to find a layer of 1950s newspaper underneath," she says. "I am so glad they had put that down, because once the paper was removed we discovered beautiful timber floors that had been protected by the paper all these years."
She then painted the internal walls and floors an off white colour, so she could build upon a clean slate, in keeping with her keep-it-simple philosophy. "I was very much aiming for a paired back lifestyle," she says.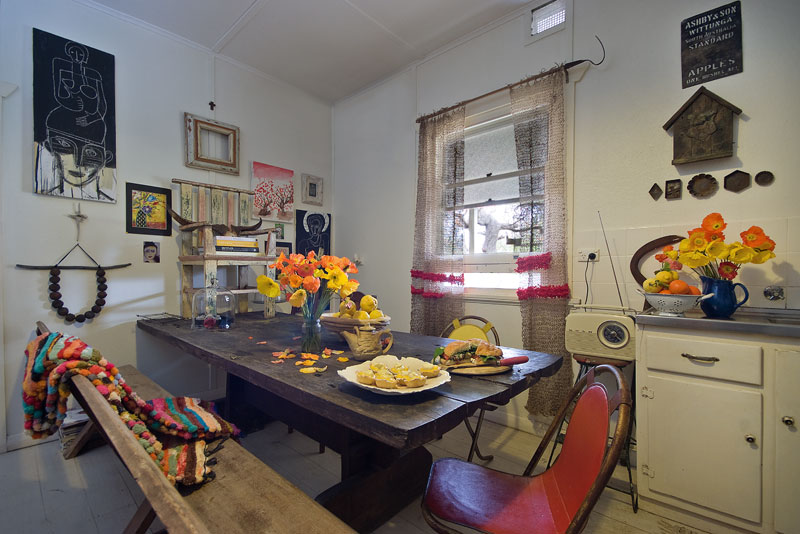 In terms of filling the house with beautiful pieces, Colleen started with the mantelpieces, which are all second-hand finds and ideal for showcasing Colleen's bits and pieces. "I'll give them a rub and a paint mostly, but if it's peeling to reveal beautiful patterns or colours, I might leave it," she says.
Though seemingly collected from expensive vintage stores, the items that sit proudly on her mantelpieces (and throughout the home) are often sourced from unlikely places. "I rather like the rubbish dump," Colleen says. "There are such treasures to be found there. Some of my pieces have been picked up from a salvage yard and I have friends who call me to tell me 'there's a great mantelpiece here for you'. But primarily I have collected a lot of things from the rubbish dump."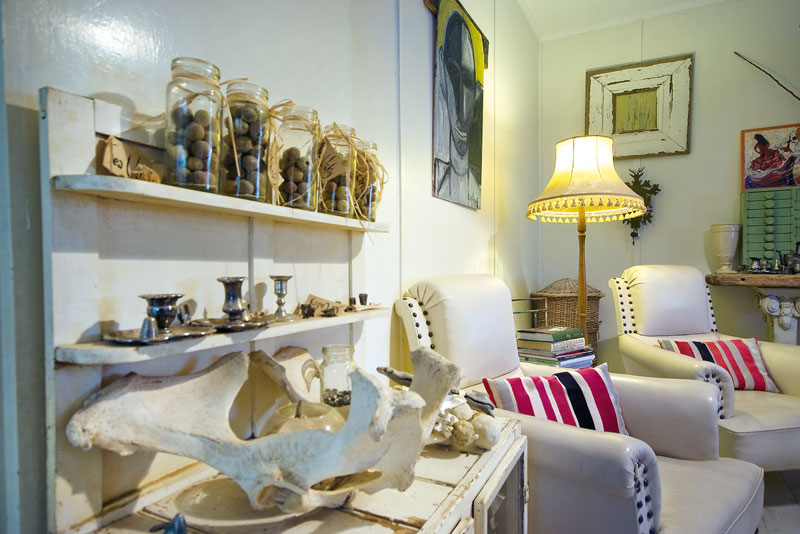 Just as Colleen is not an artist, she is no antiques fan either. "I'm a proud junk collector," she explains. "Antiques are not my thing. But I love to find pieces that can be given a new life." There are no strict rules when it comes to Colleen's decorating style, which has resulted in a wonderful collection of old-trinkets that work well together within the vintage home. "To put it simply, if I like it, I'll incorporate it," she says. And though "not an artist" she adds, "I do like backgrounds to be black, white and shades of grey though. That might be because I'm a photographer, and I'm used to seeing the world in black and white."
Words Paula Bridges
Photography Ross Williams
Styling Bronte Camilleri