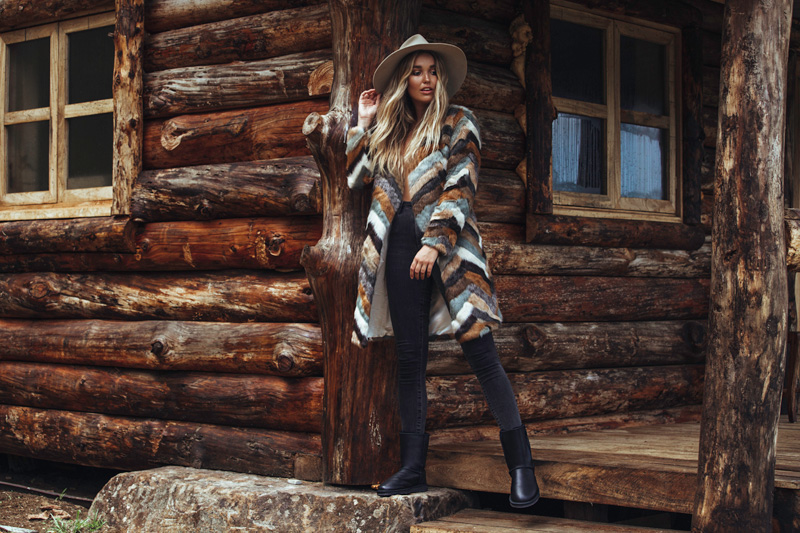 For most people, the word UGG is synonymous with Australia: just like Vegemite and the Hills Hoist, our iconic sheepskin footwear is known the world over. But what most don't realise is that UGG is not in and of itself a brand, but a generic name for a sheepskin boot and more than 96 per cent of the world's UGG boots are now made in Asia. Believe it or not, if you have a pair of UGG boots at home that you've purchased in the past few years, chances are they weren't made in Australia. But one Australian family-run business continues to buck the trend, crafting real Australian-made UGGs made from our very own Merino wool and showing bigger corporations moving offshore that manufacturing
in Australia is alive and well.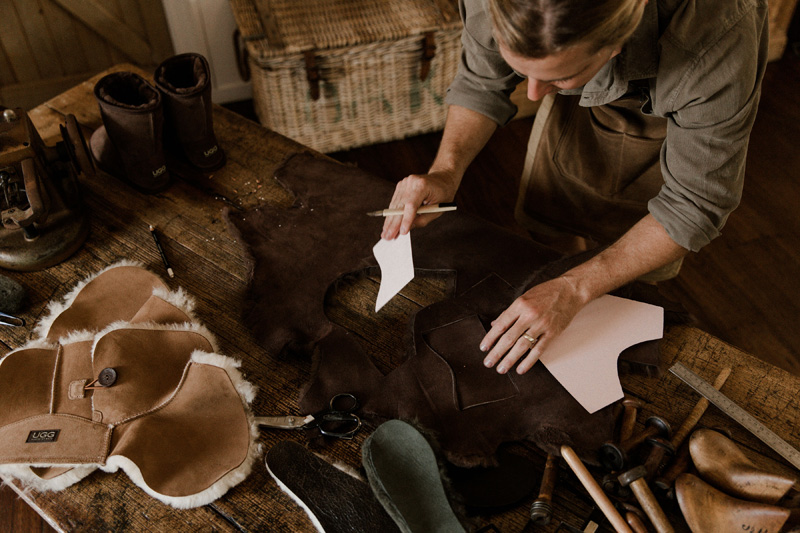 Enter Todd and Hannah Watts, the owners of UGG Since 1974, a third-generation, family-owned business, specialising in handcrafting Australian-made UGG boots from start to finish at their workshop in south-east Queensland. The company had its early beginnings in the 1950s, when Todd's grandfather, Arthur Springthorpe, travelled the rural towns of Australia, working as a wool classer and becoming an expert in all things Merino and sheepskin. Arthur went on to start making UGG boots and moccasins in his shed in Little Bay, NSW, and, almost five decades on, the company continues to turn out high-quality, Australian-made UGG boots, one pair at a time, using many of the same techniques from all those years ago.
Todd and Hannah are both locals to the Gold Coast and Todd grew up in the workspace of what was by then, his parents' sheepskin business, wandering the wide bounds of the manually operated workshop, tinkering with tools and taking piecework such as keyrings and belts home on weekends to earn pocket money for the school holidays. As UGG boots grew in popularity, so did the company, and by the time Todd had completed his business degree at Griffith University and met Hannah, a lawyer, he was ready to take a lead role in the operations at UGG Since 1974.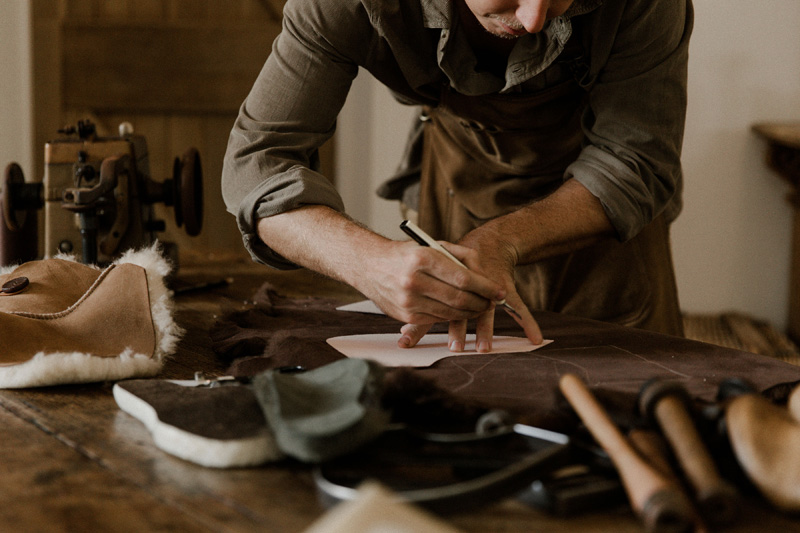 However, after years of successes and growth, Todd's parents were eventually ready to move on and in 2014, the business was sold to a local investor who had dreams of mass expansion for the company. Sadly, just three short years later, the family was distraught to see the decades-old business being circled by liquidators, with the company's doors likely to close for good.
"Hannah and I had to think seriously about whether to buy the business back, as the manufacturing industry within Australia had changed so much," Todd says, referring to the closure of manufacturing plants around the country in favour of cheap offshore labour. "Ultimately, we decided that with a revived focus on Australian materials and craftsmanship, and an optimism that consumer consciousness would continue to grow, we'd be able to draw on the quality of the product and our passion for the brand to turn the business around."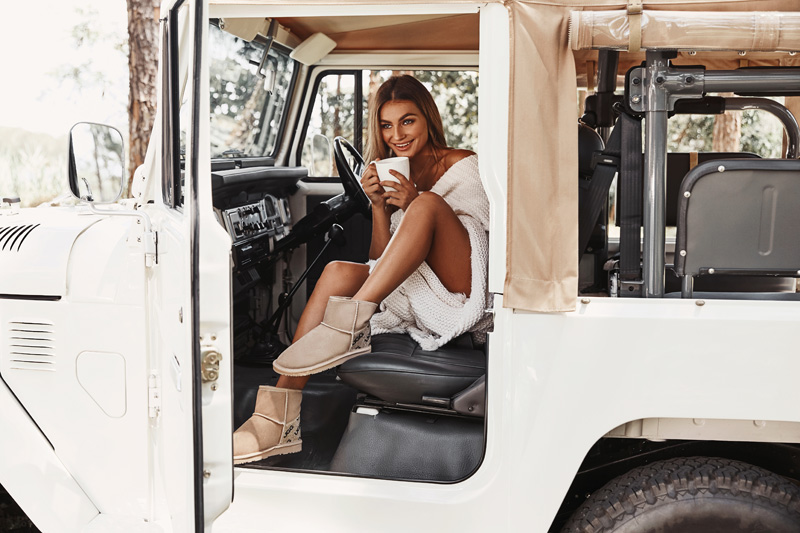 Todd and Hannah went on buy the business back, ensuring the age-old workshop's doors stayed open and providing continuity of employment for more than 30 staff, some of whom had worked for Todd's grandparents and many more who watched Todd grow up while working for his parents. Now operating as one of the only genuine Australian-made manufacturers of UGG boots in Australia, with four retail locations around the country, UGG Since 1974 offers something special to its very important local and international consumers.
The workshop is refreshing to observe, with a distinct absence of conveyor belts and mass-produced products. Instead, there's a carefully curated collection of one-of-a-kind leathers, the woolliest of Australian Merino sheepskins, and sheepskin apparel being artfully crafted by talented makers, most of whom have mastered their craft over decades of practice and precision. All of the sheepskin is ethically sourced from farms within Australia and New Zealand, meaning that the supply chain starts and ends in the region. Most customers place their order and have their boots manufactured within 24 hours, so the product they are receiving has been specially made, passing through about 16 pairs of hands within the workshop alone and crafted just for them.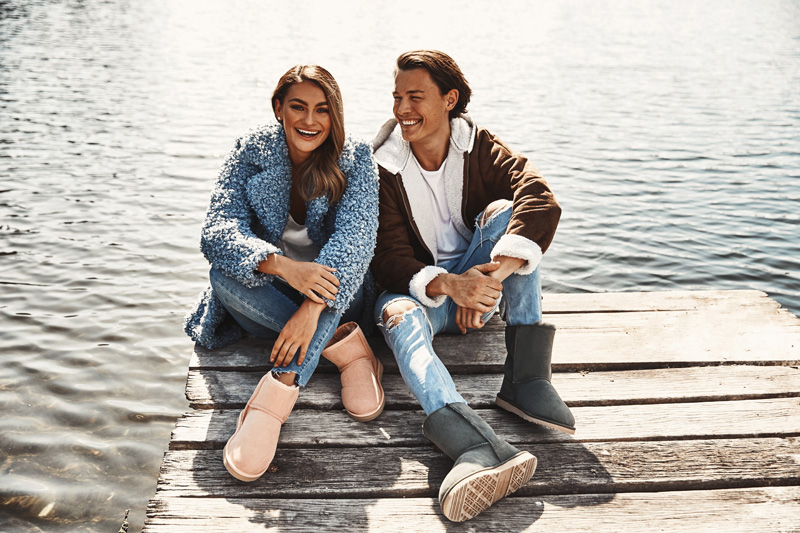 "One of the biggest challenges we face is brand confusion, as many people assume that all UGG boots are the same and all made in Australia," Hannah says. "The truth is that our company is one of the only workshops crafting in Australia, from Australian materials, and it's important to look for UGG Since 1974. Competition in the UGG industry remains fierce, with hundreds of different companies around the world now distributing cheaply constructed, mass-produced UGG boots. Thankfully, we continue to see such a renewed interest from people who are taking the time to ask where products are made and by whom, and the feedback we get about our quality and the unique experience we offer are indicators of why we've been able to turn the business around."
"We're intrinsically proud of the quality of products we produce" Todd, who oversees the manufacturing process and often completes some of the boots himself, adds. "We use only the thickest, softest Australian Merino sheepskin and take great care to avoid imperfections, including cutting around naturally occurring seed holes in the sheepskin and gluing the soles by hand with a brush. In our eyes, if it's not a perfect Australian product, then we may as well be like the rest of them and our quality is the foundation for creating a really positive Australian brand experience for our customers."
In addition to a bustling winter season, next on the cards for UGG Since 1974 is the opening of a new bricks-and-mortar store in an iconic heritage building in The Rocks in Sydney. "We're in the throes of the final stages of planning for our new concept store in the old Coroner's Court on George Street," Hannah explains. Built in 1906, the brick and sandstone Coroner's Court was in use for coronial purposes until 1971 and will shortly bring to life a Sydney home for UGG Since 1974. Fitting for a long-standing Australian business, the aesthetics will present a clever synergy of local heritage, Australian elements including stone and hardwood and, of course, the hero pieces — finely crafted sheepskin and leather footwear and apparel.
"We're really encouraging the local community to get back on board with supporting Australian made, and that's particularly the case this winter," Todd says. "Happily, we find that once people get a taste for the real deal, they'll spread the word and come back time again."
With a growing online presence, UGG Since 1974 products are available to be shipped within Australia and overseas. See more at uggsince1974.com.au and for free shipping within Australia until July 31 2019, enter "AustralianCountry" at the online checkout.
The complete story was originally published in Australian Country issue 22.3. Click here to subscribe to our magazine