Discover Australia's favourite range of 2024 Calendars and Diaries from Paper Pocket.
Keep track of your year, organise your appointments, plan your life or find the perfect gift with our fabulous range of 2024 diaries and 2024 calendars that feature your favourite Australian animals and pets. Plus a range of Australian Calendars including Australian outback, national parks, coastlines, native animals & rural icons.
Now, here is a list of our top 10 favourite 2024 Calendars and Diaries from our Australian Country Range:
Feel the rustic beauty of the Australian country aesthetic all around you each month with this 2024 Country Collections Diary
2. 2024 Australian Country Gardens Diary
The Australian Country Gardens 2024 Diary boasts beautiful blooms, grand gardens and outback oases aplenty. Featuring striking photography, bountiful quotes, and a seasonally centred design, the Gardens Diary captures the diversity of Australian country gardens.
3. 2024 Life is a Garden Diary
As the New Year unfolds, so do the exquisite gardens we have found to inspire you throughout the year, with each week enhanced by pithy and inspiring words from literary greats, keen gardeners through the ages and some surprising celebrity gardeners. Whatever form your own garden takes from a few cherished pots on a balcony to a sprawling country estate within these pages you'll find miracles of nature shaped by the human hand and creative mind to inspire, admire and delight. May your year ahead be full of such miracles, large and small.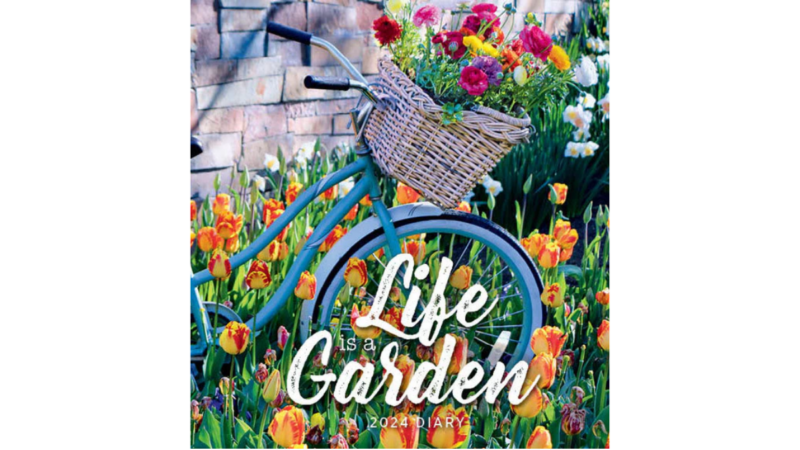 4. 2024 Our Australia Country Collections Calendar
Feel the rustic beauty of the Australian country aesthetic all around you each month with this 2024 Country Collections wall calendar.
5. 2024 Our Australia Country Homesteads Calendar
This collection of Country Homesteads will liven up the room and take you inside beautiful country homes around Australia. Make the ultimate tree change with this 2024 Wall Calendar.
6. 2024 Our Australia Horses at Home Calendar
Making the transition from the race track to retirement, the magnificent horses in this calendar are enjoying a life of leisure aft er their racing careers. Enjoy their grace and beauty in this special Horses at Home wall calendar.
7. 2024 Our Australia Out on the Verandah Calendar
They may be called things like 'outdoor rooms' or referred to as an extension of a home's interior living spaces, but the humble verandah has been a staple of the great Australian dream for decades. Spending time outside and enjoying a cool breeze in hot weather, is just part and parcel of getting by in our warm climate. Grab a cuppa, take a seat on your verandah and enjoy this 2024 wall calendar
8. 2024 Our Australia Calendar
With breathtaking coastlines, spectacular northern tropics and mesmerising red deserts, Australia has unmatched beauty. Discover her spectacular landscapes each month in this beautiful and inspiring 2024 wall calendar.
9. 2024 Our Australia Working Dogs Calendar
Whether on the farm or in the big smoke, the commitment and loyalty of Australia's working dogs is sure to motivate you in 2024. Cheer on these courageous canines as they put in the hard yards and inspire you to do the same.
10. 2024 Highland Cows Calendar
Highland cattle are originally from Scotland, in Australia, they are referred to as Highlands. They are one of the most recognisable breeds in the world, with shaggy coats and very large, widely spread horns. This 2024 wall calendar will be pure entertainment each month with these cute faces looking at you.
Discover more from our fabulous range of Paper Pocket Calendars and Diaries here.