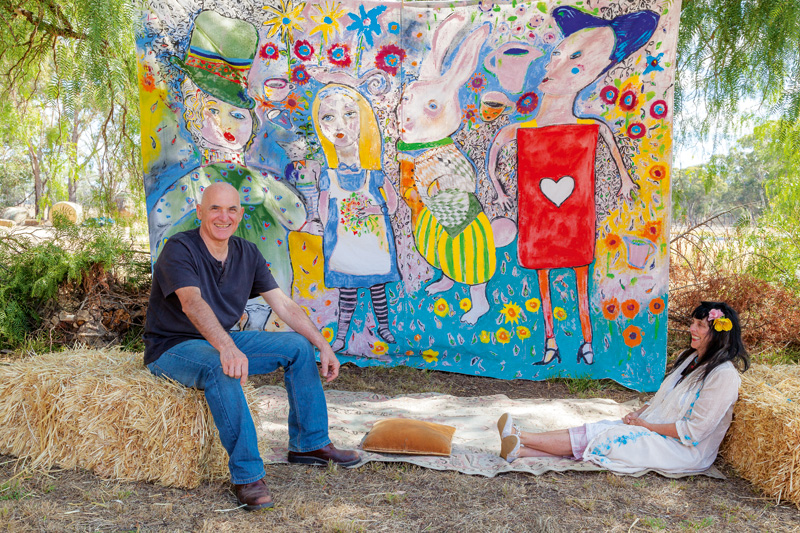 The éclairs are inedible. It's not that the cream is sour or the pastry has lost its puff, or even the chocolate has melted. It's more that the sheer scale and size of these gooey planks of deliciousness makes them impossible to eat and maintain even an iota of decorum. We've only just met and are sitting down to tea with creative royalty, aka Lin van Hek and Joe Dolce, when we discover there's nothing like slathering yourself in cream and chocolate to break the ice.
Ever the gracious hosts, Joe and Lin sense our discomfort and scurry back to the kitchen to find spoons and forks and napkins. We settle in for the story of a personal and artistic collaboration that began almost 40 years ago and is still going strong. It's an amazingly colourful and event-packed journey, proof indeed that truth is indeed, sometimes stranger than fiction.
Lin is an artist, songwriter, singer, author and performer. Joe is a poet, musician, song writer, performer and a passionate cook. In fact, they are both polymaths and could probably turn their hands to anything. Collectively they are a force to be reckoned with. They met in 1980 in a restaurant in Carlton, Melbourne's Little Italy. Joe, who'd grown up in the US as the son of Sicilian migrants, had been encouraged to move to Melbourne by his Australian wife. But the marriage imploded and he was earning money doing gigs as a pub musician when a friend offered to introduce him to the Queen of the Underground, Lin. Lin had recently published a book of short stories and Joe, full of the swagger of recent success with his song, Shaddup Your Face, expressed an interest in reading it.
"Well you can go across the road to Readings [bookshop] and buy a copy," Lin recalls responding. "So I did," Joe says. "And then I wrote a 25-page analysis of it." They've been together ever since.
But first they had to navigate the juggernaut of "that song". "I'd taken it everywhere, but no one was interested," Joe recalls of the catchy parody of the Italian mother and her lazy son. "Then one day I was in [musician, ad jingle writer and creator of Up There Cazaly] Mike Brady's studio doing a mix. Mike heard the song, recognised its potential and organised some air time."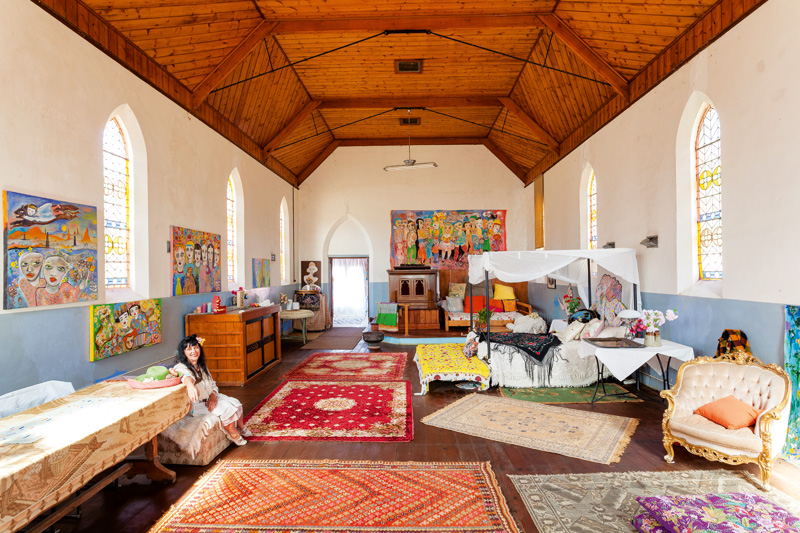 The rest was a blur as Shaddup went to number one eight weeks in a row in Australia, then started charting in the UK. "Mike had taken over management for the song and we got word that Elton John's manager wanted to do a cover," Joe recalls. "We were advised to get over there and do TV appearances, which we did. So Lin and I ended up on this crazy tour travelling all over Europe. Shaddup eventually charted number one in 35 different countries. It could have haunted my career, but I was a writer before I was a musician. When I was in college I wanted to be a poet, and strangely enough, that's where I find myself now. But I still get money from it today. It's not enough to live on, but it's a bit of security. As [poet] Les Murray says 'why write poetry, if not for the weird unemployment'."
Lin, meanwhile, had learnt from an early age to march to the beat of her own very different drum. She was primarily raised by her publican grandmother "and 28 lesbian aunties" in a pub in country Victoria. "My mother was an alcoholic, so a pub was the worst place in the world for her," Lin recalls. "I'm proud to say my grandmother was the first publican in Victoria to allow Aboriginal people in the bar. She was also a part-time social worker and always had rolls of cash tucked into the bodice of her black dress.
Lin's father was an irregular but influential figure in her life. He was an artist and fine draughtsman, whom she credits with her early appreciation of art. "Like many men of his era, he was derailed by WWII," she says. "He was in the Air Force and went to war at 21 as a strapping young cricketer. He came home totally fucked. He was a prisoner of war, contracted tuberculosis and ended up spending 18 months in an infectious diseases hospital. He was given the last rites at 25, but somehow managed to live on.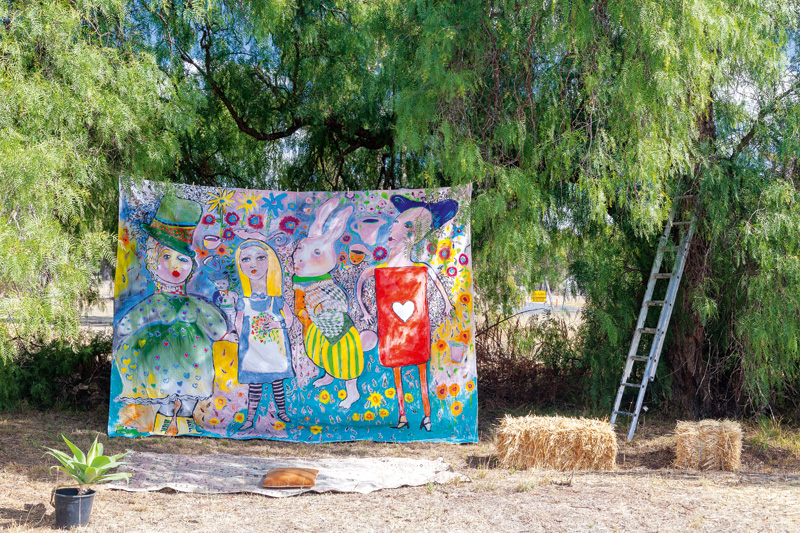 By the late '60s Lin found herself in India, where she worked for a large landowner. "My job was to relocate and rebuild a hospital, which was a huge task," she recalls. "We only had the materials on site, so it was constructed from bamboo, local timber and mud bricks, which taught me a lot about living sustainably and working with the land." It was the beginning of a passion for building things that continues to the present day. Years later, when she'd returned to Australia, she hand-built a rock house in the middle of a state forest in south-eastern NSW. "That was almost 50 years ago, and it's still standing," she says. "I'd take you there, but the roads are so bad, most visitors don't make it. Or end up getting stuck in the creek. But trust me, it's paradise on earth."
Lin followed up the Indian sojourn with a stint at art school in Avignon in the south of France. "Then I went to Belgium, where I cooked for a farmer. I ended up marrying a Belgian and living in a 16th-century house in Ghent. My greatest influence then was a Flemish artist, Dees de Bruyne. I went on painting expeditions with him and his wife and children and he was very encouraging of my work and sold my paintings whenever he could."
Back in Australia, Lin continued to paint and supplement her income with several shops in Brunswick Street, Fitzroy in its pre-hipster days. In the early '80s, she and Joe co-wrote the song, Intimacy, and, with a bunch of creative friends, made the film clip at their home. Film music supervisor Budd Carr saw the clip and it became a pivotal moment in Arnold Schwarzengger and James Cameron's career-launching movie, The Terminator. "It's the nearest I've come to having a cult following," Lin observes. "People still have Intimacy parties."
Yet another collaboration came in 1993 with Difficult Women, a musical production that explores the lives of important and sometimes controversial artists ranging from Frida Kahlo, Sylvia Plath and Virginia Woolf to Katherine Mansfield and Henry Lawson's mother, Louisa. During the ensuing decades, Lin and Joe have toured their production all over the world, performing at art and folk festivals in big towns and small. "We were doing a music festival in Castlemaine and went out to get some lunch," Joe recalls. "A friend who was with us pointed out an advertisement for an old church in a real estate window."
And so, Lin and Joe became the proud owners of the Natte Yallock United Church, built in 1904 from bricks fired on site, and now located in the middle of the Pyrenees wine region. "It's our bolthole from the city," Lin adds. "We have the house in Carlton and a gallery in Thornbury. Even though the gallery is only open by appointment, that's where work happens. This is where we come to write and to think and relax."
The complete story was originally published in Australian Country issue 21.6. Click here to subscribe to our magazine
Words Kirsty McKenzie
Photography Ken Brass