From her home studio in the Monaro region of NSW, Lucy Culliton celebrates the theatre of the everyday. From the flowers in the garden and her family of rescue animals to the sweeping high country plains and domestic utensils, she elevates the mundane to magnificent through oils on canvas.
By Kirsty McKenzie, photography Ken Brass
Lucy Culliton is entertaining guests in her kitchen, so there's a lot going on when we arrive.
In between pouring tea and passing around biccies, there's that somewhat awkward square dance that ensues when seven adults and a couple of lanky greyhounds squeeze into a confined space. Then Clare decides to add to the confusion by climbing onto the kitchen table. I'm not quite sure what everyone else is thinking, but when you're the guest of one of Australia's most celebrated artists, it seems nonchalance is the best response. Perhaps they all have goats roaming into the kitchen and standing on the table? But the bridge too far is when Clare starts eating the flowers. "Oh no, not the peonies," Lucy admonishes. "Have an apple, or an orange, but don't eat my peonies."
All creatures great and small have a place at Bibbenluke Lodge, the home and studio Lucy shares with her partner, Jamie, and a menagerie of animals, all rescues. Except for cats, because they hunt birds and other small wildlife. Having said that, she's prepared to make exceptions as she's just stumped up for the vet bill for vaccinating and desexing a litter of feral kittens born in the pump house before finding new homes for them. As Lucy takes us on a tour of her 64-acre (26-hectare) Monaro property, she introduces her "family", many of whom feature in her art works. There are four greyhounds, May Day, Lacey, Super Zippy and Reddy, two sheepdogs, Digby and Tess, Staffie Kitty, who knows how many chooks and ducks, cows Bison and Pushy, horses Vixen, Ramy Sky Rocket and Flicker, 13 emus, any number of injured birds in various stages of rehabilitation, 46 sheep and Tristan Honey the sow, so named "because you can't get into trouble if your name is Honey". Oh, and Clare, the peony-eating goat. "She's my first poddy goat," Lucy explains. "I'm finding her much more responsive that lambs, but I do have to keep her tethered because she'll eat the whole garden."
The grounds of her property are a tapestry of weeds and native grasses interwoven with indigenous snow gums, fruit trees, a conifer section and multitudinous annuals and perennials, planted with apparent abandon. Except even a rank amateur in the garden would recognise that you can't achieve the kind of bounty Lucy has to inspire her still lifes without a considerable amount of effort and knowledge. Lupins, dahlias, roses and peonies are regular subjects for her studies, while the flowering cactus that fill a wall of the studio provided inspiration for an entire exhibition.
"I like to paint cheerful things," Lucy says. "I also paint the things I have around me, utilitarian objects, such as coffee makers and kitchen utensils. I love the arts and crafts section at the Easter Show, and knitting and crochet, so that turns up in my work as well."
She also likes to keep her muses around her, so the living room is packed with objects that have caught her fancy and been translated onto canvas. There are collections of snowdomes, Viewmasters, vintage crockery, handmade toys and shells along with paintings and ceramics by a remarkable sampling of the work of Australia's artistic elite.
Lucy grew up at Hornsby in Sydney's northern periphery. Her father worked in television production and her mother attended East Sydney Art School (now The National Art School, where Lucy also studied) and was a teacher and keen gardener. In 1974, when Lucy was eight, the family, who had friends who lived at Ando in the Monaro, took a kind of gap year in the high country, which was Lucy's introduction to the region she now calls home.
"I went to art school late as I was hopeless at classes," she recalls. "I did graphic design after year 10 and was lucky enough to get a series of good jobs working for the Powerhouse Museum, Taronga Zoo and the Education Department before I finally decided to get serious about art when I was in my late 20s."
The experience stood her in good stead as Lucy's works are now represented at the Art Gallery of NSW, the National Gallery of Australia, Australian Parliament House, Canberra, and a host of regional and city galleries. In 2006, she won the Portia Geach Memorial Award for portraiture and she is a regular finalist in the Archibald, Wynne and Sulman awards. In 2016, she achieved the distinction of being the only female artist to become a finalist in all three awards in the same year. Last year, her finalist entries were a portrait of her friend and neighbour, regenerative farmer Charlie Massey in the Archibald and a landscape of his farm in the Wynne.
"Charlie's approach to farming is inspirational," she says. "We worked on the paintings through the winter. He'd ride his bike over to my place and we'd sit in the studio warm as toast while it was bitterly cold outside. His sheep and cattle are rotationally grazed to give the grasses time to recover and he's planted more than 50,000 trees to stop erosion, create shelter and store carbon. I'm vegetarian so the concept of growing a cow just to eat is ridiculous. It's just such a waste of water and resources, not to mention damaging to the land."
In 2007, Lucy came down to visit her childhood friends and, when she discovered a block was for sale near the village of Bibbenluke, she bought it. "I felt I belonged here," she says. "I prefer the cold. I've never been very social art wise and I don't need to share studio space. I simply couldn't afford the space I have here in the city. Frankly I don't know why more artists don't choose to move to the country."
The space also allows her to indulge her passion for rescuing animals other people have abandoned or deemed past their useful lives. Lucy is the first to admit that their upkeep is not cheap, particularly during drought when she is forced to buy feed to keep them all. "The animals are part of my lifestyle," she says. "I'm just lucky that my paintings pay their way. I'm not really into travel or clothes and I cut my own hair. So the animals are my extravagance."
On a typical day, Lucy rises early to feed her charges, which, depending on the season and the availability of natural grass, takes at least an hour. "I'm usually in the studio by nine and I paint all morning," she says. "Fortunately I'm a fast painter, so as long as I'm not working to a deadline, that usually means I can fit in a good six hours in the garden after lunch, before I do the whole feeding routine again."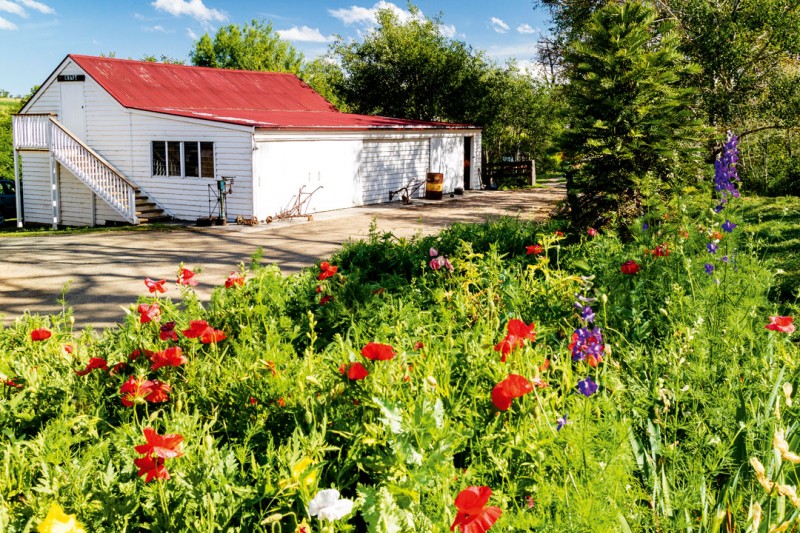 The self-declared "hopeless gardener, who doesn't know the names of anything" says she "plants what grows".
"The environment is changing and while the good seasons are gold, the bad are very harsh," she says. "I've decided I'm going to stick with things that do well. I'm not going to bother with dogwoods any more as they all died. You can't control the elements. You can be disappointed when things don't grow, but it's a waste of time being a hater. It varies from year to year, as this year the crabapples were terrible but the magnolias were beautiful. I do have a plan though to plant the hillside leading down to the creek to give people driving by on the highway something to enjoy. I can see a carpet of poppies in spring and cosmos for summer."
At the time of Australian Country's visit, the house is filled with vases laden with peonies and roses in all stages from bud to fully blown. "They tend to sag in the garden, so I pick them," Lucy says. "The only problem is I never know when they're finished and I leave them too long. I love the look of a table covered in petals."
Lucy also has good success with dahlias and was proud when her entries in the local show took out a stack of awards. "I wasn't so lucky the following year," she recalls. "That was the same year I also failed to get anything hung in the big prizes, so I painted a whole series of arts and crafts and I gave everyone a ribbon or a certificate. But really, I'm the last person in the world who needs a prize. I'm a privileged, white woman and I have a great life surrounded by the things I love."