Sydney artist Jules François has been a devoted Francophile for as long as she can remember and now her life's passion has given birth to a beautiful book.
One of Jules FranÇois' earliest memories is of arriving in Sydney as the eldest of six children of a migrant family and living with her maternal grandparents. While most of the family was Scottish, her grandfather was from Brittany and he introduced a French sensibility to the mix. "As well as me and my siblings there were nine adults in this household and they were all obessed with food and music," she recalls. "While they all influenced my upbringing, unquestionably the most important figure in my childhood was my uncle, Harry."
It was Uncle Harry who took Jules to ballet when she started classes at the age of four. The studio was located on top of a pâtisserie and as a post-class treat he would always buy her a palmier biscuit. It was Uncle Harry also, who took the then five or six-year-old to the Art Gallery of NSW and introduced her to the French masters. "I remember standing in front of Luminais' Sons of Clovis and deciding on the spot that I needed to find out the precise colours he had used so I could recreate that magic," Jules recalls. "I don't know what I would have become without his influence, but I have no doubt that he made a significant contribution to my evolution as a ballet- and food-loving, Francophile artist."
By the age of 10 Jules had also decided she was going to live in France. In a sense she did, as for 22 years she was married to French chef François (Franck) François. Their life in Sydney was punctuated by annual northern winter visits to France, starting in Paris and touring the countryside catching up with family and friends over countless aperitifs and fine meals.
"When I met François he was the chef of a celebrated Sydney restaurant, Au Chabrol," she recalls. "But he really became a Sydney legend when we opened La Gerbe d'Or, a pâtisserie and boulangerie, in 1982. That bakery gave me such a wealth of people who came from all over Sydney to buy his bread and pastries."
François ran La Gerbe d'Or for 31 years, during which time it became a landmark for the queues of French expats and lovers of fine food outside the tiny Paddington store. In a neat twist of fate, Jules recalls a group of Sydney Dance Company dancers lived in the flat about the bakery and would always drop by for pain au chocolat and coffee first thing in the mornings.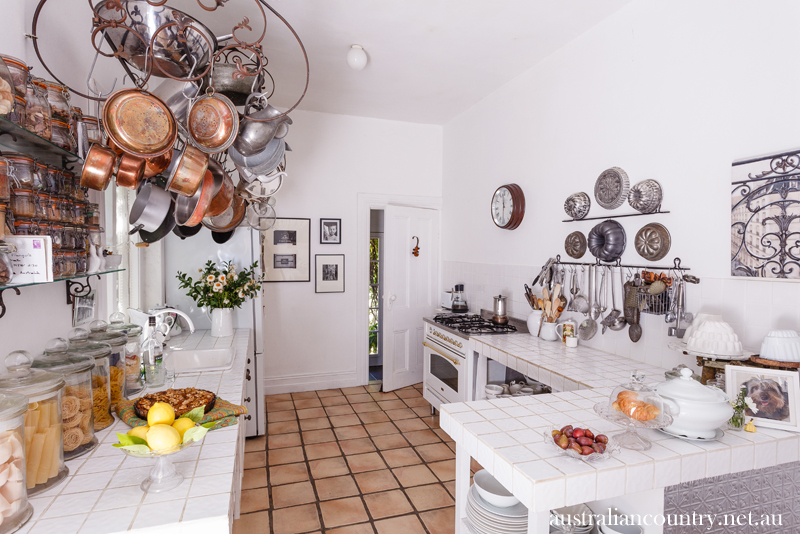 Although the marriage ended, Jules says she owes François enormous gratitude for sharing his lifestyle and encouraging the mentalité Française that is such an important part of her life today. Jules studied fine arts, but she says she really found herself as an artist when she attended classes given by the renowned abstract artist Charlie Sheard. These days she gives classes herself in the studio above the Red Door Gallery, which is part of her home in the inner-Sydney suburb of Summer Hill.
The complete story was originally published in Australian Country issue 20.5. Click here to subscribe to our magazine.
Click here for more creative corner stories.
Words Kirsty McKenzie
Photography Ken Brass