Ask people what they think of when you mention the Darling Downs and most likely they'll respond with varying desciptions of rolling plains with paddocks patchworked with golden wheat, rust-hued barley and sorghum, green from vegetable and legume crops and pockets of black-soil land being fallowed. Indeed the Downs is prime agricultural land, these days supplemented by coal and gas mining, the vineyards of the Granite Belt and the tourists who come to enjoy its vast open spaces, fresh air, big skies and warm country hospitality.
Historically, the region — named in 1827 for the then governor of NSW by explorer Alan Cunningham when he became the first European to travel inland from Brisbane and over the Great Dividing Range — was defined as the area north of the Condamine River. But now the Downs has been expanded to include a vast swathe of south-east Queensland from Stanthorpe in the south to Goondiwindi in the west, Chinchilla to the north with Crows Nest and Toowoomba on the eastern periphery. Road touring is the obvious way to explore the region, though most visitors break their trips into much smaller bites, exploring perhaps the Granite Belt in a long weekend from Brisbane or the newly designated High Country Hamlets of Hampton, Ravensbourne, Crows Nest and Highfields in another short break of feasting and discovering the abundant produce and scenic national parks of the sub-region.
Those in the know head to Chinchilla in February for the Melon Festival, a crazy weekend devoted to the luscious fruit with watermelon skiing as one of its highlights. Goondiwindi hosts an annual Discover Farming Festival in May and the truly hardy head to town in February for Hell of the West, a long-course triathlon that includes a two-kilometre swim in the Macintyre River, a 40km road cycle and 20km run.
For years, people dismissed Toowoomba, the region's major centre and Australia's second-largest inland city (after Canberra) as a big country town. But these days, Toowoomba, population 115,000, is a thriving community, a service centre for the surrounding agricultural industry, an education hub with boarding schools and the University of Southern Queensland and an increasingly hipster vibe thanks to lots of city refugees who've come seeking the experience of four distinct seasons and more realistic real-estate prices. They've brought their urban tastes with laneway cafes and street art installations giving the historic CBD a bit of a Melbourne vibe. And that produce that was once taken for granted, from rhubarb, figs and vegetables to prime beef, lamb and heritage pork, now has an appreciative audience with chefs and cooks celebrating the bounty in a range of cafes and restaurants.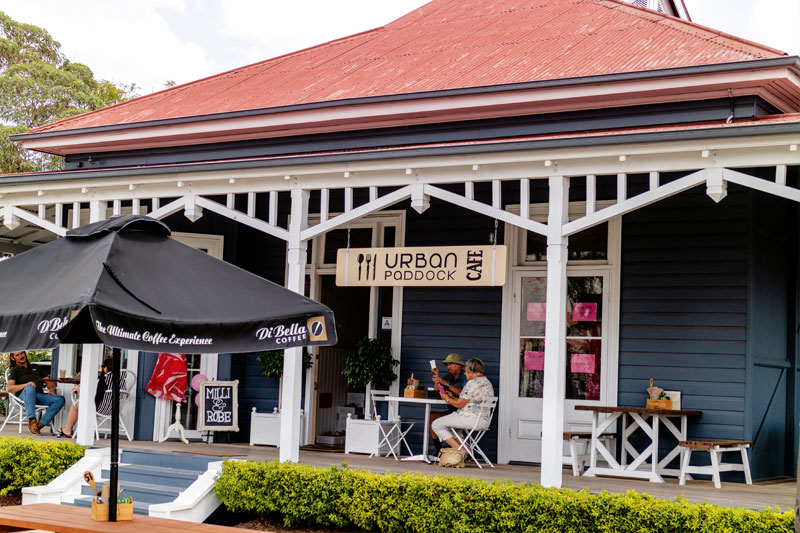 Known as the Garden City, Toowoomba boasts more than 150 public parks and gardens, including a showcase Japanese garden, Laurel Bank Park, the state rose garden and Queens Park, which in spring becomes the hub of the Carnival of Flowers and its associated Flower, Food and Wine Festival. However it's not just the public gardens that come alive during the carnival, as many private gardens in the city and near country are also open during this spectacle, which has an estimated 180,000 bulbs flowering as a highlight.
Australian Country's tour of the region took a broad swoop from Goondiwindi, close to the NSW border, and home to the grand Old Victoria hotel with its B&B (beer and bullshit) tour north through Condamine to Chinchilla, east through Dalby to Toowoomba and Crows Nest, then back south through Steele Rudd's On Our Selection country around Nobby to Warwick. We've sung the praises of the Granite Belt in previous issues, so we're leaving it out of this feature.
The region offers enough highlights to fill a book, so the best we can aim for is a précis. Here are some unforgettable experiences:
Garden tour at Jimbour station
The two-storey sandstone mansion at Jimbour was completed in 1874 for the Bell family, who planted trees including Moreton Bay figs, bottle trees, silky oaks, pepper trees and buddlejas. The Russell family took over in 1923 and work on the garden has been ongoing ever since. They added an avenue of jacarandas leading to the house, showy bougainvilleas close to the house, a rose garden, the Millicent Russell kitchen garden and a beautiful memorial garden on the northern side of the house in honour of Deborah, wife of the present owner, David Russell. Visit by appointment or there's a fabulous Opera in the Paddock event held there every July as part of the Queensland Music Festival.
Steak from Crows Nest butcher Meats and More cooked on the barbie at Anduramba Homestead Bed & Breakfast
Sandra and Andrew Jenner moved to a run-down protea farm in a beautiful location close to Crows Nest four years ago. With their family grown up, they decided to share their home with guests and opened three bedrooms for bed and breakfast. Breakfast options include bacon and eggs, granola in a glass and fruit and yoghurt and Sandra will serve dinner with notice or visitors can DIY on the barbecue. The Jenners are enthusiastic supporters of local providores and recommended we visit Pete the butcher for great local beef and smallgoods made on the premises. Sizzling sirloin and salad would be hard to beat after a day exploring Crows Nest and Ravensbourne National Parks, or the Bunya Mountains just over an hour away.
Devouring pikelets with homemade fig jam at Cloudlake
Landscape architect Richard Jones and his interior designer wife, Rosemary, have lived and worked pretty much everywhere, including some remote parts of Australia when they did a loop in a Bedford truck. They've come home to roost on part of a former dairy farm near Ravensbourne and created their own patch of paradise from a bare paddock. There are two self-catering cottages overlooking a lake, a small organic vineyard and an orchard supplying all manner of fruit, including figs for a truly splendid jam. Cloudlake is a true escape in the hills. Bring a good book … or someone who's read one.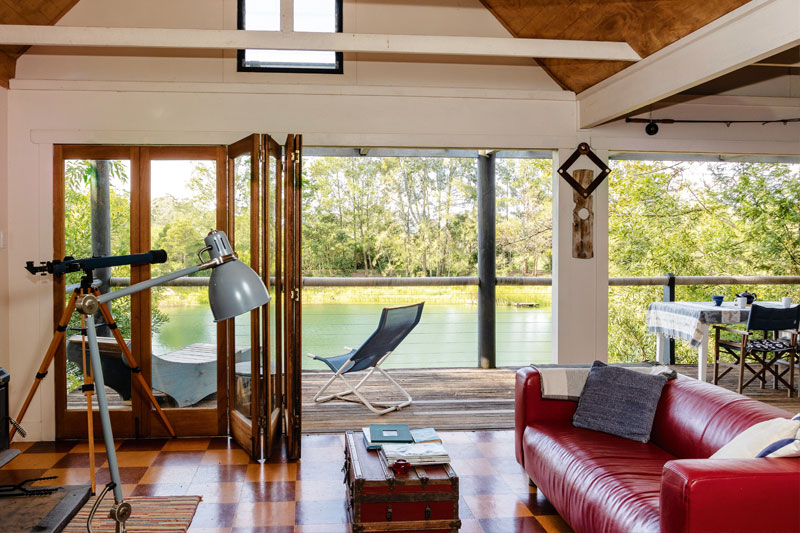 Lunch at Emeraude
Former Bundaberg restaurateur Amanda Hinds has moved her family and staff to the hamlet of Hampton where she continues to champion local produce. These days, it's the little producers she's showcasing, from the guy who grows mushrooms on coffee grounds to Gordon Fawckner's Emperor Pork and Bunnyconnellan's queen olives.
Visit the Cobb+Co Museum
This outpost of the Queensland Museum was originally established to house the Bolton collection of more than 30 19th-century horse-drawn vehicles, but now it hosts changing exhibitions as well as workshops in traditional trades such as blacksmithing, leather plaiting and wheelwrighting. Toowoomba is also home to the foundry where the first Southern Cross windmill was made in 1903 and there's a gallery of these bush icons out the front.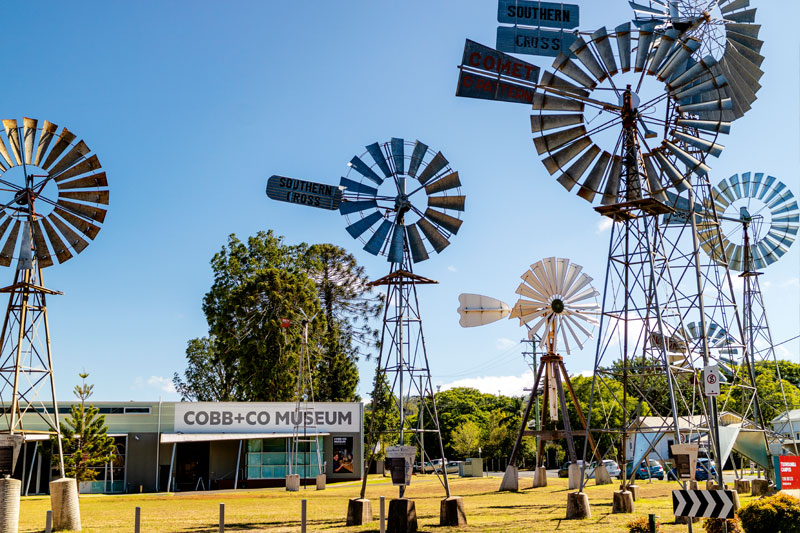 A stroll through Queens Park
Even in the middle of a drought, Toowoomba lives up to its Garden City moniker with spectacular floral displays in its gardens. Queens Park is home to a botanic garden as well as beds so full of flowers you can't help but want to plant a garden of your own.
A tour of Jondaryan Woolshed
As well sheep-shearing demos, an animal nursery and billy tea and damper tastings, there are more than 30 historic buildings to explore including the impressive 52-stand shearing shed, completed in 1859 on what was at the time Queensland's largest freehold sheep station.
Detour to Glengallan homestead
The magnificent sandstone homestead at Glengallan near Warwick was said to be the finest house in the colony when it was completed in 1867. Gradually, though, it fell into disrepair and it was not lived in from 1927 until the early '90s when a group of locals banded together to restore it from a complete ruin. These days, it's a reminder of grand pastoral dreams and folly, and once again a truly splendid adornment on the landscape.
Enjoy coffee and cake on the platform at Wallangarra station
The Southern Downs Steam Railway Association offers steam-driven train tours across the Downs most weekends. They include a special trip through two tunnels and many deep cuttings and bridges from Warwick to the border town of Wallangarra, where there's a cafe in the railway station for light meals and morning and afternoon teas.
WHERE TO STAY
Anduramba Homestead
Bed and breakfast accommodation in a historic house near Crows Nest with beautiful grounds and views.
Vacy Hall
Boutique hotel in heritage-listed 1873 homestead in a beautiful Toowoomba garden setting.
Cloudlake
Take sanctuary in one of two self-catering lakeside cottages on an organic farm with an olive grove, vineyard and orchard near Ravensbourne.
The Laurels of Chinchilla
Bed and breakfast in a historic homestead with rustic outbuildings on the banks of Charleys Creek.
THINGS TO DO
Bunnyconnellen olive grove & vineyard
Taste wines, olives, tapenade, olive oil and vinegar produced on the property near Crows Nest. There's accommodation for two in the self-contained studio.
Jimbour station
Take a self-guided walking tour through the grounds and kitchen garden of an iconic stone homestead on a property that's been part of Australian pastoral history since 1841.
Jondaryan Woolshed
One of Australia's oldest and largest shearing sheds, the Jondaryan Woolshed is celebrating 160 years.
Southern Downs Steam Railway
Steam-driven train trips from Warwick to Wallangarra on the border.
Cowboy Up trail rides
They taught Hugh Jackman and Nicole Kidman to ride for Baz Luhrmann's epic movie Australia, and Gill and Graham Gould would love to teach you, too, on their good-natured quarter horses on their working cattle property near Crows Nest.
Cobb+Co Museum
Interactive displays, Australia's largest collection of horse-drawn carriages and hands-on workshops in vintage trades in a museum setting.
WHERE TO EAT
The Farmers Arms Tavern
Counter lunches and dinners in Queensland's oldest continually licensed pub 20 kilometres south of Towoomba.
Urban Paddock Cafe
A slick cafe, clothing boutique and gift shop are all rolled into one charmingly restored Queenslander in the heart of Dalby.
Ground Up Espresso Bar
Hole in the wall laneway cafe in the Toowoomba CBD with excellent coffee, Baker's Duck breads and pastries and
great burgers.
The Chocolate Cottage
Nestled in the village green in historic Highfields, visitors come to sample more than 60 varieties of chocolate, but stay for breakfast and lunch offerings.
Emeraude
A beacon on Queensland's culinary map, this restaurant in the village of Hampton is the jewel in the region's crown where splendid local produce is showcased by chef Amanda Hinds.
Zev's Bistro
High-end casual dining in downtown Toowoomba with Middle-Eastern and Asian accents
The Baker's Duck
Artisan sourdough, great pastries, sandwiches, tartines, pies and irresistible sausage rolls in Toowoomba.
Rosalie House Cellar Door Restaurant
A vineyard with cellar door and restaurant showcasing local produce in platters and share plates as well as individual dishes.
Brasserie Inbound
Lunch, high tea and dinner served in the historic setting of the Toowoomba railway station.
For more information go to visitdarlingdowns.com, southernqueenslandcountry.com.au and highcountryhamlets.com.au.