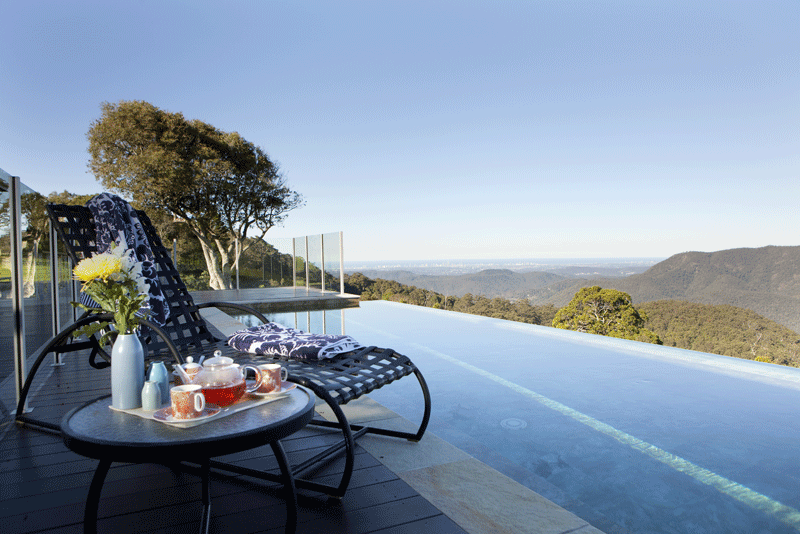 Occasionally, a landscape steals your breath away. When Robert Maas sips tea on the deck at Skylodge, his contemporary Mount Tamborine homestead, he still marvels at the ever-changing ocean to the east and the many moods of Mount Warning in the south. And, sometimes, when he looks over the escarpment to world heritage forest, he sees a brachychiton tree flaming like a bright red exclamation mark.
Although the mountain is only 35 minutes from the hurly burly of the Gold Coast, the cooler temperatures, clear air and bands of rainforest imbue it with tranquillity. For much of his life, Robert has worked in the hospitality industry, following the footsteps of his entrepreneurial Dutch parents who owned several restaurants both here and overseas. However, his heart has always been in the country.
Ten years ago, when he moved from nearby Beechmont and bought an 80-year-old farmhouse relocated to the escarpment, he saw exciting potential. Grand specimens of red cedar, hoop pine and cudgerie were wonderful assets anchoring the site and contributing to the home's sense of place. Several friends were surprised when he chose not to pull down the old place and start afresh. "It was a perfectly good building, so I had no intention of demolishing it and I knew that a good architect could interpret my dreams to extend it," says Robert.
Gunther Lamprecht was engaged to do just that and the outcome is ingenious. Externally, the new addition incorporates the essence of the original dwelling, while inside it is high-tech elegance.  The existing home, Robert's own domain, was modified for contemporary living: windows were enlarged to take advantage of the views and walls were removed for better use of space. But it's the long, linear, metal extrusion, seamlessly added on the southwest end, that's made a statement. Magnificent views are afforded from all areas of the extension, which includes a living room with kitchen facilities, a dining room and two suites accessed via a glassed-in breeze way. The Zincalume roof, mellowing galvanised posts and quintessential weatherboards painted soft silver all contribute to the understated facade.
The project's been a satisfying one for Robert, especially following the tragic loss of his son, Bodie, in 2012. "It's given me lots to focus on," he says. He's unleashed his creativity to furnish the new wing, which is now available for visitors looking for somewhere special.  Robert's work in hotels and restaurants has given him an acute appreciation of the impact of ambience. "I wanted each space to have its own character and to be elegant but, ultimately, comfortable."
The living room blends luxury and cosiness.  At one end, a stainless-steel V-shaped fireplace is skirted by a chain-mesh fireguard. TVs are confined to suites. This room is purely for relaxation and that's exactly what guests do: listen to music, laze on the sofa scattered with cushions and faux fur rugs, or pull up a hide-covered hassock in front of mesmerising flames and sip cognac.  As well as state-of-the-art additions, Robert's included practical features. Ashes fall into a pit cleaned externally, and a wood box, filled from outside, is accessed inside.
Read more about the remarkable Mount Tambourine homestead's in the Feb/March issue of Australian Country – available for order at universalshop.com.au or online.