Thank goodness there's no rule book about a right or wrong way to live. If our intentions are good and conscience clear it's our call how we approach life and in which order. It's much like travelling. It's up to us where the journey starts, ends and all the warm fuzzy bits in between.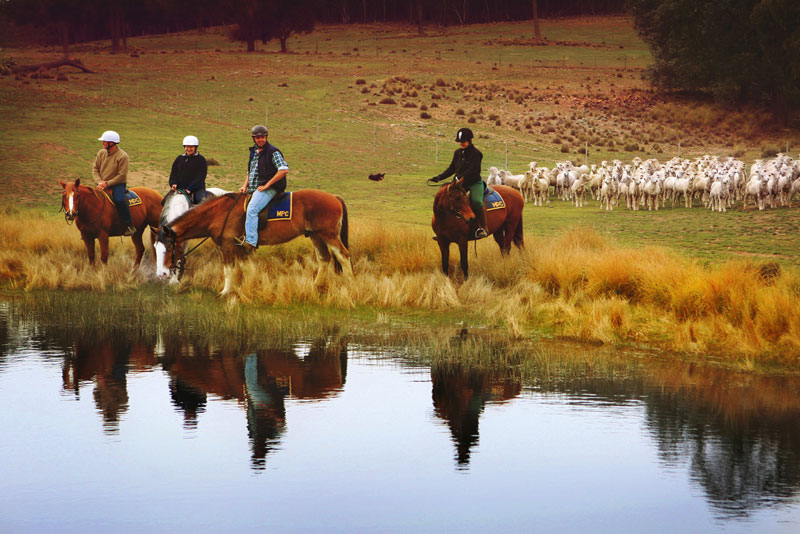 I was faced with this conundrum while nutting out a suitable itinerary for the now iconic Poacher's Way trail located in Canberra and its surrounds.  This delightful, predominantly gourmet driven, tour comprises a collective of winemakers, smokehouses, rural retreats and such. These regional producers and entrepreneurs have banded together to create something much bigger than the sum of their parts – a tourist route which successfully promotes the area as a single entity.
Poachers' Way meanders through historic townships such as Hall, Gundaroo, Collector and Murrumbateman, among others. It's an enterprise which takes the guess work out of going for a Sunday drive or a weekend away in a unique – and truly underrated – part of regional Australia. Located 2.5 hours from Sydney and thirty minutes from Canberra it offers a rich experience that feels a long way from home.
The Poacher's Way concept started in xxx when Susan Bruce, co-owner of the Hall based Poachers Pantry saw a need to promote the area and landed a sizeable Federal Government grant.
"This part of the world is a terrific secret," she explains. "It's a region rich with rural hosts who have a fascinating stories and products to share. Visitors explore local cuisine, sample some of this country's best wine, indulge in a day spa or stay overnight."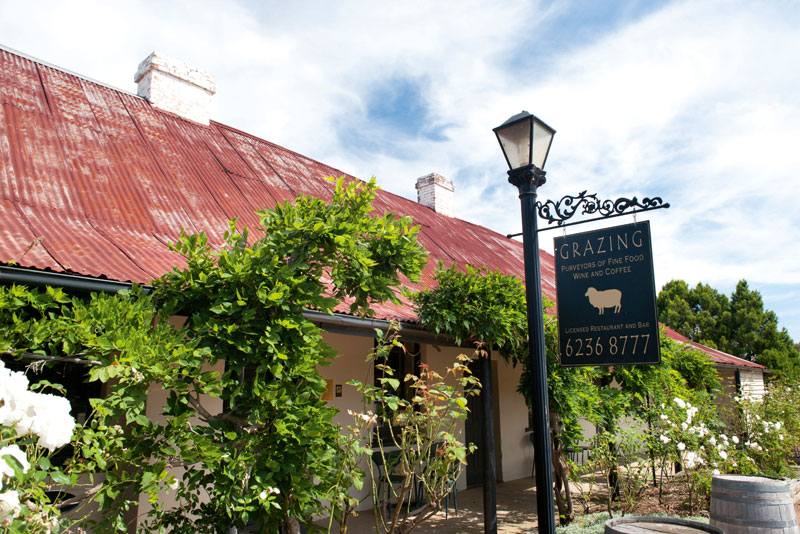 Poachers Pantry was born around twenty years ago, when Susan and her husband Robert, transformed their grazing property into a smokehouse. Business expanded and it now encompasses Wily Trout Vineyard and Smokehouse Café, a sought after spot for weddings. The couple's meats have also gone from strength-to-strength. They now feature on the Qantas first class menu and restaurants such as Sydney's Tetsuya's.
A stone's throw from this picturesque property is Geranium House, a purpose built day spa with all the bells and whistles. It's located on a secluded 135 acres and is run by the efficient and extremely qualified Sue Butt. Sue completed a science degree before her shift into the beauty industry when she added massage, microdermabrasion and such to her skill set. She is now revered as a leader in advanced skin care and her spa includes the latest technology, Sothy's skincare and the recent addition of a couple's room which allows partners to bliss out in tandem.
According to Sue, "The Poacher's Way is a wonderful concept. It means businesses work together to help visitors have a truly memorable experience. I often have couple's have a massage with me in the morning, before they trundle off and enjoy a wine tasting or local produce."
Around half an hour from Sue's neck of the woods is Gundaroo. This township, located on the Yass River, is home to some of the region's best examples of mid and late 19th century buildings. In the heart of town is the Gundaroo Colonial Inn, a thronging pub, restaurant and recently renovated place to stay that's heartily embraced by locals. This hotel has been around since 1872 and is a great example of an increasingly diminishing number of real Aussie pubs. If a beer in the sun or afternoon of rock is your thing, then this is the place for you.
In close proximity (Gundaroo is small) is Cork Street Gallery Café that prides itself on its freshly made pizzas, focaccias and homemade fare. It's in old police stables, features work by local artists and serves killer coffee.
A mere 200 metre stroll away is the award-winning Grazing restaurant located in the historic Royal Hotel. After a hearty meal of rabbit, Angus Beef and fresh greens from the kitchen garden out the back it's easy to see why it's hard to get a seat here on the weekend. Not only is the food good, but this cosy building has five open fireplaces and lovingly restored features.
Behind the restaurant, in the original hotel stables, is the impressive Capital Wines cellar door and epicurean centre. The centre offers food and wine matches, produce from around the region, great coffee and lunch fare. It also offers a memorable taste of Kyeema wines – the most awarded in the region. Start with a wine tasting here before your meal at Grazing – you'll know what to order with your food.
Jeir Creek Wines is another award winning winery nearby. Rob Howell and his wife Kay set up shop on their Murrumbateman property around 25 years ago and now offer a plethora of consistently good sparkling, dry, fortified and dessert wines. Rob is also an effusive and knowledgeable industry advocate, which makes for an entertatining visit.
Not far from Rob's is the not-to-be-missed Clonakilla Winery that's responsible, in no small part, for placing the regions cool climate wines on the world stage. It started in the early seventies, when research scientist John Kirk took a punt and pioneered this area's wine industry. Around a decade later, his son Tim (who now holds the reins) also took a risk and planted some Shiraz Viognier on the property. This wine is now a regular place holder in Australia's top ten list of handcrafted wines; while Clonakilla is regarded as one of the best wineries in the country.
Murrumbateman's Country Guesthouse Schonegg wasn't around in the seventies, but owners Evelyn and Richard Everson are equally as pioneering. The couple met while working at London's Mayfair Hotel and moved to the area in the mid-90s. Their aim was to open a rural guest house with great food. In 2003 they realised their dream and the result is a cosy haven with a focus on seasonal produce.
A visit to the nearby Shaw Vineyard Estate is an absolute must. This boutique, family-run winery used to be a fine wool producing property in the mid-1800s. Now it offers a sophisticated way to spend a Sunday afternoon in rustic rural surrounds.  Kick things off with a wine tasting at the cellar door, then settle into the adjacent restaurant. Flint in the Vines, that's managed by uber foodie couple Jai and Kate Dawson, offers an inspired menu and wine list.
Our Poacher's Way trip was great, but our final day was truly memorable. We kicked off proceedings with a truffle hunting session at French Black Truffles of Canberra, located on Mt Majura Road, not far from the increasingly world-class Canberra airport. An impassioned Sherry McArdle-English led us on a jaunt which involved a rant about truffles, followed by an invigorating hunt with her truffle mad American Cocker Spaniel. Sherry's devotion to her craft is infectious, while the morning was topped off with a truffle infused crème brulée.
A two kilometer jaunt to the east of Sherry's property took us to Mount Majura Vineyard where visitors can sample their entire range or make a selection. These wines are robust and consistent, but we were particularly impressed with Mount Majura's Pinot Gris and Graciano, a variety that originates in Spain's Rioja region.
Our morning sewn up, our next stop was Lambert Vineyards, located 810 metres above sea level in the undulating hills of Wamboin, 30 kilometres from Canberra. This true cold climate wine making country produces some interesting varieties with the merlot a real stand out. The winery also features a first class restaurant with the very capable, Angus-beef-loving Chris Whitlock at the helm.
Our final stop was dinner at Podfood located at Pialligo Plant Farm, Pialligo. Doubtless, we were spoilt for culinary choice on our Poacher's Way tour, but owner and head chef of Podfood, John Leverink, significantly raised the bar. The taste of his exquisite duck breast, liquorice, carrot, sorrel and goats cheese still lingers. A dedicated workaholic John also offers weekend breakfast, lunch and a selection of specialty dinners such as truffle and wine dinners, degustation events and an eclectic wine list to match. The entire experience left us wondering when we can do it again and in which order…
Getting there
Poacher's Way venues are within a thirty-minute drive of Canberra or 2.5 hours from Sydney along the Federal Highway. A car is required for this trip as the route meanders through large swathes of countryside as visitors visit one attraction after another. Ensure you're equipped with an up-to-date map. For further information and suggested itineraries visit www.thepoachersway.com.au
Horseriding on the Poacher's Way
Lindsey Butt loves horses. His 3500 acre property Burnelee, located 30 minutes from Canberra, between Murrumbateman and Gundaroo, is dedicated to them. He hosts  regular horse riding sessions and specialty rides to nearby historic townships throughout the year. Burnelee Excursions on Horseback is a unique part of Poacher's Way and a wonderful way to work off a three course meal from the night before. www.burnelee.com.au
By Siobhan O'Brien