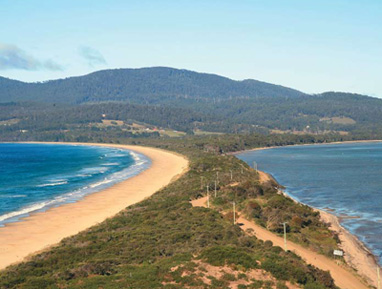 With the Huon and Derwent Rivers as its arterials and Hobart as its epicentre, Tasmania's south combines rugged coastal and rolling rural scenery and a fabulous food and wine scene, best enjoyed through the screen of remnants from the colonial past.
Circumstances beyond our control meant we broke our own cardinal rule for country driving and arrived on Bruny Island after dark. As our accommodation was in the south of "the island off the island (Tasmania) off the island (Australia)", this meant we had to travel about 50 kilometres on unfamiliar, partly unsealed road in the dark. It also meant that we very quickly became aware that Bruny's reputation as a wildlife paradise was no idle claim.
We found ourselves travelling at snail's pace as we dodged myriad kangaroos, pademelons, wallabies, possums, quolls and echidnas. The fact that we didn't see any seals or penguins wasn't because they don't live on the 100km-long island, rather that they tend to be more reclusive waterfront dwellers. And then in the midst of this rather bewildering wildlife safari, I spotted a white kangaroo. When I mentioned this fact to photographer Ken Brass, who also happens to be my husband, he responded with the kind of derision partners reserve for hallucinating spouses.
So it was with particular purpose that I kept our appointment next morning with the island's resident wildlife specialist, Dr Tonia Cochran. Yes, indeed, Tonia assured me, it was quite possible I saw a white marsupial. It's actually a Bennett's wallaby variant, part of a colony of maybe 60 on the island. Although not strictly speaking albinos, they are created by the pairing of parents with the same kind of recessive gene. Because of the absence of predators and the fact that more than half the island is national park or state reserve, the white wallabies have a much greater chance of surviving to adulthood and reproducing than they do on the mainland.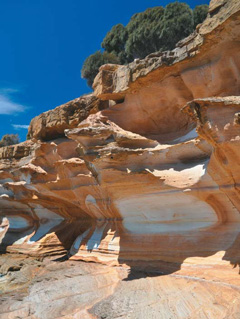 In many ways, Bruny Island embodies all there is to love about southern Tasmania. Rich farming land lines the Derwent and Huon River valleys and Hobart is the oh-so-civilised capital in the lee of Mount Wellington in the middle. Natural wonders are never far away, whether it's in Hastings Caves and thermal pools at the southern most extremity of the region or the tessellated pavement, blowhole and spectacular stone landforms on the Tasman peninsula.
There's history at every turn, from the remnants of our colonial past in Hobart's Salamanca Place and the country's oldest convict-built stone arch bridge and dwellings at Richmond to the longest trading (since 1825) hotel in New Norfolk's Bush Inn and, of course, the ruins of the once notorious penal settlement at Port Arthur.
In its early settlement days, Bruny was a base for whalers and sealers, but by the 19th century they'd given way to farmers and timber getters. These days, the island has a permanent population of about 600, with farming, tourism and forestry the main industries. In recent years Bruny has also had an influx of people building holiday homes on the spectacular coastline. Residents and visitors are blessed with a banquet of local produce, which includes smoked goods from BISH (the Bruny Island Smokehouse), Black Devil cherries, artisan cheeses and wood-fired bread from the Bruny Island Cheese Company, fresh berries from Bruny Island Berries and succulent oysters from Get Shucked.
On the other side of the d'Entrecasteaux Channel, the moveable produce feast continues, with the famous apple orchards of the Huon Valley, salmon farms delivering snapping fresh fish, full-flavoured wines from vineyards such as Hartzview and Home Hill, cheeses from Grandvewe and Australia's own saffron plucked from the Tas-Saff crocuses at Glaziers Bay.These all come together on the plate at The Stackings restaurant and providore at Woodbridge on Peppermint Bay, which can be reached from Hobart on a 23-metre catamaran cruiser with Peppermint Bay Cruises.Head west to Tahune Forest Reserve, where visitors can experience a bird's eye view of the forest and the Picton River via the Tahune Airwalk, a 500-metre walkway suspended 48 metres above the ground.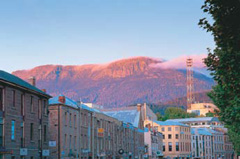 If you base yourself in Hobart you'll be spoiled for accommodation choice with historic inns such as Lenna on the fringe of the CBD at Battery Point and heritage-listed bed-and-breakfast Bellerive House on the city's eastern shore. If you prefer self-catering options in a country setting, Heimat Chalets near New Norfolk offers the ultimate in peace and privacy. And if you're looking for a bit of luxe, book into Woodbridge on the Derwent, a boutique hotel based around a convict-built Georgian mansion.
All that fine farm produce is a joy for chefs to translate. Mark Smolt on the map of Hobart for Italian- and Spanish-influenced fare and Garagistes for chef Luke Burgess's locally grown or foraged ingredients matched with organic and natural wines from small producers. Sally Legoz of Herbaceous Tours offers a rare insight into Tassie's finest primary producers with her tailor-made tours to farms and factories that are usually not open to the public.
Depending on the itinerary you might visit Terry and Nicky Noonan's saffron farm to see how the stamens of the crocus flower are turned into the world's most expensive spice, drop by Yves Ginat's Miellerie Honey to learn how French bee-keeping techniques blend with Tasmanian flowers or redefine your idea of how bacon should taste with a sample of Marcus Boks' best.
Make time to take the 30-minute ferry trip (you can also drive or take a bus) to visit the privately owned Museum of Old and New Art (MONA) and see the always-thought-provoking permanent and visiting exhibitions. While you're there, schedule a beer tasting at the Moo Ball boutique brewery, a tasting of Moorilla's wines, or breakfast, lunch or dinner at The Source restaurant.
Back in the CBD, tuck yourself away in a corner with a coffee and your latest literary purchase, listen to authors speak, learn to knit, rest your feet and recover from a city visit, or just keep an eye on Mount Wellington through the huge windows of Afterword Café on the mezzanine level of Fullers, Hobart's leading independent bookseller since the 1920s.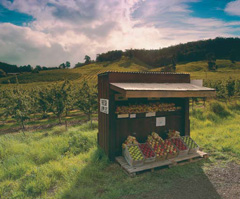 Further afield, don't miss the Drill Hall Emporium in New Norfolk, which combines a 19th-century department store with quality antiques. Heading north? Be sure to schedule a break in Triabunna to visit Pat Bell's Sufi's Crafts and maybe fit in a patchwork class. For gift inspiration, head to Bear Cottage Crafts in Swansea.
The locals in this diverse region seem genuinely happy to share their precious part of the world with visitors. Some, including former fisherman and 2012 Tasmanian of the Year Rob Pennicott, have built businesses sharing their knowledge with tourists. Rob grew up in the Huon Valley, but his family always camped on Bruny Island. Rob dabbled in various ocean- and fishing-related businesses, but the thing his friends always loved was going out on his fishing boat and seeing the spectacular coastline from the sea. These days he runs Pennicott Wilderness Journeys, which has a fleet of RIBs (rigid inflatable boats) taking tours around Bruny Island and Tasman Island from Port Arthur to Eaglehawk Neck.
Rob and his guides promise a hair-raising experience as we cruise beneath the towering cliffs of South Bruny National Park. Take your cue from the ginger tablets and wet weather gear they hand out when boarding that this is no sedate meander down a millpond. Instead, it's at times a high-speed hurtle into the Great Southern Ocean, with rest breaks to take in the grandeur of almost 300-metre-high cliffs, the "breathing rock" blow hole, ancient sea caves and The Monument, a 50-metre sea stack that rises out of the ocean.
Rob's parting gift is a final piece of local advice, which is how we came early the next morning to be walking along a Bruny Island beach to an area of cleared land where he promised we'd find what we're looking for. And, sure enough, right next door to the Adventure Bay caravan park we saw those white wallabies, nonchalantly grazing on the grass. Not one or two, but a group of five or six of them. Ken got so close he could snap them full-frame with a standard lens. It's one of those "told you so" moments I enjoyed for weeks. All the way home, I kept checking the camera, slide-showing the photographic evidence that I'm neither mad nor seeing things.
MORE INFO
"http://www.puretasmania.com.au"
"http://www.brunyisland.org.au"
"http://www.tasmanpeninsula.com.au"
WHAT TO DO
Pennicott Wilderness Journeys, Dock Head Building, Franklin Wharf, Hobart, 03 6234 4270 "http://www.pennicottjourneys.com.au"
Peppermint Bay Cruises, 3435 Channel Hwy, Woodbridge, 03 6267 4088 "http://www.peppermintbay.com.au"
Herbaceous Tours, Liverpool St, Hobart, 0416 970 699 "http://www.herbaceoustours.com.au"
Drill Hall Emporium, Stephen St, New Norfolk, 03 6261 3651 "http://www.thedrillhall.com.au"
MONA (Museum of Old and New Art), 651–655 Main Road, Berriedale, 03 6277 9900 "http://www.mona.net.au"
Port Arthur Historic Site, Arthur Highway, Port Arthur 03 6251 2310 "http://www.portarthur.org.au"
Sufi's Crafts, 26 Vicary St, Triabunna, 03 6257 3212 "http://www.sufiscraft.com"
Bear Cottage Crafts, 18a Franklin St, Swansea 03 6257 8091 "http://www.bearcottagecrafts.com.au"
WHERE TO EAT
Fullers Bookshop & Afterword Café, 131 Collins St, Hobart, 03 6224 2488 "http://www.fullersbookshop.com.au"
Smolt restaurant, 2 Salamanca Sq, Hobart, 03 6224 2554
The Stackings Restaurant, Woodbridge, 03 6267 4088 www.peppermintbay.com.au
The Garagistes, 103 Murray Street, Hobart 03 6231 0558 "http://www.garagistes.com.au"
WHERE TO STAY
Woodbridge on the Derwent Hotel, Bridge St, New Norfolk, 0417 996 305 "http://www.woodbridgenn.com.au"
Henry Jones Art Hotel, 25 Hunter St, Hobart, 03 6210 7700 "http://www.thehenryjones.com"
Heimat Chalets, 430 Black Hills Rd, New Norfolk, 03 6261 2843 "http://www.heimatchalets.com"
Lenna of Hobart, 20 Runnymede St, Battery Point, 02 6232 3900 "http://www.lenna.com.au"