With summer just around the corner, the days of warm evenings spent with loved ones are fast approaching. Whether you're planning on spending time with the family or catching up with some friends, summer dinner parties are a great way to celebrate the end of a year and the start of a new one. They allow you to show off your creativity and party-planning skills at the same time. If you're getting ready to invite people, explore the 8 tips below for impressing your guests and making your home the ultimate holiday party destination this summer.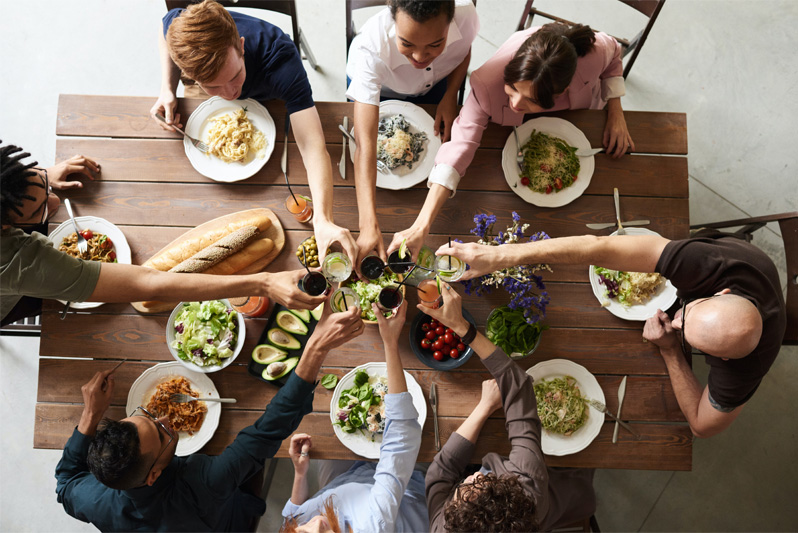 #1 Do plenty of preparation in advance
Preparation is key for any event and should be the first place to start when planning your dinner party. Begin the process by brainstorming some ideas for how you want your dinner party to go. Decide on the guests, the date and the atmosphere that you hope to provide them. Consider what you'll need to achieve this and go for a shop in the days leading up, try not to leave it to the last minute! Being well prepared will ensure that everything will go as smoothly as possible and you will spend the day having fun with your friends and family rather than being stressed.
#2 Cook up a storm
Once you have an idea of how you want your dinner party to be and the mood you hope to set, it's time to start thinking about the most important element- the food! Start gathering potential dish ideas and deciding what menu is going to best suit your occasion. It's a good idea to branch out and explore a range of recipes and cuisines to find the ones that are sure to impress your guests the most and have them unable to resist going back for seconds and thirds.
#3 Give your party a theme
A theme is a fun way to make your dinner party memorable. Whether you want to go all out and have people dress up in crazy costumes, or simply decide on a certain colour scheme for your decorations, a theme is a great way to tie together all the elements of your dinner party and make it unforgettable!
#4 Set the table
Now that you have your theme, it's time to set the table accordingly. A good table set up is essential for setting the tone of the party and will also look great in your happy snaps. Simple decorations such as a fancy tablecloth, some nice serviettes or a centrepiece for your table can go a long way for making your dinner party seem more sophisticated and polished. You could even get crafty and try creating your own table decor from paper, other craft materials or bits and pieces from your garden that will really brighten things up.
#5 Decorate the house
Once the table is set and ready, have some fun with decorating the rest of the house. Try to stay on theme and feel free to go as subtle or as overstated as you like. Take the opportunity to get creative and have fun with crafting some themed DIY decorations to brighten up your home and make your guests feel welcome. Put on some music that suits the atmosphere of your party, and you're nearly ready to greet your guests.
#6 Use the excuse to dress up
With guests due to arrive, the food prepared and house looking stunning, it's important for you also to look the part. Dinner parties are a fun opportunity to dress up a bit. Whether you've decided on fancy dress, costumes or more casual attire, have fun planning what you'll wear to really get in the party spirit and to look like the ultimate host.
#7 Have games at the ready
Once your guests have eaten their fill of the delicious food you have cooked, it can be fun to engage them in some after-dinner entertainment. There are many options for games you can play, ranging from ones that you can play while you're still at the table to ones that involve you getting outside for some more active friendly competition.
#8 Stay attentive and have fun!
A good host will always ensure that they're paying attention to the group. Make sure you are staying on top of food and drink refills and try to clean up a little bit as you go. Feel free to take charge and direct the series of events, whether that's announcing each course of the meal or encouraging the commencement of games. Making sure that everyone is comfortable and having fun will ensure that you also have fun and will make your dinner parties the most memorable ones all summer.
Conclusion
Dinner parties are a lot of fun and a great way to spend time with your friends and family, especially when the weather starts to warm up. Make the most of the holiday season by inviting people over and impressing them with your cooking, decorating and hosting skills. They'll be sure to want to spend every weekend at your place.