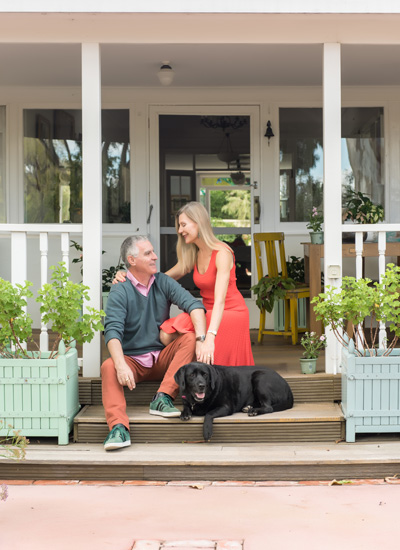 Chance has been kind to Paul and Bonnie Atlan. It brought them together in the first place after Bonnie set off for Paris as a young American model in search of success in the City of Lights. She found it, and also added a dashing Parisian to her portfolio.
"I was on the metro heading home from a modelling job," Bonnie recalls. "Suddenly the train came to a halt and all the passengers frantically exited the underground seeking transport on buses or from passing cars. It was a strike, and I was left not knowing how I would get home to my little studio apartment. Buses were jammed and, too scared to ask for a ride, I stood helplessly until I spotted a red motorcycle that had stopped with a young man next to it wearing a red helmet, 50 metres from where I was standing. He was examining his bike and looked stranded too. I was drawn to him and just knew he would help me." A language barrier stood between them, but their connection bore through it. Paul managed to get his bike started and drove Bonnie home. The next day they met in a cafe for their first date, where he gave her a French to English dictionary. "When he spoke to me in French I couldn't understand a word," Bonnie recalls. "I could imagine that he was saying, 'You're beautiful, I love you'." Within months they were living together, and a few years on they welcomed the first of three children.
Years later, after stints living in France and California, where Paul worked for a luxury sportswear label and Bonnie indulged her passion for painting in vivid colour, the couple was on the cusp of relocating to Florida for better education opportunities for their now teenaged children. A conversation with friends diverted their path. "Our friends spoke of Perth, and it seemed like a great sea change," Bonnie says. "So Paul and I came for a visit and within three days we were filing applications for visas." Paul opened a couple of stores for his clothing label and Bonnie found inspiration for her art in spades. They soon combined their talents and opened Stories On The Wall, a gallery and bespoke and recycled furniture space in the historic village of Guildford on the Swan River, where they were living at the time.
But chance intervened again on a Sunday afternoon drive. They'd just renovated a cottage not far from their gallery, and had no intention of moving. "Bonnie spotted an open house sign on a side road," Paul explains. "She insisted that I make a U-turn, and suddenly we were in front of a broken picket fence with several huge gum trees. There was a yard with a wooden house way back from the street. Bonnie and I looked at each other and we knew this would be our next house before even checking the house. It was 5pm and the selling agent was leaving. We told him we wanted to put an offer on the house after five minutes. He did not believe us. We signed the offer on the following day." It's exactly the kind of carpe diem move that typifies their globetrotting life together.
Their many years living abroad in homes of every size and form had taught them a thing or two about renovating. They'd transformed a neglected weatherboard house in Los Angeles, and breathed new life into an old stone home in a small village in the south of France. Tackling the run-down wooden house in Gooseberry Hill, an outer suburb of Perth, was just another page in their colourful journey. "The bigger the project and challenge, the more I love it," Bonnie says. "We never hire decorators or architects. Ideas come to me as I walk through the houses that many say are hopeless, but I see the magic returning."
They named the home Berry House and relied on their creativity and ingenuity to make it their own.
"All rooms were done with salvaged original windows from boutiques or heritage homes," Bonnie explains. "Stained glass windows were found in salvage yards, or made on the spot by the oldest stained glass artist in Perth." At its heart is a bright and bold kitchen that's flooded with dappled light that filters through the windows from towering gums outside. "Bonnie picked the yellow kitchen after our visit to Monet's house and garden in Giverny, where a yellow kitchen was very avant-garde for the time," Paul says. Bonnie's striking art adorns the walls, and treasures from their travels and life adventures are an intriguing insight into two lives well lived. "As you walk through our home the stories unfold," Bonnie says. "It's a voyage through our lives, where our favourite things have travelled the world with us. Memories are stored in large display cabinets, or scattered across long tiled pieces of furniture from India. Then there are my collections. I think everybody should have a collection. I have about four different ones. Some were started when I was just 18, and some more recently."
Adjoining the house is Bonnie's studio, where she busily creates with every spare moment. Both Paul and Bonnie also love getting their hands dirty in the garden. It was one of the first things that appealed to them the day they spotted the home, long before they discovered it was once a happy playground for a young Heath Ledger, who would visit his aunt and uncle when they lived there. "Heath was often seen playing in the yard and using a stick to make noise to scare the snakes," Paul says. "When we started the renovation we found a drawing of a red racing car on the wall signed Ledger. I still have the piece." They met the star's relatives at their gallery after they spotted a painting Bonnie had done of Berry House. "One day I saw this couple walking into the shop to buy that painting," Paul says. "They told us that they lived in Berry House, it was very touching."
It's clearly a home that's stolen its fair share of hearts in its 110-year history, its current inhabitants very much included. "We love to travel but we love coming back to the house," says Paul. "The feeling of Berry House is calmness, serenity and warmth.
The complete story was originally published in Australian Country issue 21.1. Click here to subscribe to our magazine
Words Tamara Simoneau
Photography Claire NcFerran