Hanging on the wall in the entry of the cottage owned by artist Amica Whincop and her husband, Clayton, is the original deed to their property. It's signed by a gentleman called Henry Devine and dated 1890. Horse-drawn wagons would have lugged the lumber from a local mill to build the worker's cottage, amid the hustle and bustle of a developing regional centre where scores had come to find their fortunes since Queensland's biggest gold nugget was found here 22 years earlier. Gympie's gold rush of the late-19th century came and went of course, but not before the throngs of treasure hunters and their investment dollars saved the fledgling state of Queensland from bankruptcy.
Beloved relics from those pioneering days are preserved throughout the town's modern-day landscape, steadfast in the shifting sands of time. Amica and Clayton's cottage is a bit like Gympie itself, with one foot in history and the other firmly in the here and now — a laid-back blend of old and new. When they pulled up in front of it 10 years ago during a hapless hunt for a new home, it serendipitously seemed to beckon them. "We were driving around Gympie looking at all the places on the realtor's pamphlet and nothing was impressing us," Amica explains. "We pulled up outside this house to check the brochure and I said, 'Oh, I wish this house was for sale,' and then we noticed the For Sale sign! We bought it straight away."
It wasn't exactly pretty as a picture, but Amica and Clayton saw a future for their family in the run-down cottage. "It was in pretty bad nick. Verandahs and stairs were rotting, and there was bright yellow and blue paint everywhere. Pretty much everything needed TLC," Amica recalls. But those quintessential Queenslander lures of bullnosed verandahs, soaring ceilings and old timber floors were enough to entice them to sign on the dotted line and get to work. "Clayton is really skilled at building and making, and we dived into it with gusto," Amica says. "It did take us longer than we anticipated so we just did it bit by bit as we could afford to and mostly on the weekends.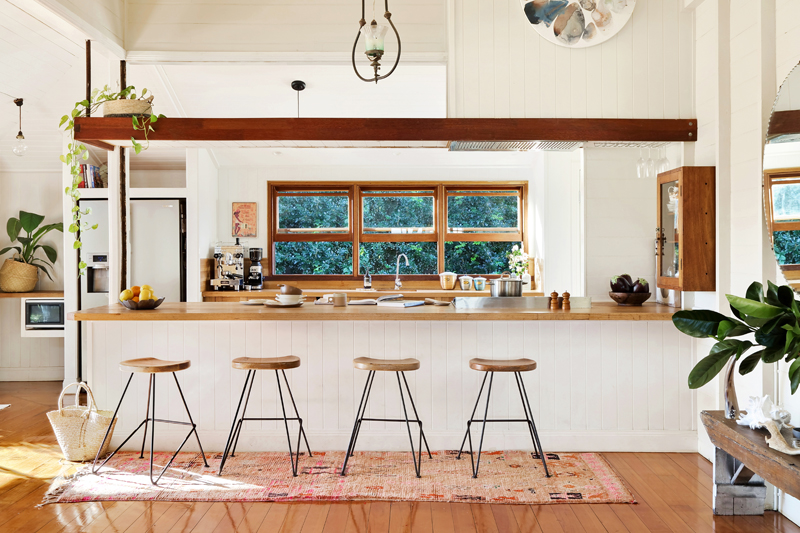 "We put in new decks, a swimming pool, new stairs, two new bathrooms, re-stumped, re-roofed, added a new fence and the list goes on." They also added a new kitchen that opens to a breezy deck, perfect for al fresco entertaining. Clinton cleverly designed and built all the cabinetry with Tasmanian oak and vertical VJ boards, transforming a dark and dated space into the light-drenched heart of the home.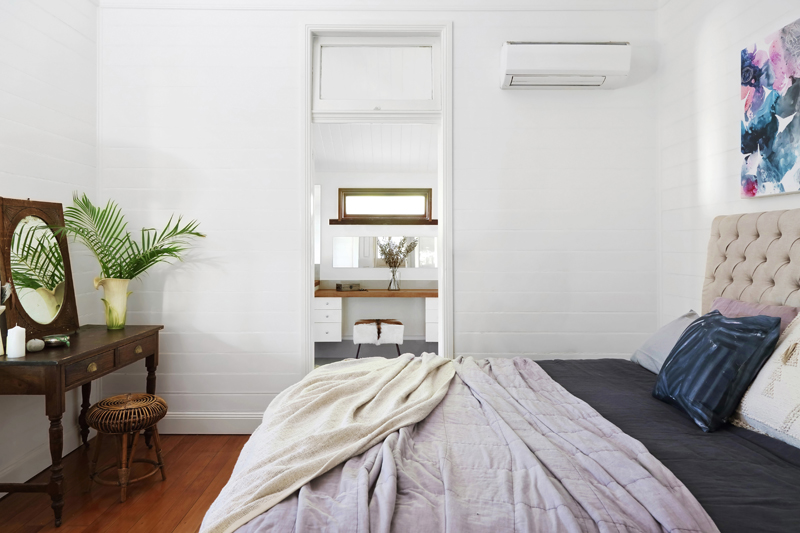 The couple decorated it simply, with op-shop finds and family heirlooms, and embraced the original light pendants they were lucky enough to inherit. "We love things that are raw, handmade, a little unrefined and tell a story," Amica says. The living room epitomises their style. An old coffee table made from a giant redwood burl trunk and brought all the way from Canada by her parents on an international move is paired with a leather office chair found in a local op shop and a vintage Moroccan rug. The showstopper, though, is an abstract canvas above the sofa, one of Amica's original pieces. It hangs proudly, as do others around the cottage — bold reminders of her creative leap of faith from art teacher to professional artist. "I was always intimidated by the career of 'artist' and felt even when I graduated art school that I had to be a Picasso to 'make it'. It just became the thing I loved to do in my spare time, doing commissions now and then," she explains. "One day I looked around and noticed that there were a whole bevy of successful artists 'making it', still with both ears attached and food in their bellies! I decided to pull my big-girl pants up and start taking myself and my art seriously. I mean, I encouraged my high school students all the time about their potential and the possibilities out there, so I decided to take some of my own advice."
In a matter of years, Amica has managed to stage several interstate gallery shows, sell all over the country and even had her work appear on the television juggernaut, The Block. "The Block was a magic feeling because they were playing a game to win, and for them to look at my work and trust me to create something for them was incredibly encouraging,'' Amica says. ''I still get a tingle when someone chooses one of my paintings for their space out of all the art in the world to select from.''
The artist works from a timber and tin backyard  studio, shaded by an abundance of palm trees and splattered with the colourful remnants of every piece she's created. "I manipulate paint through various water-based methods to reproduce the shapes and textures of nature,'' she explains. ''I am especially interested in the formations of rock, flora and fauna and I work predominantly with earthy colours to create paintings that encourage a sense of serenity." And she seems to have effortlessly imbued that same relaxed vibe throughout their reimagined black cottage — their own little piece of Gympie history. "There's so much character in this place, it's so charming," she says. "And it's pretty cool knowing it was built when cars weren't invented and horses and carts were still traipsing up and down the road."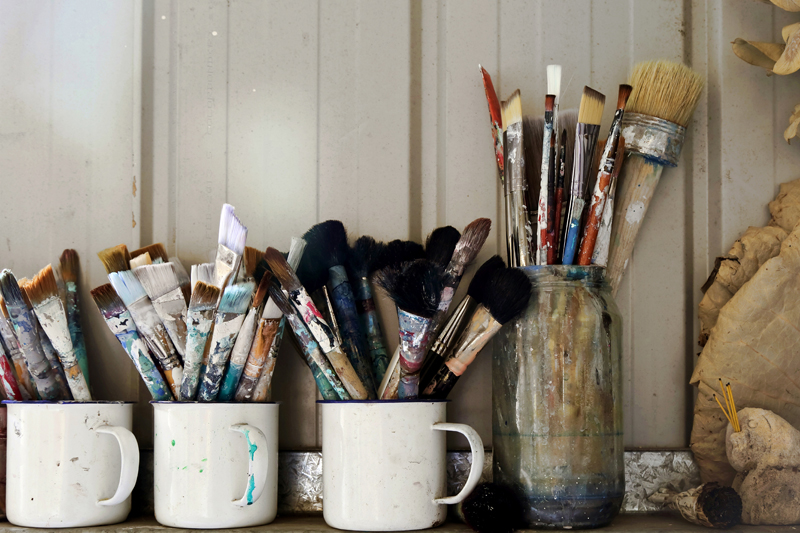 The complete story was originally published in Australian Country issue 22.1. Click here to subscribe to our magazine
Words Tamara Simoneau
Photography Anastasia Kariofyllidis