It may seem a long haul from a career in corporate finance in Perth and London to running an interior design consultancy, but Geraldton businesswoman Tess Beagley says it was a logical progression.
Tess grew up in Esperance on WA's remote south coast and went to Perth to study public relations and journalism. From there she enjoyed a high-flying career in PR, but admits that while she loved her job, she occasionally felt creatively stifled. Having met and married her husband, whose background was in agriculture, they moved to Geraldton on the Coral Coast when he received a job offer that was too good to turn down.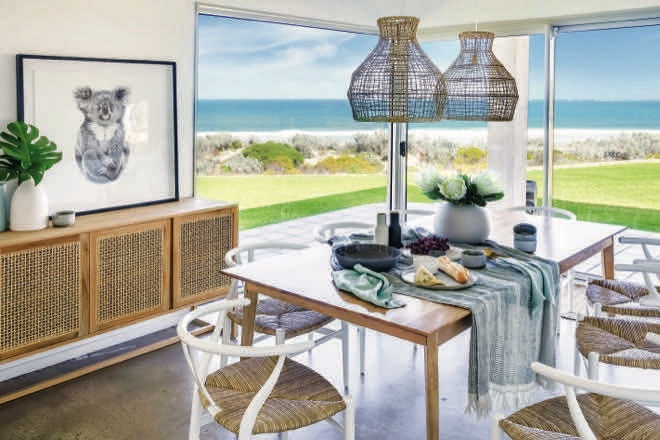 "I'd always loved styling interiors for my own homes and helped friends," she recalls. "But it wasn't until I was on maternity leave with my first child in 2011 that I actually did something about getting some qualifications. It was really just to learn more about my hobby initially. I found I was using a lot of the skills I had gained from PR such as graphic skills to make mood boards and 3-D visuals." It wasn't until friends of friends started enlisting Tess to help out with their homes that she realised her hobby might become a business.
In 2014 she launched Minted Interiors, and again, employing social media and marketing skills from her previous life, hasn't looked back since.
Being based in Geraldton presented its own set of challenges as the coastal service town for the fishing and agricultural communities, population 37,000, is 420 kilometres north of Perth. However internet technology is a great salve for the tyranny of distance and Tess uses a combination of email, Skype and Messenger to communicate with her clients, many of whom live in the eastern states. She also specifies a number of furniture and soft furnishing options and acts as an agent for companies including GlobeWest, Tribe Home and Armadillo.
"I have loads of clients I've never met face to face," Tess says. "However, we manage to communicate very effectively. Now I have the questions sorted, it's quite a simple process to get a picture of what they have in mind and email them the designs. It's also handy with a young family, as I can work when they are sleeping. I'm also lucky to have a very supportive family and the help of a nanny who looks after the children a couple of mornings a week."
Occasionally though, a dream commission comes along and Tess receives a local job that allows her to work on location. Long-time Geraldton residents Kristy and Matthew Fong presented such an opportunity. They were referred by mutual friends and clicked instantly.
"We both grew up here and Matt followed his father into the cray fishing industry," Kristy explains. "I worked fly-in, fly-out in the Pilbara before we had our children, Riley (aged nine), Evie, six, and Charlie, four."
In 2016 the family was lucky enough to buy a house in a prime location overlooking Tarcoola Beach. With nothing but grass and sand between them and the Indian Ocean, it was a case of the worst house in the best location.
"The house had been built in the '80s and was in need of some TLC," Kristy recalls. "It was a rabbit warren of rooms and needed updating and opening up. I knew the feeling I wanted to achieve, and had lots of ideas, but had no idea how to go about putting them together. When I met Tess, she was instantly able to translate what I wanted into a reality. She understood the contemporary coastal Boho vibe I loved and was able to deliver exactly what we wanted."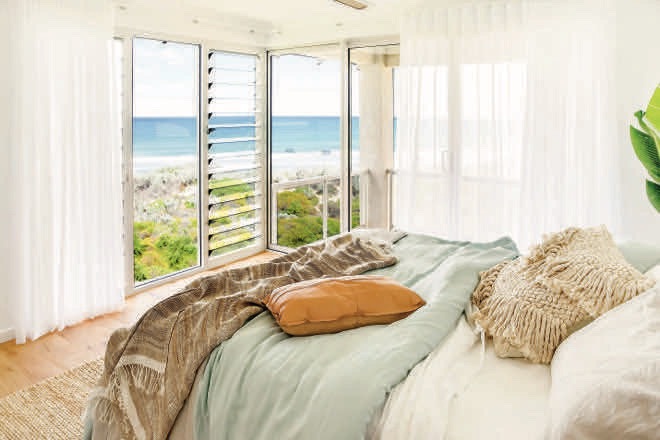 While there are still projects, including a new kitchen and landscaping in the pipeline for the property, Kristy says they are now in the position of being able to enjoy their beachy lifestyle.
"Our kids are total beach babies," she says. "Tarcoola Beach is a famous wind surfing destination and the children are all nippers at the surf club. We are really lucky that we can visit the Abrolhos Islands whenever we want to and Geraldton has lots of young families who enjoy the casual coastal lifestyle. I've lived in Perth and travelled all over Australia and I've never found anywhere I'd rather live. And now we have a beautiful house as well. I believe we are extremely lucky."




More details on Minted Interiors at mintedinteriors.com
The complete story was originally published in Australian Country issue 21.2. Click here to subscribe to our magazine
Words Kirsty McKenzie
Photography Carrie Young
Styling Tess Beagley of Minted Interiors