In all probability, none of it would have happened if English restaurant critic Simon Hopkinson had been available. The year was 1997 and the then editor of Australian Gourmet Traveller Charlie (Carolyn) Lockhart was looking for a foreign judge to choose the winner of the magazine's annual Best Restaurant in Australia Award. Simon was unavailable, so she approached Rick Stein instead.
"What's not to like about three weeks touring Australia, a country I already knew and loved, eating at the best restaurants and drinking fine wine," the affable what-you-see-is-what-you-get chef, author and TV presenter recalls. "It didn't take me very long to accept the invitation."
It's a matter of history that on that tour Rick fell in love with the tour's publicist, Sarah (Sas) Burns, whom he married in 2011. In 2009, Rick and Sas had opened a restaurant called Rick Stein at Bannisters at Mollymook on the on the NSW South Coast. They also bought a charming '60s beachhouse just down the road from the restaurant and boutique hotel and use it whenever time allows.
"Sas knew the area well from family holidays and I had been there when I first came to Australia in the 1960s," Rick says. "Ever since a memorable weekend of eating Pambula oysters and flathead in Merimbula I've had the image of the clean blue sea and the sweet seafood of the South Coast in my head. And I knew that one day I would open up a restaurant celebrating local seafood."
Of course Rick went on to do just that in his hometown of Padstow on the Cornish coast. Nick-named Padstein by the British media for the influence he has had on the town, Rick and his first wife, Jill, run a their flagship restaurant with rooms and a bistro, a café, a family-friendly fish and chippie, a seafood cooking school, St Petroc's Hotel as well as numerous other guesthouses and B&Bs in Padstow and a pub-brewery, The Cornish Arms, in nearby St Merryn.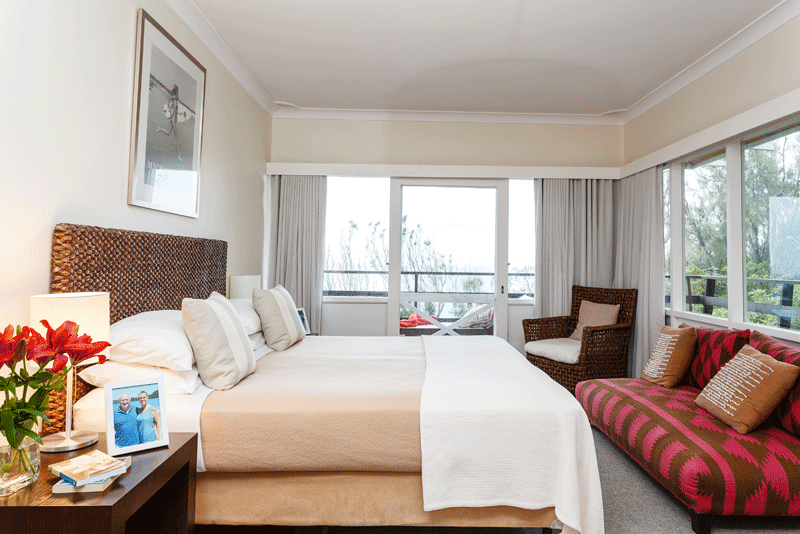 So when the opportunity presented itself to repeat the experience at Bannisters, overlooking the ocean at Mollymook, Rick jumped at the chance. He manages to visit about six times a year, for menu overhauls and consultations with local suppliers sandwiched between short bursts of R&R. For the rest of the year Rick and Sas divide their time between Sas's home in Sydney, Padstow and wherever Rick happens to be filming his latest TV series.
In fact, Rick is no stranger to Australia as he spent two years here in his youth and had visited for family holidays many times during the '80s. "I had started my chefing career when I first came to Australia," Rick says. "But I had neither the means nor the inclination to investigate the food scene at that time and I imagine there wasn't all that much on offer back then."
Instead he worked his passage around the country, taking jobs as they presented themselves ranging from a ganger on the Ghan Railway near Alice Springs and a stint in an abattoir in Roma, western Queensland to a clerk at Sydney's Garden Island and a prescient brush with TV at Channel 10.
"By the time I came back in the '80s the food scene had really taken off here," he recalls. "I also met [winemaker and bon vivant] Len Evans at that time and we went on to become business partners in Tower Estate in the Hunter Valley. Sadly Len passed away and that venture has now been sold, but I have really happy memories of all my trips to Australia."
Rick adds that he angled to have part of his second TV series filmed in Australia, and remains hopeful that the BBC will be persuaded to let him make an entire series here. "They think that the quality of the existing Australian food media is so high, it's better for us to concentrate on areas that are less well covered."
Village life in Mollymook reminds Rick of Padstow "with better weather". He and Sarah and her children enjoy holidaying in their beachhouse, which is available for rent as Rick's Place, when they are not in residence.
Read more about Rick's Place and in the September/October issue of Australian Country magazine, available for order and online now!