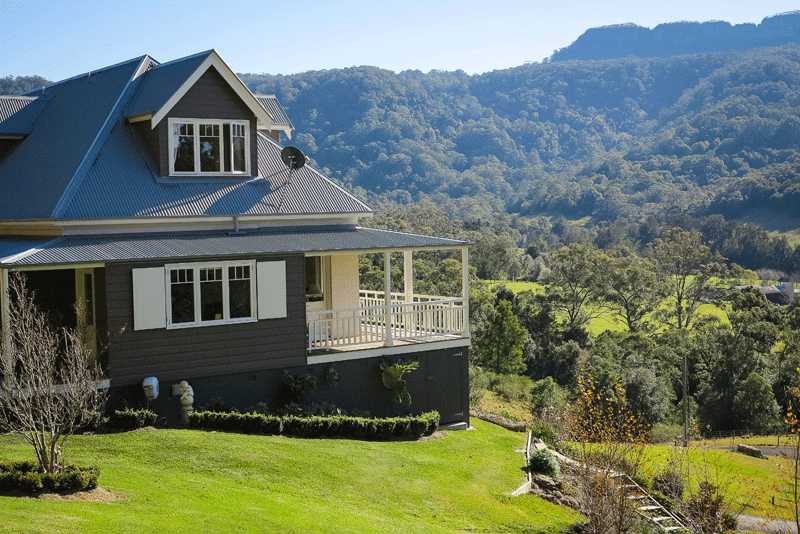 Garry McPake candidly admits he had never heard of an Adirondack chair when a client brought several to his furniture workshop for repair. Garry, who had worked as a mechanic and shipwright in his former lives, had moved to the NSW South Coast township of Berry more than 20 years ago. By the time he teamed up with Sandy in 2001, he had established himself as a fine furniture craftsman. They merged their two families and set up a hand-crafted furniture business on a property just north of Berry.
"The problem with bespoke furniture is you are constantly in the design process, refining the product to make it absolutely the best," Garry explains. "I kept saying to Sandy that if I could just concentrate on making the one thing and getting it absolutely right, life would be much easier. The moment I saw these old Adirondacks, I knew the design was right." The Adirondack chair's story goes back to 1903, and a man named Thomas Lee, who had a summer house on Lake Champlain at Westport in New York State. With some leftover verandah planking he set about designing the ultimate outdoor chair for enjoying sundowners over the lake. The chair had to be sturdy to weather the outdoors, comfortable to sit in and, most importantly, have wide arms, on which to rest those sunset drinks. Having come up with the prototype made from 11 pieces of wood, friends and neighbours began to admire his low-slung, spacious design with its high back and extra-wide armrests.
They included his hunting buddy, one Harry Bunnell, a carpenter who suggested to Thomas that he could make a few extra dollars during the winter months, by building the chairs and selling them to other holiday makers. Before long, the chairs had become the "must-have" accessory of Westport and Harry realised he had a business proposition on his hands. In early 1904 (and without Thomas's permission), Harry registered the patent for "his" chair naming it the Westport Plank Chair. As the chair's fame spread it gradually became known as the Adirondack chair as Westport is acknowledged as the gateway to the eponymous mountains. Harry continued manufacturing for more than 20 years, by which time the Adirondack chair had become symbolic of American summer life and the porch chair of choice for many Americans. These days, original signed Bunnell Adirondacks are highly sought after and fetch high prices at auction.
While Garry knew none of this when he started repairing the Adirondacks a century later, he did recognise good design when he saw it, so he decided to make them himself. "It's the small things that make the difference with a good chair," he says. "A good armchair is not too upright and it doesn't cut you at the back of the knees when you sit in it. It has to be deep enough to accommodate people of different heights and be easy to get in and out of. There are thousands of different versions out there, but I wanted our Adirondack to have all these qualities. Sandy was very encouraging. With her background in hospitality she knows quite a bit about marketing and she said 'you make them, I'll sell them'."
The McPakes began cautiously, selling their Adirondacks at the Berry markets. By happy coincidence when Sandy approached David Jones to stock the chairs, their reputation preceded them as the buyer had already admired them at the markets. "Our future was sealed when we were accepted into DJs' stores," Sandy says. "It was a lucky break right at the time we needed it most. Our Adirondacks have been used for store display in Country Road and our biggest moment of glory came when they starred on the set of The Great Gatsby. In fact Baz Luhrmann loved them so much the crew bought him one of our porch swings for his birthday."
Read more about the McPakes' country retreat in the Dec/Jan issue of Australian Country magazine, available for order and online now!
The McPakes' business, Adirondack Chairs Australia, are also online. Check them out here.
Words Kirsty McKenzie
Styling Sandra Hinton
Photography Ken Brass