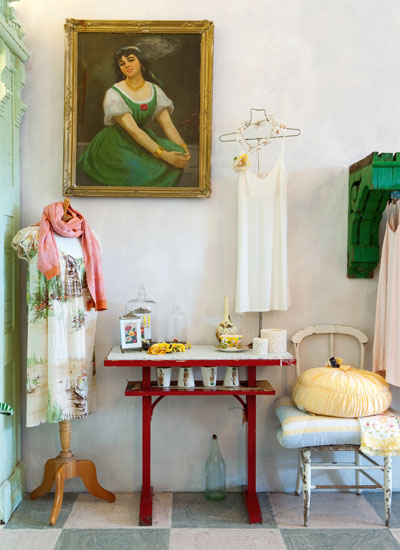 When Tracey Hocking, founder and creative director of iconic Australian fashion and bedding label, Lazybones, and her husband, Stephen, bought Mulberry Cottage industry in the Byron Bay hinterland a little more than 10 years ago, she was escaping a stressful office job in Sydney and following her dream of creating a more authentic life.
"The house was called Mulberry Cottage by the last owners after a huge mulberry tree that was in the back yard," Tracey says. "Sadly, most of it fell down after a lot of rain — and minutes after our young son had ridden his little bike under it. It's a typical small farmhouse, built mainly from timber milled on the property. Most of the internal lining boards are teak, which is incredibly hard, though it's sad so many of the original old trees were cut down. Like many small cottages, it's had bits tacked onto it through the years, and we'd love to add more one day. For now though, we're enjoying our vegie gardens and the lovely fruit trees."
Though initially Tracey ran Lazybones from a small warehouse in Byron Bay, the business is now run from a large, vibrant blue shed, which came with the property. "Though it was very decrepit, we had to rebuild it so it wouldn't get draughts or fall down," she says. Tracey considers herself incredibly fortunate in that Lazybones has always been well received in Australia, right from the start. In more recent times, Tracey's vintage and painterly inspired designs have been embraced by the United States as well. Her bedding lines have been a best seller for retailer Anthropologie for three years running and she has just released an exclusive collection for ModCloth. She sites technology as being the main factor behind why she can successfully run a global label from a remote location. "We wouldn't be able to do this without Internet and emails," she says. "It would be impossible. Of course, we'd love high speed connection for country people."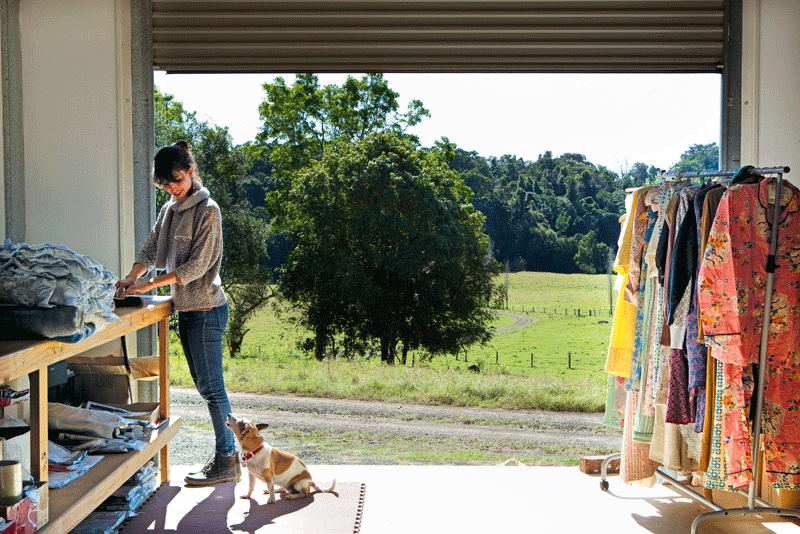 In recent years, Tracey and Stephen have added a design and photographic studio to the property, which houses hundreds of pieces of vintage fabrics and trims for inspiration and a delicious array of vintage props, which Stephen uses when shooting the collections. They've also added another home, next to their own, for Stephen's parents.
A typical day for Tracey starts at 6.30am. "I answer emails from the US before taking the dogs for a walk to the creek, where we try and spot our resident platypuses," she says. "Then, after helping our son get ready for school, it's only a short walk across the garden to work." At the end of each day, Tracey and Stephen like to sit on their front lawn and debrief while throwing a ball to Minnie, their little Staffy. "I try not to work too much at night as I'm really a morning person," she says. "But sometimes it hard not to answer the odd email, or three!"
Tracey's advice for other women wishing to start their own creative venture is to really think hard about what you want in life and how much you want to work. "Initially I wanted a business that would allow me to support my family but not be too stressful or take over too much of my time," she explains. "I did, more or less, manage that while our son was young. Now my goals are a little different, but in the beginning this was important. If you want to create a product, do your research and make sure it's right for the market. Source your suppliers and treat them well, treat them like friends and they will support you for a long time. Make sure you have enough money to start up at the level you want to work at … and watch your cash flow like a hawk! It can be very hectic, yet we look out over a calm, peaceful valley and that helps to keep things in perspective."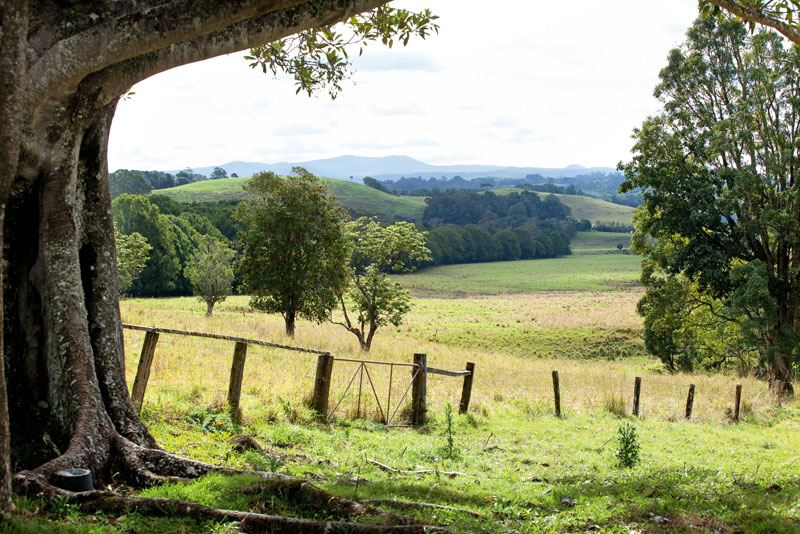 Read more about Tracey Hocking's rural success story and her company Lazybones in the May 2014 issue of Australian Country magazine, available for order or online now.