On any given day, Simone Williams may be jetting into New York or touching down in Tokyo as part of her day job as a Qantas cabin service manager, but there's always one place she'd much prefer to be — her sprawling Gold Coast hinterland property, Hillview Homestead. "My husband, Bruce, and I bought Hillview 14 years ago," she explains. "I grew up in Brisbane and always dreamed of living in the country in a beautiful old Queenslander."
Just half an hour from the glittering Surfers Paradise strip, Hillview is a world away with its rolling green hills and thousands of acres of surrounding Crown land in the lush Currumbin Valley. Once the heart of a thriving dairy farm owned by one of the areas pioneering families, the 116-year-old homestead is resplendent with its broad wrap-around verandas and intricate timber lacework entry. It sits stately at the end of a picturesque dirt road lined with verdant paddocks dotted with grazing Braford cattle and the rustic remnants of farming days gone by.
It wasn't quite so picture-perfect when Simone and Bruce, who is a director at a financial services company, were on the hunt for a forever home a decade and a half ago. "I was living in Sydney and Bruce lived on the Gold Coast when we got engaged," Simone says. "I said I'd move back to Queensland if we could live on a farm, and Bruce's response was: 'good luck finding a farm close to the beach'." Undeterred, Simone began the search. "Every visit, I would sneak off into the hinterland and hunt around until I found Hillview," she recalls. "I bought it online while I was on a work trip in Frankfurt."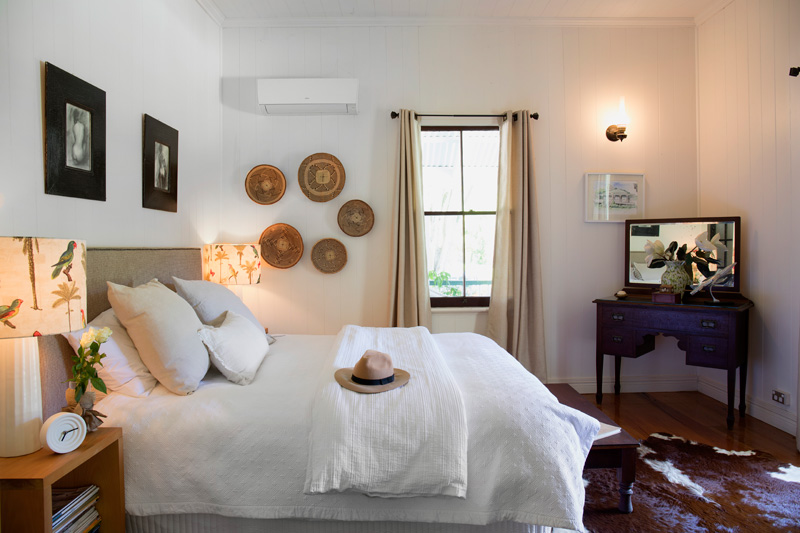 "We got married in the old country church across the road, which was once part of the original dairy farm," Simone explains. "Suddenly, Bruce found himself married and living on a farm in an old falling-down home that I thought only needed a lick of paint, but he was happy to follow my farm-life dream." As it turned out, there was a long list of repairs needed and the couple began ticking them off one by one, as they grew their family at the same time. "We have spent years and considerable dollars reviving Hillview, doing most of the work ourselves, with help from family," Simone, who also shares the home these days with sons Tom, Sam and Ben, adds. The boys spend their days whipping around on their horses and fishing in the nearby creek or adventuring along surrounding bush trails. "They absolutely love farm life here and even ride their horses to the local country school quite often," Simone says. "They've also canoed from home to school along Currumbin Creek and they really do enjoy a true Huckleberry Finn childhood. They can be mustering on horseback in the morning and then surfing just 10 minutes down the road in the afternoon."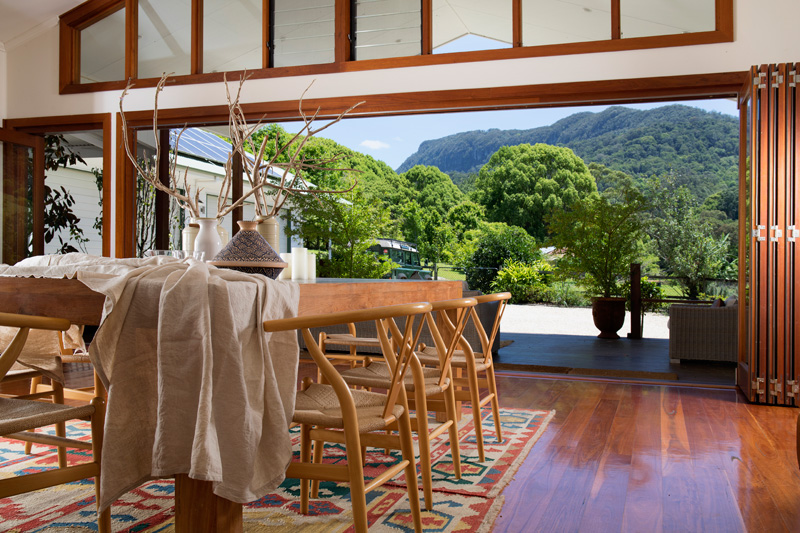 As for Bruce, he's embraced the quiet life, too. "I couldn't find a farmer but quite happily found Bruce and tried to turn him into a farmer," Simone says. "He grows magnificent garlic, vegies and fruit trees." The bounty of Hillview comes courtesy of an orchard abundant with mango, avocado and citrus trees and the resident hens who deliver breakfast each morning. It's a hard place to leave, but working for an airline has its perks and the family jets off once a year to explore other parts of the world. While they're away, their country haven is rented to others. And if you happen to score a stay, you may notice a famous name in the guest book. "We were lucky enough to have Cate Blanchett and her delightful family stay at Hillview for four months while she shot Thor at Movie World," Simone beams.
She was approached by the movie star's agent and decided that moving her own family out for a short while to make way for Hollywood royalty was worth the inconvenience. "That was very special," she recalls. "Cate was in the process of a planned relocation from Sydney to a country home in Sussex, in the UK, so was very interested in farm life," Simone adds. "She was really keen on our vegie patch, chickens and the fruit trees in our orchard. Hillview was also a central meeting point for the nannies on the set of Thor and the actors' children. Hillview often hosted Mark Ruffalo and Chris Hemsworth's kids in the pool and for sleepovers."
Of course, the gorgeous homestead and farm have also become a huge draw for Simone and Bruce's extended family and friends keen on a country getaway. "Because the homestead sleeps 16, we often hold large overnight gatherings, with kids camping out and dinner around the firepit," Simone says. "Christmas in July at Hillview has become a big annual event with 14 adults and 20-odd kids. We truly enjoy sharing our home with our family and others."
And throughout all that entertaining, world travel and adventuring, Simone has been busy plotting Hillview's next chapter … and the family's next big project."The old dairy still stands and now that we have finished renovating the main homestead, I'm hoping to start on it," she says. "I'm quite passionate about this old house and the joy it's given our family. I'm hoping it will take care of us, our family and great-grandchildren for many years to come."
For more information about Hillview Homestead follow Simone on Instagram at @hillviewhomestead or @luxicobyronbay.
The complete story was originally published in Australian Country issue 22.3. Click here to subscribe to our magazine
Words & Styling Tamara Simoneau
Photography John Downs