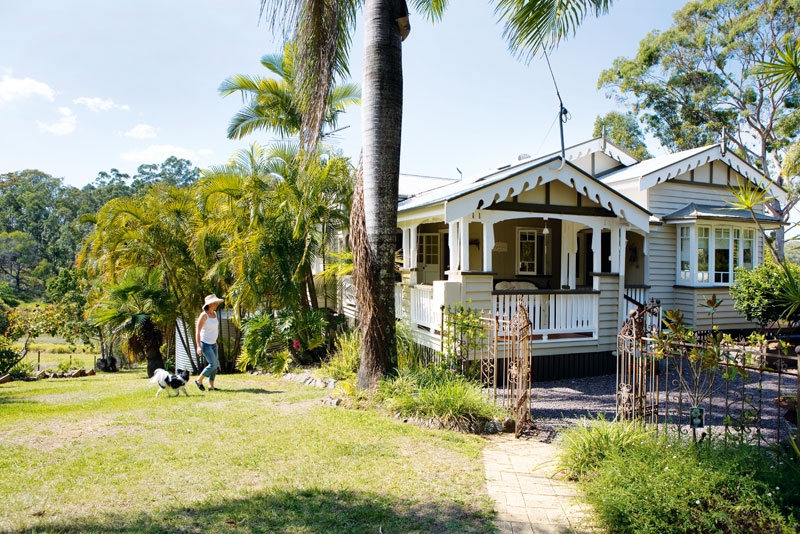 Toni Smith was your typical inner-city girl, raised in Melbourne, living in Brisbane's bustling Spring Hill and enjoying a successful career as a project manager in construction and mining when she decided to buy an investment property in the Sunshine Coast hinterland purely because it seemed to be a high growth area.
Searching online, she stumbled upon a little old 1940s timber Queenslander, which had been moved from Brisbane to the Glass House Mountains in the '90s, Toni was instantly smitten. "I knew I was going to buy it, even before coming to see it," she says. "It was a cold, windy day when I came to inspect and that only made me love it even more as everything was so green and lush. The whole area is so fertile, and very spiritual with a lovely Aboriginal history, and this house sits right in the middle of the ring of mountains."
As the home was originally bought as an investment property, Toni needed to find tenants. Luckily enough, she was able to rent it out to her parents for the first 12 months. "This was great as I was able to come up every weekend," she recalls. "The only thing was, six months in, I knew I wanted to live here but had to figure out how to manage my job etcetera."
After her parents moved out, the home was rented out for another twelve months to new tenants. Meanwhile, back in Brisbane, Toni was scouring garage sales for vintage chandeliers and furniture, amassing the perfect pieces for her hinterland home. "I still didn't have a concrete plan, but it got to the point that I had a garage full of furniture and couldn't fit anymore in," she says. "So just took the plunge and as soon as the tenant's lease was up, I moved here and thought I'd figure it all out as I went."
Toni confesses that the decision was also made on behalf of Griffin, her beloved pooch. "We were living in a townhouse in Spring Hill with no outdoor space," she says. "Papillons love to run."
This story was originally published in the February 2015 issue of Australian Country magazine. Subscribe to the magazine here.
Click here for more homes and interiors.
Words and styling Tahn Scoon
Photography John Downs